---
---
---
LE AVVENTURE EROTICHE DI GIULIETTA E ROMEO
(The Secret Sex Lives of Romeo and Juliet)
1969, regia di Peter Perry (A.P. Stootsberry)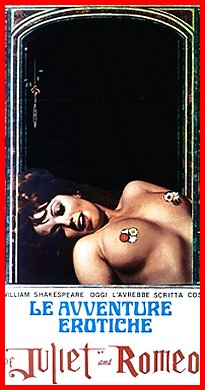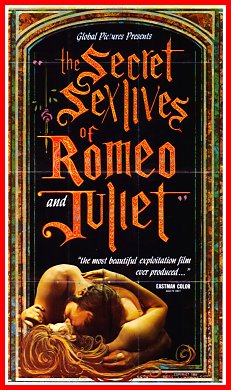 Scheda: Nazione: USA - Produzione: Boxoffice International Pictures, Global Pictures - Distribuzione: Regionale, Boxoffice International Pictures, Global Pictures - Soggetto (dal Giulietta e Romeo di William Shakespeare): Jim Schumacher, Alan C. Wilson - Sceneggiatura: Jim Schumacher, Alan C. Wilson - Fotografia: Dwayne Avery - Montaggio: Mark Perri - Musiche: John B. Pittsburgh - Formato: Eastmancolor - Durata: 96'.
Cast: Forman Shane, Dicora Carse, James Brand, Sydney Carlysle, Dorthea Cristie, Pat Davis, Jay Edwards, Mickey Jines, Don Jones, Stuart Lancaster, Tiffany Lane, Adam Lawrence, Antoinette Maynard, Elenor Rigby.
---
Il film intero: http://www.iwannawatch.to/2011/01/the-secret-sex-lives-of-romeo-and-juliet-1969
---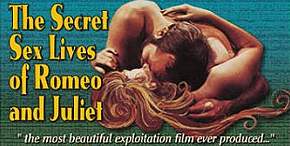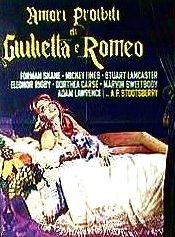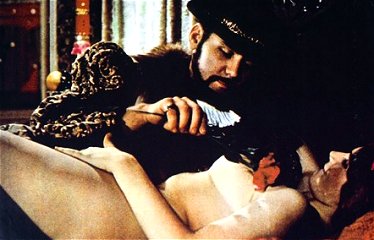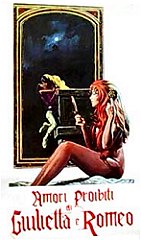 Trama e commenti: cinematografo.it/1 - cinematografo.it/2 - it.movies.yahoo.com - film.tv.it - mymovies.it - gioiellidicarta.com: «Giulietta, figlia del nobile Capuleto de' Capuleti, e Romeo, rampollo dei Montecchi - le loro famiglie sono divise da un'accesa rivalità, ma ad accapigliarsi sono i rispettivi servitori, Gregorio e Baldassarre, peraltro d'accordo nel fingere soltanto di farlo - si dichiarano innamorati l'uno dell'altra, senza che questo impedisca a Giulietta di concedersi al Duca di Verona o di farsela con la propria nutrice, né a Romeo di giacere con la madre dell'amata. L'avaro Capuleto, che ignora il legame tra la figlia e Romeo, vuol dare Giulietta in sposa al ricco Paride. Mentre costui, che s'interessa poco o nulla alle donne, chiede tempo per riflettere, giunge da Costantinopoli l'ambasciata del Sultano Solimano, che s'è invaghito di Giulietta e la vorrebbe sposare. Svanita, per Capuleto, la possibilità di appioppare la figlia al Turco e mentre Paride continua a tergiversare sulla data delle sue nozze con Giulietta, Romeo, colpevole d'avere ucciso un membro della famiglia Capuleto, viene bandito da Verona. Prima di abbandonare la città, egli si rivolge a frate Lorenzo, un religioso donnaiolo, chiedendogli di aiutarlo a sposare Giulietta e farla fuggire con lui. Purtroppo, per un equivoco, i due giovani moriranno avvelenati, ma continueranno egualmente ad amarsi nella tomba».

Plot Summary, Synopsis, Review: IMDb - allmovie.com - rottentomatoes.com - entertainment.msn.com - nytimes.com - overstock.com - en.wikipedia.org - dvdverdict.com - somethingweird.com: «It's Shakespeare meets Laugh-In in this ambitious nudie cutie spoof. I never studied the Bard in school, but I'm pretty sure old Willie never referred to Romeo (Forman Shane) as a "weakling, piddling fag." Therefore, I would be hesitant to recommend this film as suitable preparation for a local amateur theatre production. However, I would recommend it to all hot-blooded fans of vintage skin sinema. The Secret Sex Lives of Romeo and Juliet takes place at the Globe Theatre in Old London (although the audience looks more like a bunch of drunken, late sixties American frat boys, complete with hippie haircuts) where Shakespeare's play is being "performed to match the spirit of the lusty and ribald time it portrayed." In other words, the naked flesh flies thick and fast as the title characters profess their love (and lust) for not just each other, but for anyone else who happens to be handy...».
Conosciuto anche con i titoli: Amori proibiti di Giulietta e Romeo; Juliet's Desire.
---
---