---
---
---
LE FAVOLE EROTICHE DELLE MILLE E UNA NOTTE
1973, regia di Adalberto Albertini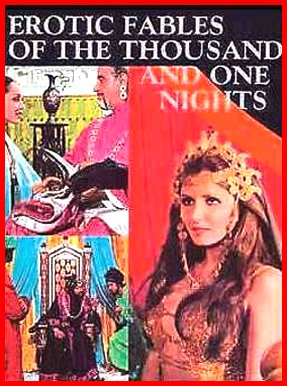 Scheda: Nazione: Italia - Distribuzione: Starlight s.r.l. - Formato: Color - Durata: 90'.
Cast: Guy Madison, Venantino Venantini, Pascale Petit, Enrique Avila, Raf Baldwin.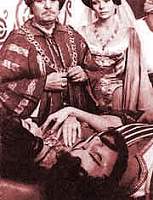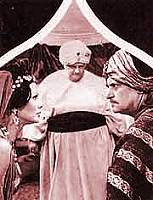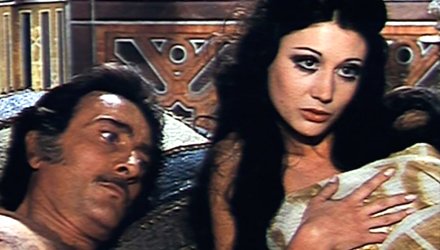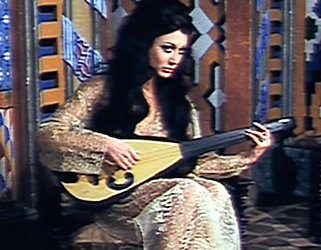 Trama e commenti: cgentertainment.it - starlight.it: «Offeso e inferocito per il tradimento della moglie Jasmine, il Califfo di Bagdad cerca riscatto nell'uccidere ogni giorno una vergine dopo averci trascorso la notte. Ma la catena di delitti lo rende ben presto inviso al popolo e sessualmente impotente. Allora Scheerazade, figlia del Visir, ottiene del genitore il permesso di offrirsi al Califfo. La ragazza, dopo avergli con la sua tenerezza riordinata la vita sessuale, gli racconta una novella. Il Califfo, trasformato e conquistato e bramoso di passare un'altra notte con la ragazza, rimanda l'esecuzione al mattino successivo. Ma la ragazza, col suo saper fare, riesce di nuovo a placare il Califfo e così avviene per qualche tempo, fino a quando Sheerazade ne ottiene l'amore incondizionato guarendolo nel contempo della sua misoginia».

Plot Summary, Synopsis, Review: starlight-ING: «Offended and furious because of his wife Jasmine's unfaithfulness, the Califf of Bag dad takes revenge by killing a virgin every day after having spent the night with her. But this chain of cruel acts soon puts the people against him and also renders him impotent. Then Sheherazade, the Vizier's daughter, gets permission from her parents to offer herself Io the Califf. After Sheherazade's tender attentions have put his sexual capabilities back Io normal, she tells him a story. The Califf, transformed and conquered by the girl, and anxious Lo spend another night with her, puts off the planned execution until the next morning. But the girl's 'know how' is just too peasant and the Caiiff keeps putting off the execution, until he eventually falls in love with Sheherazade and becomes a complete victim to her charms, and even cured of his misogyny».
Conosciuto anche con il titolo: Erotic Fables of the 1000 and 1 Nights.
---
---