---
---
---
LEVA LO DIAVOLO TUO DAL... CONVENTO
(Frau Wirtins tolle Töchterlein)
1973, regia di Franz Antel (François Legrand)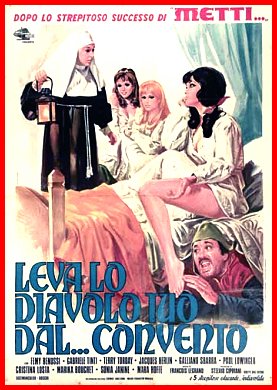 Scheda: Nazione: Italia-Germania (RFT) - Produzione: Cinemar, Neue Delta Filmproduktion - Distribuzione: Regionale, Video Search of Miami - Soggetto: Kurt Nachmann, Vittoria Vigorelli - Sceneggiatura: Kurt Nachmann, Vittoria Vigorelli - Fotografia: Siegfried Hold - Montaggio: François Legrand - Musiche: Stelvio Cipriani - Formato: Cinemascope Eastmancolor - Durata: 90'.
Cast: Femi Benussi, Kurt Großkurth, Maja Hoppe, Sonja Jeannine, Galliano Sbarra, Paul Löwinger, Christina Losta, Marika Mindzenthy, Gabriele Tinti, Teri Tordai, Margot Hielscher, Hans Terofal, Franz Muxeneder, Alena Penz.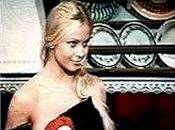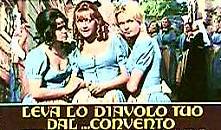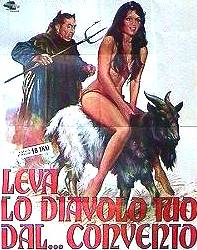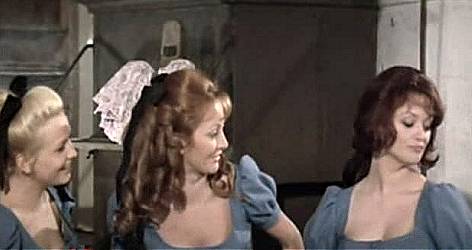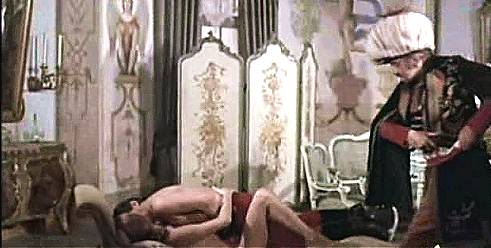 Trama e commenti: cinematografo.it - mymovies.it: «Una ricchissima marchesa muore prima di aver rivelato al suo esecutore testamentario il nome dell'erede. Si sa solo che è una ragazza e che vive in un collegio; l'uomo si accorge che cinque delle ragazze ivi ospitate potrebbero essere figlie della defunta».

Plot Summary, Synopsis, Review: IMDb - xploitedcinema.com - nunsploitation.net: «The sexy 1973 Italian comedy Devils in the Convent goes under a host of other names including Frau Wirtins tolle Tochterlein ("The Innkeeper's Daughters"), Leva lo diavolo tuo dal... convento ("Get the devil out of thy ... nunnery"), and The Countess Died of Laughter. The last title is appropriate as the Countess, a wealthy prostitute, literally dies laughing, setting off the search for her elusive heir. Her executor finds himself in San Gregorio convent school where he explains to the Mother Superior that one of the Catholic School girls boarded there is the heiress to a huge fortune. The nuns are left to the periphery and are minimally involved in the hanky panky (to the great sadness and disappointment of nunsploitation movie fans). Instead, the action focuses on the lascivious misadventures of five schoolgirls: Francoise, Clarissa, Susanne, Pirella and Anselma. The quintet get into all sorts of conundrums, each and every single one of which necessitates full nudity after no more than 30 seconds of the beginning of each scene (sometimes less than that). This movie is chockfull of buxom babes baring all, as the screencaps will attest. The actors are absolutely gorgeous, each one a paragon of anatomical perfection and beauty. None of them spend much time in their clothes, and looking at those bodies, it actually seems wrong that we have laws requiring them to!».
Inserito nel filone della commedia storico-erotica degli anni '70, il film richiama il Medioevo solo per le atmosfere conventuali. è conosciuto anche con i titoli: Devils in the Convent; Frau Wirtins tolle Töchterlein; Knickers Ahoy.
---
---