---
---
---
1492: LA CONQUISTA DEL PARADISO
(1492: Conquest of Paradise)
1992, regia di Ridley Scott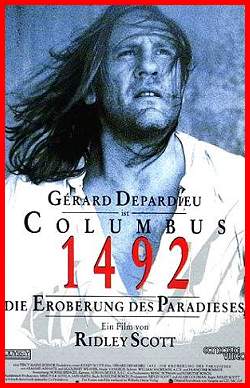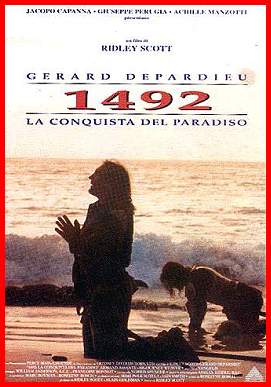 Scheda: Nazione: GB-USA-Spagna-Francia - Produzione: Cyrk, Due West, French Ministry of Culture and Communication, Gaumont, Légende Entreprises, Paramount Pictures, Spanish Ministry of Culture - Distribuzione: Artisti Associati Italia, Lauren Films, Gativideo, Paramount Pictures, Tele-München - Soggetto: Roselyne Bosch - Sceneggiatura: Roselyne Bosch - Fotografia: Adrian Biddle - Montaggio: William M. Anderson, Françoise Bonnot, Leslie Healey, Armen Minasian, Deborah Zeitman - Scenografia: Ann Mollo - Costumi: Charles Knode, Barbara Rutter - Musiche: Vangelis - Effetti speciali: The Computer Film Company - Formato: Cinemascope Eastmancolor - Durata: 154'.
Cast: Gérard Depardieu, Armand Assante, Sigourney Weaver, Loren Dean, Ángela Molina, Fernando Rey, Michael Wincott, Tchéky Karyo, Kevin Dunn, Frank Langella, Mark Margolis, Kario Salem, Billy L. Sullivan, John Heffernan, Arnold Vosloo, Steven Waddington, Fernando Guillén Cuervo, José Luis Ferrer, Bercelio Moya, Juan Diego Botto, Achero Mañas, Fernando García Rimada, Albert Vidal, Clara Isabel Prinz, Ángela Rosal, Jack Taylor.
---
---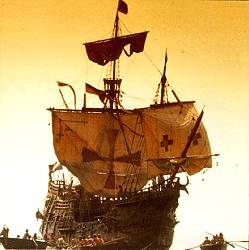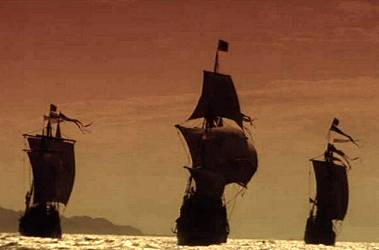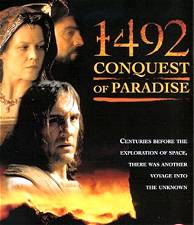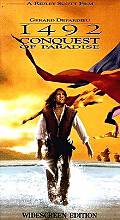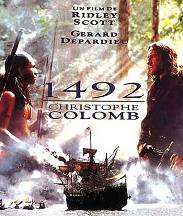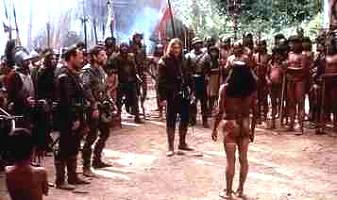 Trama e commenti: cinematografo.it - kataweb.it - Dizionario Farinotti - film.it - elcinema.it - cinekolossal.com - pacioli.it: «1491. Dopo aver visto rifiutato il suo progetto di raggiungere le Indie viaggiando verso occidente dall'Università di Salamanca, Colombo riesce a farlo approvare dalla Regina Isabella in persona. Il 3 agosto 1492 salpa da Palos e il 12 ottobre dello stesso anno raggiunge l'isola di Guanahani. Tornato in Spagna da trionfatore, ottiene onori e riconoscimenti dai reali che lo nominano governatore del Nuovo Mondo. Colombo fa ritorno nelle Indie occidentali con una seconda spedizione con lo scopo di costruirvi una città e trovare l'oro. L'ostilità verso di lui della nobiltà e degli ecclesiastici al suo seguito porterà al suo arresto e al suo imprigionamento. La gloria per la scoperta del nuovo continente verrà attribuita ad Amerigo Vespucci. La figura di Cristoforo Colombo è esaltata nella sua dimensione di tenace sostenitore di teorie geografiche che contraddicevano i dogmi del tempo e di coraggioso navigatore disposto a tutto pur di realizzare la propria aspirazione (è franco sino alla spavalderia con la regina e arriva a mentire sui rischi dell'impresa). In particolare il film ci consegna il protagonista nella luce di un utopista e visionario che persegue l'ideale di creare nel nuovo mondo una società inedita, una specie di paradiso terrestre in cui europei e indigeni possano convivere in armonia. ...».

Plot Summary, Synopsis, Review: IMDb - lehigh.edu - entertainment.msn.com - filmtracks.com - rottentomatoes.com - nytimes.com: «This, the second of 1992's 500th anniversary Christopher Columbus films (the first being Warner Bros. Christopher Columbus: The Discovery), adheres to the historical facts of Columbus's (Gerard Depardieu) possessed quest to discover the New World, and his solicitation of Queen Isabella (Sigourney Weaver) to gain the necessary funding. Despite travelogue-quality footage replete with beautiful scenery of Caribbean islands and a massive cast, this film tends to plod along with too predictable a plot and a mis-cast Columbus. Depardieu - a very capable French actor speaking English and playing an Italian - becomes perhaps the movie's bright spot (even if at his own expense) as he laughably struggles with line after line. Michael Wincott puts forth a worthy performance as a nasty Spanish nobleman whose mistreatment of the natives results in an open rebellion» (All Movie Guide).

Approfondimenti: Movie Review
Conosciuto anche con i titoli: Christophe Colomb; 1492: La conquête du paradis; 1492: La conquista del paraíso.
---
---