---
---
---
ALADDIN E IL RE DEI LADRI
(Aladdin and the King of Thieves)
1996, regia di Tad Stones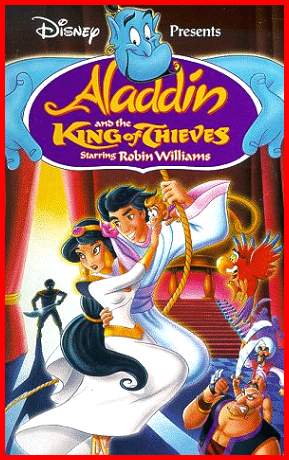 Scheda: Nazione: USA - Produzione: Walt Disney Television Animation - Distribuzione: Walt Disney Home Video - Soggetto: Mark McCorkle, Robert Schooley - Sceneggiatura: Mark McCorkle, Robert Schooley - Montaggio: Elen Orson - Musiche: David Friedman, Carl Johnson, Alan Menken, Randy Petersen, Kevin Quinn, Mark Watters - Formato: Color, animazione - Durata: 80'.
Voci: Robin Williams, Scott Weinger, Linda Larkin e altri.
---
---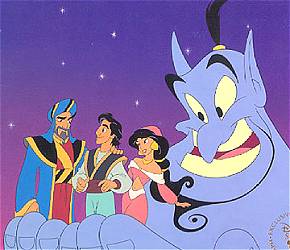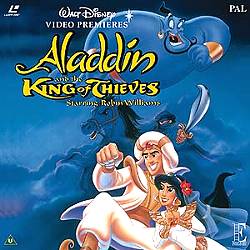 Trama e commenti: zapster.it - mymovies.it - filmup.leonardo.it - filmscoop.it - film-dvd.dvd.it - film.it - it.wikipedia.org: «Durante la cerimonia delle loro nozze, Aladdin e la principessa Jasmin scoprono di essere il bersaglio di un raid da parte dei famosi Quaranta Ladroni, guidati da un uomo chiamato Cassim. Sebbene Aladdin, Jasmine e il resto della loro gang riescono a fermare con successo l'attacco e rispediscono via i ladri, non riescono ad evitare che il matrimonio sia rovinato. Intenzionato a scoprire il motivo per cui siano arrivati fino ad Agrabah, Aladdin trova uno strano scettro (che il re dei Quaranta Ladroni ha provato a rubare) tra i regali di nozze. Lo scettro contiene un oracolo, capace di vedere nel passato e nel futuro, ma può rispondere soltanto ad una domanda per persona. Sopraffatto dal desiderio di conoscenza verso i suoi antenati, Aladdin chiede all'oracolo di suo padre. L'oracolo risponde che deve seguire la pista lasciata dai Quaranta ladroni, dicendo che il padre di Aladdin è "intrappolato nel loro mondo", Aladdin capisce che è loro prigioniero. Arrivato al loro nascondiglio scopre che non è un prigioniero ma il loro capo: Cassim, il re dei Ladri, l'uomo con la quale aveva lottato durante il matrimonio. Famiglia o no, Aladdin ha oltrepassato il confine del loro territorio e deve essere ucciso. Cassim, tuttavia, suggerisce ad Aladdin di affrontare "la Sfida", un rito di iniziazione, dove deve sconfiggere un'altro dei Quaranta Ladroni e prendere il suo posto. Riesce a vincere contro Sa'luk e...».

Plot Summary, Synopsis, Review: entertainment.msn.com - IMDb: «People near and far are heading for Agrabah as the royal wedding of the century is about to take place. But before Aladdin and Jasmine can say "I do," the legendary Forty Thieves spoil everything in a desperate search for the powerful Hand of Midas - the ultimate treasure that turns all it touches into gold! When the dust settles, a mysterious, all-knowing oracle reveals that Aladdin's long-lost father is still alive, sparking a quest that leads directly to the dangerous, secret den of the King of Thieves! Will Aladdin ever find his father? Who will control the mighty Hand of Midas? Will Aladdin and Jasmine finally get married?».

Approfondimenti: Movie Review
---
---