---
---
L'AMORE E IL SANGUE
(Flesh and Blood)
1985, regia di Paul Verhoeven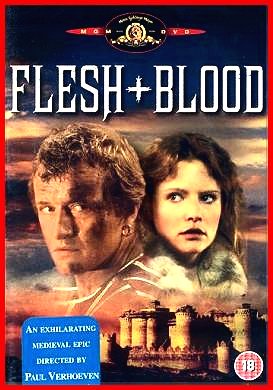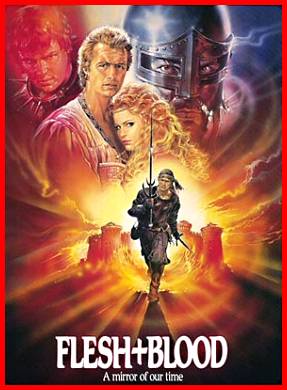 Scheda: Nazione: Olanda - Produzione: Impala S.A., Riverside Productions - Distribuzione: CDE, Cecchi Gori Home Video, Skorpion Entertainment, Cinema Classics, Orion Pictures Corporation - Soggetto: Gerard Soeteman - Sceneggiatura: Gerard Soeteman, Paul Verhoeven - Fotografia: Jan de Bont - Montaggio: Ine Schenkkan - Scenografia: Félix Murcia - Costumi: Yvonne Blake - Musiche: Basil Poledouris - Formato: Scope Color DeLuxe - Durata: 125'.
Cast: Rutger Hauer, Jennifer Jason Leigh, Tom Burlinson, Jack Thompson, Fernando Hilbeck, Susan Tyrrell, Ronald Lacey, Brion James, John Dennis Johnston, Simón Andreu, Bruno Kirby, Kitty Courbois, Marina Saura, Hans Veerman, Jake Wood, Héctor Alterio, Blanca Marsillach, Nancy Cartwright, Jorge Bosso, Mario De Barros, Ida Bons.
---
---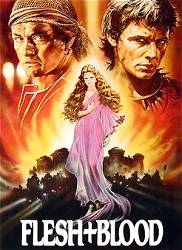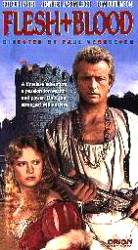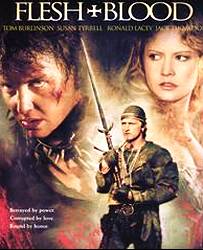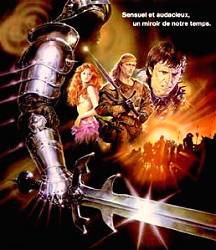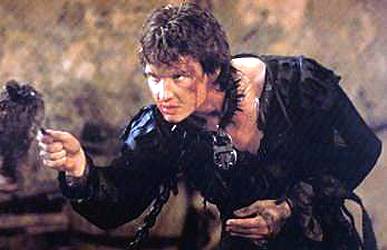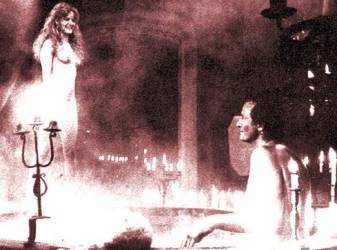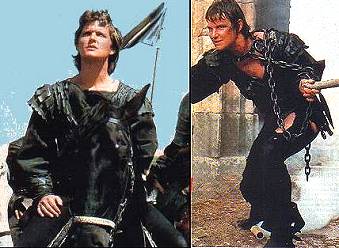 Trama e commenti: cinematografo.it - mymovies.it - cinekolossal.com - kataweb.it - unilibro.it - it.movies.yahoo.com: «Per riconquistare la sua città, nel 1501 il nobile Arnolfini la cinge d'assedio con i suoi uomini, coadiuvati dai mercenari del capitano Hawkwood. Con l'augusto signore è il giovanissimo Stephan, appassionato di scienza e di arte della guerra, cui il padre ha promesso in sposa la principessa Agnese. Conquistata la città, Arnolfini fa però un brusco voltafaccia: non volendo pagare, oltre il capitano, anche i mercenari, li fa intrappolare e sbandare dai suoi fidi. Mentre Hawkwood si ritira nella campagna donatagli, il gruppo dei mercenari e delle loro donne e prostitute (cui si è unito uno strano Cardinale) batte i dintorni, dandosi a saccheggi e gozzoviglie. Li guida un abile e violento uomo d'armi, Martin. Un giorno la banda rapisce Agnese, rubandone i gioielli e tutto ciò che essa reca con sé in dote. Martin la violenta, ma fa presto ad innamorarsene, salvandola con ciò da ignominie e turpitudini collettive. Agnese è indifesa e non può che sottostare agli eventi. Stephan però non demorde: aiutato dal padre e nuovamente ingaggiato il vecchio capitano, assedia con una ingegnosa macchina bellica il castello, dove si sono asserragliati e vivono in permanente baldoria Martin ed i suoi accoliti. Il ragazzo penetra nella fortezza, ma Martin fa fallire il piano, uccide gli armati di Arnolfini ed incatena Stephan davanti ad Agnese che, malgrado le sofferenze e violenze subite, ama ancora il ragazzo, sebbene nulla possa fare per liberarlo. L'unico scampato all'esterno è il capitano, che giura vendetta. E, poiché fuori la peste minacciosamente dilaga (lui stesso ne è stato colpito) egli trova un cane ormai contagiato, si arrampica sugli spalti del castello e da lassù ne lancia i resti, sanguinolenti e mortali, nella grande sala dove banchettano Martin e gli altri sbandati. Uno ad uno, in mezzo al tanto oro ed ai gioielli rapinati ed ammassati, alcuni degli assediati muoiono, colpiti dalla peste. Liberatosi miracolosamente dalle catene (durante un uragano un fulmine le ha colpite), Stephan riesce a far entrare dal ponte levatoio il padre arrivato con nuovi rinforzi e ha un drammatico duello con Martin davanti alla terrorizzata principessa. Il castello è in preda alle fiamme: per i mercenari è la fine mentre Agnese e Stephan si allontanano felici, essi vedono una nera figura stagliarsi minacciosamente nel rogo e poi fuggire. E' ancora Martin, l'eterno soldato di ventura, sconfitto ma non domo».

Plot Summary, Synopsis, Review: IMDb - allmovie.com - entertainment.msn.com - rottentomatoes.com - filmzentrale.com - cinetrange.com - efilmcritic.com - rinkworks.com - tvguide.com: «A brutal, unremittingly grim look at the year 1501, Flesh + Blood opens with the siege of a city somewhere in Western Europe, presumably northern Italy. Fernando Hillbeck is the former lord of the city, thrown out in a revolt, but now back to reclaim what's his with the help of a mercenary army organized by Jack Thompson. Hillbeck tells the motley but dangerous professional soldiers that they may loot the city for 24 hours, but once it has been taken and the pillaging has commenced, he changes his mind and has Thompson order his men to lay down their arms and leave. The disgruntled mercenaries are forced to depart empty-handed, but one small band, led by Rutger Hauer, slips out a sword hidden under the robe of a priest. Later, when the men dig up a statue of St. Martin while burying a camp follower's stillborn baby, the priest takes it as a divine revelation that the saint's mercenary namesake will lead them to riches, chiefly by stealing from Hillbeck, with the spoils to include the lord's virginal daughter, Jennifer Jason Leigh. Directed by Paul Verhoeven (Robocop), Flesh + Blood makes no attempt to romanticize the Middle Ages. Cruelty, violence, filth, and pestilence are the order of the day. The battle scenes are impressive, though underpopulated, and the camerawork is fluid. Flesh + Blood came and went almost unnoticed in its US release, lost amid a welter of inferior European sword-and-sorcery films, but it deserved a better fate. A more appalling view of the turmoil and misery of the late Middle Ages may never be seen».

Approfondimenti: Movie Review
Conosciuto anche con i titoli: Flesh+Blood; The Rose and the Sword; La chair et le sang; Fleisch & Blut; Conquista Sangrenta; Den vilde krigaren; Los señores del acero.

---
---