---
---
---
1982, regia di Mario Bianchi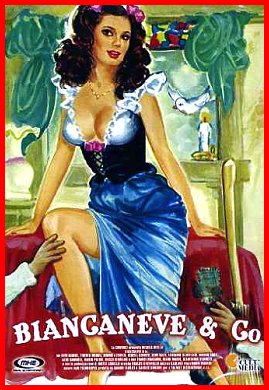 Scheda: Nazione: Italia - Produzione: Valiant International - Distribuzione: Valiant International, Budget Video - Soggetto (ispirato alla fiaba dei fratelli Grimm): Nino Marino - Sceneggiatura: Nino Marino, Luigi Petrini - Musica: Ubaldo Continiello - Formato: Color - Durata: 95'.
Cast: Michela Miti, Oreste Lionello, Gianfranco D'Angelo, Aldo Sambrell, Franco Bracardi, Enzo Garinei, Aldo Ralli, Tiberio Murgia, Mireno Scali, Serena Bennato.
---
---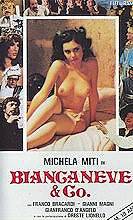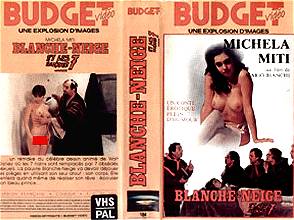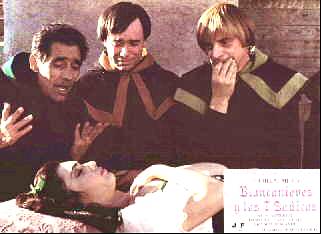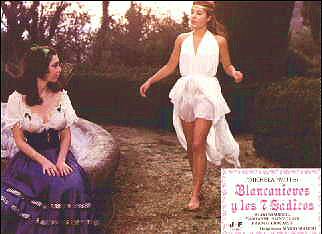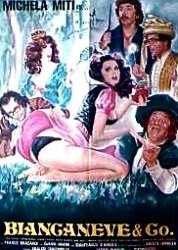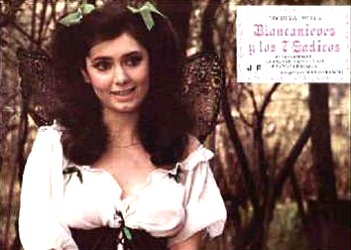 Trama e commenti: mymovies.it - mondoculto - lisoladeltesoro.com: «Un incubo cinematografico... Voce fuori campo narrante che imita la parlata del primo Abatantuono; colonna sonora che rilegge il Ballo del qua qua di Romina Power; la matrigna Crimilde è un'esperta di arti amatorie orali, chiamata a risvegliare la virilità del re impotente; Biancaneve (Michela Miti, spesso in versione nature) segue le orme della matrigna e dispensa "baci" a tutti i sudditi; Gianfranco D'Angelo è il "genio" dello specchio magico (una sorta di televisore); il sicario (trovato sulle pagine gialle alla voce "killer") assoldato da Crimilde risparmia la giovane ma le prende la verginità, e deve portare alla matrigna un ciuffo di peli pubici di Biancaneve per dimostrare di averla uccisa; Franco Bracardi è un oste infoiato che vorrebbe spassarsela con la povera ragazza fuggita nel bosco; i sette nani (qui si chiamano "saggi", e tra loro ci sono Tiberio Murgia e Enzo Garinei; quest'ultimo nella parte di "stronzolo") ospitano la protagonista in cambio delle sue prestazioni sessuali; Oreste Lionello è il buffo mago a cui si rivolge Crimilde: la trasforma in un uomo dotato di un membro "velenoso" con cui eliminare Biancaneve; e infatti la giovane muore dopo aver fatto sperimentare alla matrigna i propri baci particolari; i saggi apprendono che un rapporto sessuale col principe azzurro riporterebbe in vita l'amata fanciulla, però l'incantesimo si può compiere solo se è una vergine ad accoppiarsi... così con un saldatore "restituiscono la purezza" a Biancaneve; il principe azzurro è l'atroce sosia di Benigni che veniva usato nelle "sottocommedie" di quegli anni scellerati...» (Andrea Salacone).

Plot Summary, Synopsis, Review: IMDb - poncetd.club.fr - chilidog.project-equinox.de - giallo-fever.blogspot.com: «This 1982 film is an adaptation of the adult fumetti of the same name by Leone Frollo, an erotic, comic version of the Biancaneve – i.e. Snow White – legend, albeit with seven wise men rather than the dwarfs that Anglophone audiences might be familiar with and a foregrounding of the sexual subtexts inherent in the original not-so-innocent tale. After Biancaneve's mother, the Queen, dies giving birth to her the weak willed King (Aldo Sambrell) is tricked into remarrying. A number of years pass and Biancaneve (Michela Miti) blossoms into a beautiful young woman. The wicked Queen / stepmother (Damianne Saint-Clair) resents the threat she perceives Biancaneve represents and hires Jack il silenzatore to murder the girl. Jack, however, is smitten by Biancaneve's and cannot bring himself to kill her. Instead, after taking Biancaneve's virginity he takes a lock of her pubic hair and presents this to the queen as proof that Biancaneve is dead. Unable to return home, Biancaneve wanders the kingdom and has various adventures, invariably putting her in various states of undress...».
Conosciuto anche con i titoli: Snow White and 7 Wise Men; Blanche Neige et les 7 sadiques.
---
---