---
---
---
BLADE RUNNER
1982, regia di Ridley Scott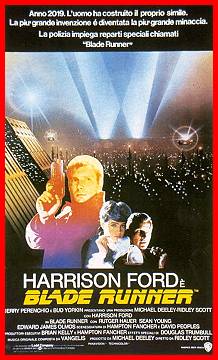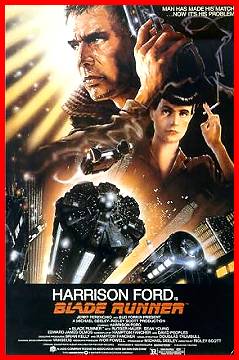 Scheda: Nazione: USA - Produzione: Blade Runner Partnership, The Ladd Company, Mosfilm - Distribuzione: PIC, Warner Bros., Warner Home Video, Argentina Video Home, Audio Visual Enterprises, Columbia TriStar, Embassy Pictures Corporation, The Criterion Collection, Varus Video - Soggetto: dal romanzo Il cacciatore di androidi (Do Androids Dream of Electric Sheep?) di Philip K. Dick - Sceneggiatura: Hampton Fancher, David Webb Peoples, Roland Kibbee - Fotografia: Jordan Cronenweth - Montaggio: Les Healey, Terry Rawlings - Art Direction: David Snyder - Scenografia: Syd Mead - Costumi: Michael Kaplan, Charles Knode, Jean Giraud - Musiche: Vangelis - Effetti speciali: Douglas Trumbull, Richard Yuricich, David Dryer - Formato: Technicolor Scope - Durata: 117'.

Cast: Harrison Ford, Rutger Hauer, Sean Young, Edward James Olmos, Joanna Cassidy, Brion James, M. Emmet Walsh, Daryl Hannah, William Sanderson, Joe Turkel, James Hong, Morgan Paull, Kevin Thompson, John Edward Allen, Hy Pyke, Kimiko Hiroshige, Bob Okazaki, Carolyn DeMirjian

.
---
---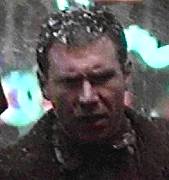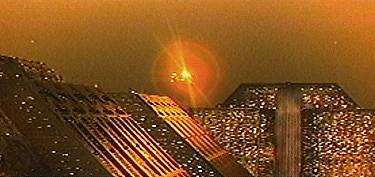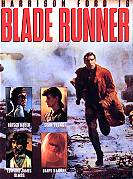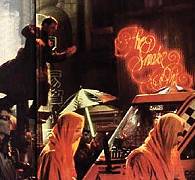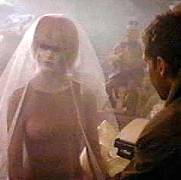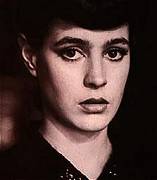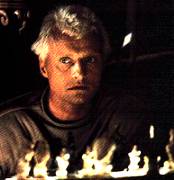 Trama e commenti: cinematografo.it - blade-runner.it - mymovies.it - cinemah.com - film.spettacolo.virgilio.it - cinefile.biz - movies.yahoo.com - copernicopv.it - kataweb.it: «Nella Los Angeles del 2019 ex poliziotto torna in servizio per ritirare dalla circolazione due uomini e due donne "replicanti", androidi prodotti di un'ingegneria genetica, così perfetti da risultare indistinguibili dai normali esseri umani. Tratto da un romanzo di Philip K. Dick, è il miglior film di SF degli anni '80; dopo Metropolis (1926) di F. Lang nessun film, forse, aveva proposto un'immagine così suggestiva e terribile del futuro come la metropoli multirazziale, modernissima e decadente, ideata dall'artista concettuale Syd Mead e dallo scenografo L.G. Paull (con la fotografia di J. Cronenweth, gli effetti speciali di D. Trumbull, le musiche di Vangelis). A livello tematico può insospettire il suo versante filosofeggiante e il finale, imposto dalla produzione a Scott, è smaccatamente consolatorio, ma il fascino figurativo e la sagace commistione di thriller nero e fantastico sono fuori discussione. Ovviamente i soci dell'Academy che dà gli Oscar non se ne accorsero. Nel 1991 fu rimesso in circolazione in una nuova edizione curata dal regista, eliminando la narrazione fuori campo, con qualche ritocco e un finale diverso, portando la durata a 117 minuti».
Giovanni Grazzini, «Corriere della sera»: «Uno dei più clamorosi film di fantascienza che si siano visti negli ultimi anni, una delle più sgomentevoli profezie sull'imminente Medioevo, uno dei frutti più maturi del cinema spettacolare».

Plot Summary, Synopsis, Review: IMDb - entertainment.msn.com - tvguide.com - film.u-net.com - miradas.net - hollywoodjesus.com - brmovie.com - rottentomatoes.com: «Director Ridley Scott's hauntingly prescient vision of the not-too-distant future stars Harrison Ford as Rick Deckard, a retired police assassin, or "blade runner." The Los Angeles of 2019 is a dark, polluted, overcrowded dystopia dominated by cloud-piercing buildings and looming neon billboards, the air dense with acid rain and flying traffic. World-weary Deckard has been called out of retirement to liquidate four escaped "replicants"--genetically derived androids of great strength, intelligence, and nearly-human emotion who serve as slaves and prostitutes in the off-planet colonies. Led by Roy Batty (Rutger Hauer), they've come to Los Angeles to confront their designer, Eldon Tyrell (Joe Turkel), with their unhappiness about the brevity of their four-year life span. In the course of his search, Deckard becomes romantically entwined with Tyrell's lovely assistant, Rachael (Sean Young), and must eventually confront Batty in an unforgettable rain-soaked sequence. A highly influential fusion of the science fiction and noir genres based on the novel Do Androids Dream of Electric Sheep? by Philip K. Dick, this postmodern film boasts astonishingly rich art direction, juxtaposing ingenious technological gadgetry with yellowing photographs and fetishistic objets d'art as it touches on questions of time, memory, identity, and mortality. Different from Scott's 1992 director's cut, this widely released edition of the film, which features Ford's narration and an ending culled from footage of Stanley Kubrick's The Shining, remains the most well known version of this stunning cinematic landmark».

Approfondimenti: Movie Review

Atmosfere da Medioevo prossimo venturo nel film-cult di Ridley Scott, riedito nel 1992 con il titolo Blade Runner the Director's Cut (vedi

cinematografo.it): «Nella nuova versione è stata eliminata la voce fuori campo di Rick Deckard (Harrison Ford), l'ex detective ingaggiato per rintracciare i criminali umanoidi chiamati replicanti, così come è stato cancellato il movimentato finale. Viene invece maggiormente sviluppata la storia d'amore tra Deckard e Rachael, la bella e misteriosa replicante, e viene proposta una conclusione per certi aspetti più inquietante. "

è

stata inoltre approfondita la parte sui frammenti di unicorno che causano la riflessione di Deckard sulla propria essenza", conclude Scott».

Scheda filmica di Giuseppe Losapio nel volume virtuale Immagini del Medioevo nel cinema - I classici

La recensione di Cristina Donati su "Terre di Confine"
---
---