---
---
---
BLANCHE
1971, regia di Walerian Borowczyk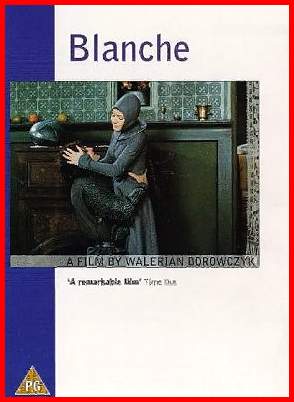 Scheda: Nazione: Francia - Produzione: Abel & Charton, Télépresse Films - Soggetto: dal racconto Mazepa di Juliusz Slovacki - Sceneggiatura: Walerian Borowczyk - Fotografia: André Dubreuil, Guy Durban - Montaggio: Walerian Borowczyk, Charles Bretoneiche - Scenografia: Jacques D'Ovidio - Costumi: Piet Bolscher - Musiche: Christian Boissonnade, Annie Challan, Agnès Faucheux, Maurice-Pierre Gourrier, Florence Lassailly (e musiche originali del XIII secolo) - Formato: Eastmancolor - Durata: 92'.
Cast: Michel Simon, Georges Wilson, Jacques Perrin, Ligia Branice, Denise Péronne, Jean Gras, Lawrence Trimble, Michel Delahaye, Roberto, Genevieve Graves, Stanley Barry, Guy Bonnafoux.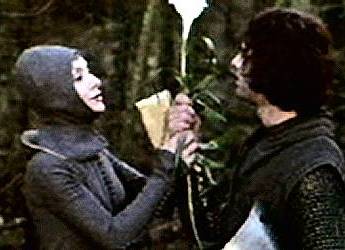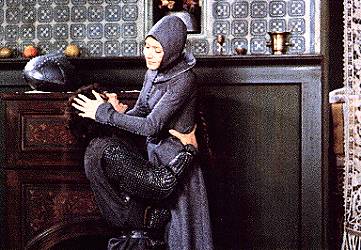 Trama e commenti: cinema-tv.corriere.it - comingsoon.it - scaruffi.com: «Blanche (1971), ambientato in un medioevo ossessivo e ritualistico, approfondisce queste tematiche in senso erotico: in un castello abitano il vegliardo vassallo, la sua giovane e purissima moglie e il figlio di primo letto del vecchio; Blanche e il figliastro si amano teneramente, ma entrambi sono troppo fedeli al padrone per tradirlo. Arrivano il re e il suo paggio ed entrambi si invaghiscono della bella e pudica castellana; tutti e quattro gli uomini bramano di violare la purezza di Blanche; ma il vecchio e il figliastro son anche decisi a dare la vita per difenderla dagli altri due; il paggio viene murato vivo, si libera ed uccide in duello il figliastro, Blanche si suicida con il veleno, il paggio muore straziato dal vecchio, e infine anche il vecchio si toglie la vita. Il melodramma, inzuppato di figurativismi suggestivi e simbolici, indaga i segreti tormenti dell'anima erotica, tanto quella casta di Blanche (che deve reprimere i sensi), quanto quelle bestiali ed oscene degli uomini, tutti intenti ad esercitare su di lei una malsana violenza fatta di gelosie e di seduzioni».

Plot Summary, Synopsis, Review: IMDb - entertainment.msn.com - tvguide.com - film.guardian.co.uk - allmovie.com: «Walerian Borowczyk's Blanche is a tragic romantic tale set in 13th century France. While visiting the castle of an old landlord (Michel Simon), both the king (Georges Wilson) and his philandering page Bartolomeo (Jacques Perrin) try to seduce the landlord's young, naive wife Blanche (Ligia Branice, the director's wife). The landlord's son Nicolas (Lawrence Trimble), who's secretly in love with Blanche, seeks to defend her honor and stays on the watch by her bedroom door. When the king tries to sneak to Blanche's bedroom at night, covered by his page's cloak, Nicolas wounds him in the hand, being certain that he punishes the page. To save the king's reputation, Bartolomeo cuts his own hand and admits he was trying to get to Blanche's bedroom. The outraged old master wants to punish the page himself, but the king won't let him. The old landlord blindly seeks vengeance, and tragedy follows. Some critics consider Blanche the director's masterpiece and a metaphor of imprisonment, as Blanche is compared to a white dove kept in a cage. Others point out that the film's main virtues lie mostly in its beautiful photography and loving attention to period detail» (Yuri German).

Approfondimenti: Movie Review
---
---