---
---
---
IL CAPITANO DI VENEZIA
1951, regia di Mulligan Jeff (Gianni Puccini)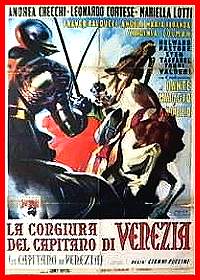 Scheda: Nazione: Italia - Produzione: Italica Film - Distribuzione: Italica Film, Regionale - Soggetto: Tullio Moretti - Sceneggiatura: Sergio Grieco, Gianni Puccini - Fotografia: Gianni Di Venanzo - Montaggio: Enzo Alfonsi - Scenografie: Arrigo Equini - Musiche: Mario Zafred - Formato: B.N. - Durata: 90'.
Cast: Leonardo Cortese, Mariella Lotti, Andrea Checchi, Dante Maggio, Franco Balducci, Xenia Valderi, Pietro Tordi, Gino Cavalieri, Angelo Maggio, Piero Pastore, Marisa Ciampaglia, Angiola Maria Faranda, Catherine Halward, Gino Latilla, David Sten.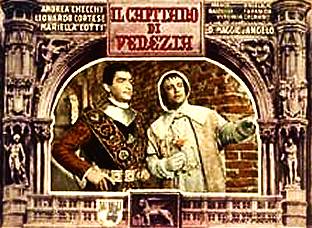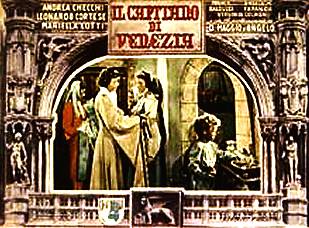 «Avventure d'amore di un coraggioso cavaliere nella Repubblica di Venezia del XIII secolo, durante le lotte politiche fra Ezzelino da Romano e Rizzardo di San Bonifacio, signore di Verona» (Vito Attolini).

Vedi anche: cinematografo.it - kataweb.it - mymovies.it

Plot Summary, Synopsis, Review: IMDb - movie-time.it: «In the 12th century, the political relations between Venice, Verona and Vicenza are often tense. At a certain point, Venice acts as peacemaker between Verona and Vicenza: such peace will be guaranteed by the marriage of the fierce Ezzelin, lord of Verona, to the beautiful sister of the lord of Vicenza. The girl, who is in love with the mysterious Captain of Venice, is horrified at the thought of this wedding, but she cannot oppose her brother's will. The date of the wedding is decided, but the two rivals only want to use the ceremony for new treacheries. While one of them comes in with a gang of armed men dressed up as jugglers, the other prepares his ambush. The Captain of Venice has sworn to prevent the marriage and has managed to enter the armed escort of the lord of Verona. The banquet becomes a battle scene, and the Captain of Venice seizes the opportunity to kidnap the girl and take her to safety. In the end, Ezzelin kills his Veronese rival, but the Captain of Venice, in the name of his city, will defeat the latter as well».
Conosciuto anche con i titoli: La congiura del capitano di Venezia; The Captain of Venice.
---
---