---
---
---
Conan il Barbaro
(Conan the Barbarian)
1982, regia di John Milius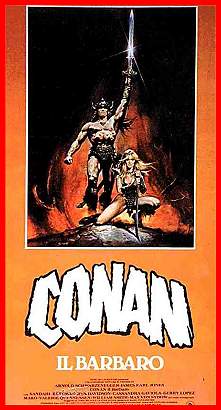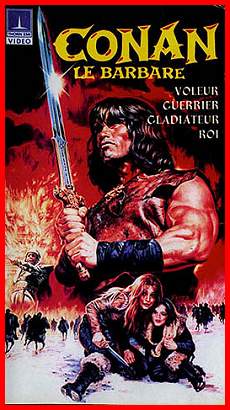 Scheda: Nazione: Usa - Produzione: Dino De Laurentis - Distribuzione: Fox Ricci e Marinelli - Soggetto: tratto dal personaggio creato da Robert E. Howard - Sceneggiatura: John Milius, Oliver Stone - Fotografia: Duke Callaghan - Montaggio: Carrol Timothy O'Meara - Musiche: Basil Poledouris - Formato: Scope Color - Durata: 128'.
Cast: Arnold Schwarzenegger, James Earl Jones, Sandhal Bergman, Max von Sidow, Gerry Lopez, Valerie Quennessenn, Mako, William Smith, Ben Davidson.
---
---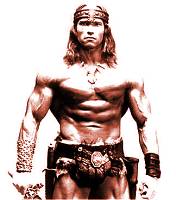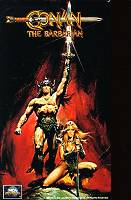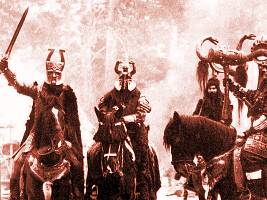 «Le truppe di Tulsa Doom prendono d'assalto un villaggio in cui vivono alcuni forgiatori d'acciaio in grado di preparare spade invincibili. Alla strage che segue all'assalto sfugge il piccolo Conan. Ormai divenuto un valoroso giovane guerriero, Conan si dedica ad un'impresa il cui fine è quello di trovare l'uomo che ha ucciso i suoi genitori e vendicare la loro fine» (Vito Attolini).

Vedi anche: film.spettacolo.virgilio.it - kataweb.it - cinematografo.it

Plot Summary, Synopsis, Review: IMDb - entertainment.msn.com - tvguide.com: «Sweaty, musclebound ode to mythic masculinity from right-wing ironist John Milius, featuring Arnold Schwarzenegger's first starring role in an action picture (if you exclude the execrable low-budget comedy Hercules in New York). Based on the adventures of Robert E. Howard's pulp hero, the film opens as the title character (Schwarzenegger) becomes a slave of the brutal murderers of his mother and father. When forced to take to the gladiatorial arena, Conan realizes he's a little stronger than the average guy. In no time he and some colorful friends set out to avenge his parents' deaths. The picture, however, never goes anywhere. A series of meaningless adventures punctuated with a lot of clanky, very bloody swordplay, Conan the Barbarian is best remembered for a scene in which Schwarzenegger punches out a camel. In 1984 a much superior sequel, Conan the Destroyer, was released. The Conan films did well at the box office, spawning a number of sword-and-sorcery imitations and launching Arnold's career».

Approfondimenti: Movie Review

Approfondimenti: fantasymagazine.it (articolo di Massimo Manganelli, sito esterno).
Film non sul Medioevo cronologico, ma "d'atmosfera medievale". Conosciuto anche con i titoli: Conan le barbare; Conan of Cimmeria; Kalidor; Young Conan.
---
Conan Unchained: The Making of 'Conan'
2000, regia di Laurent Bouzereau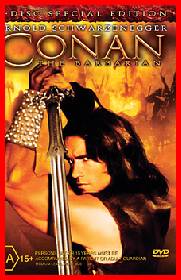 Scheda: Nazione: USA - Produzione: Universal Studios Home Video - Distribuzione: Universal Studios Home Video, Twentieth Century Fox Home Entertainment - Soggetto: il film Conan il Barbaro - Sceneggiatura: Laurent Bouzereau - Musiche: Basil Poledouris - Formato: Color, documentario - Durata: 52'.
Cast: Arnold Schwarzenegger, Sandahl Bergman, Ron Cobb, Ben Davidson, Dino De Laurentiis, Raffaella De Laurentiis, James Earl Jones, Terry Leonard, Gerry Lopez, Mako, John Milius, Basil Poledouris, Edward R. Pressman, Valérie Quennessen, William Smith, Oliver Stone, Sven-Ole Thorsen, Max von Sydow.
---
---

Trama e commenti: fantascienza.com - dvdessential.it: Documentario presentato tra i contenuti extra del dvd Conan il Barbaro, edizione speciale.

Plot Summary, Synopsis, Review: mcomet.com - dvdreview.com - foxmovies.com.au - bestprices.co - IMDb: «This documentary is featured on both the Collector's Edition and Franchise Collection DVDs for Conan the Barbarian (1982)».

Approfondimenti: Movie Review
---
---