---
---
---
DIES IRAE
(Vredens Dag)
1943, regia di Carl Theodor Dreyer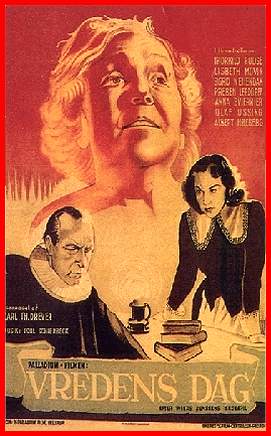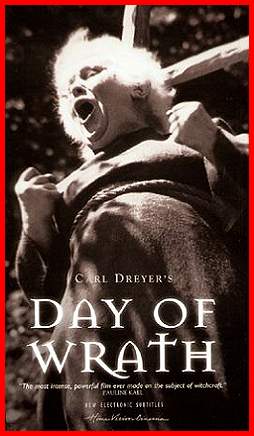 Scheda: Nazione: Danimarca - Produzione: Palladium Productions - Distribuzione: Globe Delta Video, Cable Video, Criterion Film Corp., George J. Schaefer, Imperial Entertainment, Sinister Cinema - Soggetto: dal romanzo Anne Pedersdotter di Hans Wiers-Jenssens (1906) e dal dramma (1918) di Karl Gustav Vollmoeller - Sceneggiatura: Carl Theodor Dreyer, Poul Knudsen, Mogens Skot-Hansen - Fotografia: Karl Andersson - Montaggio: Anne Marie Petersen, Edith Schlüssel - Art direction: Erik Aaes - Costumi: Karl Sandt Jensen, Olga Thomsen - Musiche: Poul Schierbeck - Consulenza storica: Kaj Uldall - Formato: B.N. - Durata: 93' (110').
Cast: Thorkild Roose, Lisbeth Movin, Sigrid Neiiendam, Preben Lerdorff Rye, Anna Svierkier, Abert Høeberg, Olaf Ussing, Kirsten Andreasen, Sigurd Berg, Harald Holst, Sophie Knudsen, Preben Neergaard, Emilie Nielsen.
---
---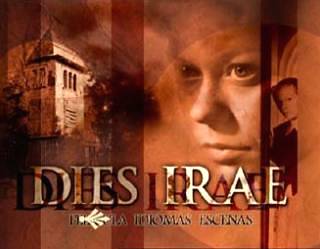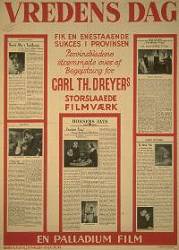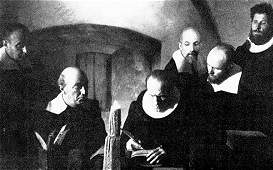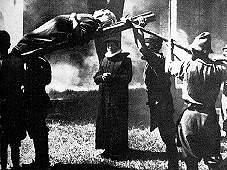 clicca sulle immagini in basso per ingrandirle

Trama e commenti: cinematografo.it - kataweb.it - mymovies.itcomune.re.it/cinema - cinemadelsilenzio.it - pacioli.net - alasca.it - cinekolossal.com - filmscoop.it - activitaly.it: «Nel 1623, l'anziana Marte Herloff viene accusata dai propri concittadini di essere dedita a pratiche di stregoneria. Per sottrarsi alla folla che ne reclama l'esecuzione a morte sul rogo, la donna si rifugia nell'abitazione del Pastore Absalon, invocando la protezione di Anne, la giovanissima sposa di quest'ultimo. Quando Anne era soltanto una bambina aveva subito un processo per stregoneria anche sua madre, che però era stata inaspettatamente assolta grazie alla difesa di Absalon. In nome dell'antica solidarietà con la madre di Anne, anche lei una strega, la vecchia Herloff invoca ora la medesima salvezza per sé, al prezzo del suo silenzio di fronte alla comunità. ... Il film di Dreyer costituisce una rappresentazione drammatica giocata interamente sul piano psicologico dei personaggi che si avvicendano sulla scena. Tra le pieghe di una tragedia in cui assistiamo alla contrapposizione fra l'istinto di vita della giovane Anne e le pulsioni di morte insite nell'autoritarismo repressivo dell'ambiente circostante, si percepisce la sensibilità di Dreyer nei confronti delle vicende a lui contemporanee...».

Plot Summary, Synopsis, Review: IMDb - entertainment.msn.com - tvguide.com - dvdtalk.com - moria.co.nz - dvd-reviews.net - dvdbeaver.com - bbc.co.uk - dvdtalk.com - cinemazone.dk - almanak.dk - filmref.com: «It is 1623, Denmark, a hundred years after the Protestant reformation, and religious tide has swung from the sale of indulgences to theological fanaticism. Witchcraft trials occur with certain frequency, and any aberrant behavior is cause for denunciation. ... Using richly symbolic, precisely structured mise-en-scene, Carl Theodor Dreyer creates a rigid and austere atmosphere in Day of Wrath. The dour countenance of Absalon and Meret, wearing dark, stiff-collared clothing sharply contrast against Martin and Anne's softer, accessible persona. Minimal lighting and shadows create a pervasive sense of darkness, reflecting society's cruelty and intolerance in an age of spiritual enlightenment. (Note the cross patterned shadows cast by the windows in Absalon's house.) Similar to The Passion of Joan of Arc, Dreyer shows the inquisitors in long panning shots in order to create a sense of paranoid scrutiny. Day of Wrath is a harrowing portrait of ideological persecution - the tragic consequences of a misdirected cruelty borne of intolerance and repression...».

Approfondimenti: Movie Review
Conosciuto anche con i titoli: Day of Anger; Day of Wrath.
---
---