---
---
---
ERIK IL VICHINGO
1965, regia di Mario Caiano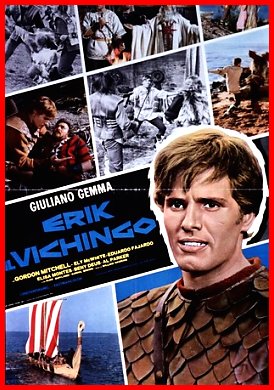 Scheda: Nazione: Italia-Spagna - Produzione: As Films Producción, Nike Cinematografica - Distribuzione: Atlantis Film, Ricordi Video, BMG Video, As Films, Interpeninsular - Soggetto: Arpad DeRiso, Nino Scolaro - Sceneggiatura: Mario Caiano, Arpad DeRiso, Nino Scolaro - Fotografia: Enzo Barboni - Montaggio: Jolanda Benvenuti - Scenografia: Luciano Vincenti - Costumi: Ida Gearon - Musiche: Carlo Franci - Formato: Eastmancolor - Durata: 95'.
Cast: Giuliano Gemma, Gordon Mitchell, Fortunato Arena, Eleonora Bianchi, Aldo Bufi Landi, Carla Calò, Alfio Caltabiano, Bruno Carotenuto, Roby Ceccacci, Erno Crisa, Lucio De Santis, Beni Deus, Eduardo Fajardo, Elisa Montés.
---
---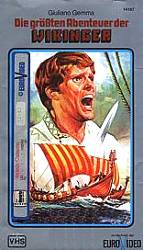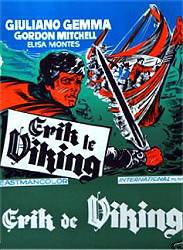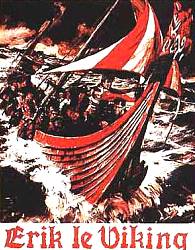 Trama e commenti: kataweb.it - film.virgilio.it - cinematografo.it: «Alla morte del re dei Vichinghi il potere passa al figlio, il vile e subdolo Eyolf, ed al coraggioso e audace cugino Erik. A causa delle vessazioni del re danese sulla popolazione vichinga, Erik decide di cercare una nuova terra al di là del grande mare. Dopo una lunga e avventurosa navigazione, insieme ad un gruppo di vichinghi fra i quali sono anche due sicari di Eyolf incaricati di ucciderlo alla prima occasione, Erik sbarca sul continente americano. Qui stabilisce amichevoli relazioni con una tribù indigena ma suscita le ire di un capo indiano a causa della preferenza dimostrata verso di lui da una principessa della tribù. Erik ed i suoi fidi vanno incontro a peripezie e avventure causate dalla sfiducia di una parte degli indigeni e dalle malvagie trame dei due sicari di Eyolf... L'America non è ancora stata scoperta, ma gli autori del film hanno già visto parecchi western (...) . Apprezzabile la ricostruzione scenografica, soprattutto negli esterni...».

Plot Summary, Synopsis, Review: IMDb - locatetv.com - facets.org - cultmovies.dk - bobtheque.com - ofdb.de - kult-movies.com: «...Giuliano Gemma stars as the absurdly optimistic and friendly viking named Erik, who fights enemy hordes without ever losing the perpetual grin on his face. Opposite him is the similarly clean-shaven, though much larger and more imposing Gordon Mitchell as Byarni, who sadistically laughs while he strangles enemies and makes his wimpy buddy Erlof look brave by pinning enemies down and letting Erlof kill them. Well, considering their constant muttering and nervously looking back and forth, it doesn't take long to figure out that Byarni and Erlof are the bad guys. When the king of Denmark threatens to overrun the Viking village, the recently in-charge Erik puts together an expedition to find land to the west. Of course, the trusting Erik is overjoyed to let Byarni come along as well as one of Byarni's shadier goons (played by Eduardo Fajardo). Erlof is too wimpy to come along so he gets to ride the movie out at home and hit on Erik's girlfriend while Erik is off at sea. As is the plot of almost every Viking movie, Erik and his group eventually land in America and encounter the local natives, who are friendly at first but soon grow jealous and angry when the Vikings start stealing their gold and their women. Byarni and his sidekick never miss an opportunity to scheme and connive about how to kill off Erik, even when Erik and his friends are well within earshot. They eventually team up with an Indian chief who also hates Erik with the promise of Indian gold in return...».

Approfondimenti: Movie Review
Conosciuto anche con i titoli: Erik, el vikingo; Erik le viking; Erik, the Viking; Vengeance of the Vikings.
---
---