---
---
---
FRANCESCO D'ASSISI
1966, regia di Liliana Cavani
Scheda: Nazione: Italia - Produzione: Clodio Cinematografica, Rai 1966 - Distribuzione: Regionale - Soggetto (ispirato alla vita di san Francesco): Liliana Cavani, Tullio Pinelli - Sceneggiatura: Liliana Cavani, Tullio Pinelli - Fotografia: Giuseppe Ruzzolini - Montaggio: Luciano Gigante - Scenografia: Virgilio Marchi - Musica: Peppino De Luca - Consulenza storica: Boris Ulianich - Formato: B.N., film tv - Durata: 134'.
Cast: Lou Castel, Marco Bellocchio, Kenneth Belton, Riccardo Bernardini, Mimo Billi, Giuseppe Campodifiori, Riccardo Cucciolla, Roberto Di Massimo, Gerig Domain, Marcello Formica, Giampiero Frondini, Gérard Herter, John Karlsen, Ludmila Lvova, Franco Marchesi, Maria Grazia Marescalchi, Oscar Mercurelli, Giancarlo Sbragia, John Thorner, Maurizio Tocchi, Gianni Turillazzi.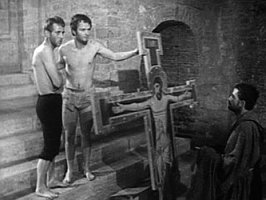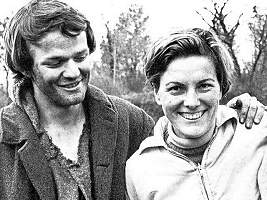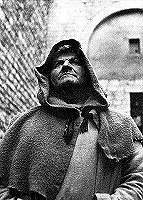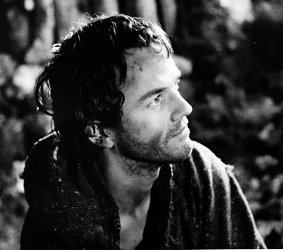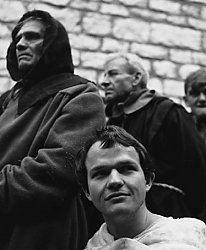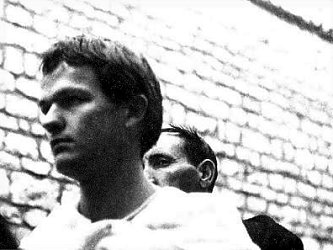 Trama e commenti: cinematografo.it - mymovies.it - film.spettacolo.virgilio.it - rewind.rai.it - cinema.it.msn.com - kataweb.it: «Vita di Francesco (Assisi 1182-1226), figlio del mercante Pietro di Bernardone. Esordio nel lungometraggio di L. Cavani (Carpi, 1937), e primo telefilm della RAI, girato in 16 mm, messo in onda in due puntate, suddiviso in capitoli che tracciano l'itinerario della sua vita dalle prime esperienze giovanili e mondane sino al ritiro alla Verna, la malattia, la morte (4 ottobre 1226). Rosselliniano (e pasoliniano) nello slancio, nella spoglia energia stilistica, è caratterizzato da un'estrema fisicità che si manifesta soprattutto nel denudamento: dei corpi, delle scenografie, dei paesaggi e assiduamente sostenuto da un assillo teso all'invenzione di una mitologia del personaggio che s'oppone a quella della dolciastra tradizione agiografica sia popolare sia dannunziana».

Plot Summary, Synopsis, Review: IMDb - fratefrancesco.org - italica.rai.it/eng: «Film debut for Liliana Cavani, after lengthy experience directing TV documentaries, Francis of Assisi retells the life of the saint from a secular point of view. Francis is played by Lou Castel (protagonist the previous year of Fist in his pocket by Marco Bellocchio) who became a symbol of the non-conformism and political and social rebellion that animated 1968, just two years after the release of the film. The saint is portrayed as a man who rebels against authority and the established order. The young Francis enjoys a carefree, relaxed youth. He passes his time simply with friends in Assisi, jousting and merrymaking. A sudden change, however, turns his life upside down: the onset of war. On the battlefield, Francis is torn apart by doubts and uncertainty. One night, after a violent clash, unable to sleep and deep in thought, the young man reflects on the horrors of war and the injustices he has witnessed helplessly. From these thoughts springs his desire to follow in the footsteps of Christ. Returning home, he announces to his...».
Conosciuto anche con il titolo: Francis of Assisi.

Vedi anche: Francesco, 1989
---
---