---
---
---
MUSA - The Warrior
2001, regia di Sung-Su Kim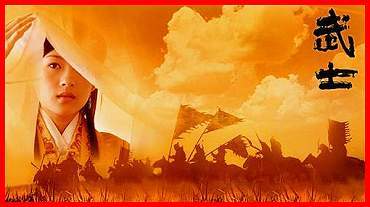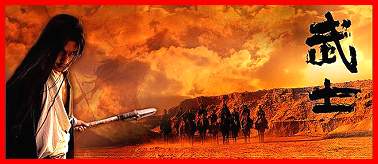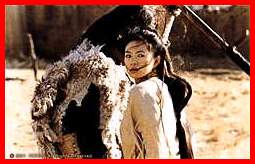 Scheda: Nazione: Cina-Corea del Sud - Produzione: Beijing Film Studio, CJ Entertainment, China Film, Intz.com, KTB Network, Muhan Technology, Sidus - Distribuzione: Central Partnership, Yellowtail Corporation - Soggetto: Sung-Su Kim - Sceneggiatura: Sung-Su Kim - Fotografia: Hyung-Ku Kim - Montaggio: Hyun Kim - Costumi: Joan Bergin - Musiche: Shirô Sagisu - Effetti speciali: Gauthier Special Effects Ltd. - Formato: Cinemascope Color - Durata: 158'.
Cast: Woo-Sung Jung, Sung-Kee Ahn, Jin-Mo Ju, Ziyi Zhang, Yong-Woo Park, Jeong-Hak Park, Hye-Jin Yu, Seok-Yong Jeong, Du-Il Lee, Yeong-Mok Han, Rongguang Yu.
---
---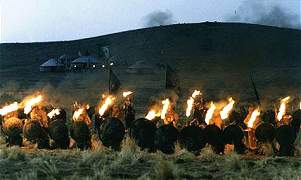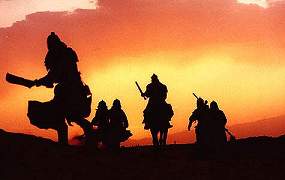 Trama e commenti: asiaexpress.it - scanner.it - cinemacoreano.it: «1375. La Cina versa in uno stato di confusione a causa della lotta fra la dinastia Yuan e la dinatia Ming. Dalla confinate Corea giunge una delegazione per firmare un trattato di pace con il nuovo governo Ming, ma gli emissari coreani vengono accusati di spionaggio e scortati in esilio nel deserto. Durante il tragitto, la carovana cade vittima di un'imboscata delle truppe fedeli alla dinastia Yuan, e i soldati Ming di scorta e molti coreani rimangono uccisi. Sopravvive il generale Choi Jung, capo della delegazione coreana, che decide di rientrare in Corea. Ma la strada è lunga e difficile: dopo aver superato molti ostacoli, i soldati coreani si scontrano con la cavalleria Yuan, che ha rapito la principessa Ming Buyong. Al generale Choi Jung è sufficiente incrociare lo sguardo della principessa per innamorarsene. Nello scontro con gli Yuan il luogotenente di Choi Jung, Yeosol, anch'egli invaghitosi della principessa, viene preso prigioniero. Il generale, nonostante il parere contrario del suo aiutante di campo e di alcuni guerrieri, decide di correre in soccoso della principessa e del suo luogotenente: i due vengono liberati, ma solo a costo di molte vite. Ora occorre far ritorno in Corea, ma la cosa è più difficile del previsto: giunti nella Valle del fiume Giallo, i coreani trovano le loro navi bruciate. Riprendono allora il viaggio sulla terraferma, ma l'esercito Yuan guadagna sempre più terreno: e come se non bastasse, la tensione fra Choi Jung e Yeosol per la principessa Buyong cresce sempre più. Devono scegliere. Abbandonare la principessa o combattere insieme fino alla morte. Il momento della verità si avvicina...».

Plot Summary, Synopsis, Review: allmovie.com - cinemakim.net - filmcritic.com - lovehkfilm.com - en.wikipedia.org - movie-gazette.com - filmische.ekstase.de - IMDb: «In 1375, China was in chaos between Yuan Dynasty and Ming Dynasty. Coryo (an ancient kingdom of Korea then) sent a delegation of many diplomats, soldiers and a silent slave (Woo-sung Jung) to make peace with the new Chinese government. However, this delegation got charged as spies and sent in exile to a remote desert. On the way the group came across a Yuan troop, and the Coryo soldiers managed to survive the battle. They began the journey toward the faraway home country, where they met the Yuan troop again. When they found out the Yuan troop kidnapped a Ming princess (Ziyi Zhang), they decided to rescue her so that they could get a ship to go home. Then the battle began...» (Stevie Cho).

Approfondimenti: Movie Review
---
---