---
---
---
La nONA PORTA
(The Ninth Gate)
1999, regia di Roman Polanski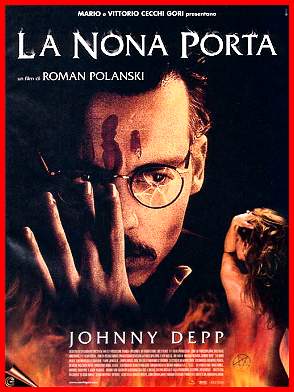 Scheda: Nazione: USA-Francia-Spagna - Produzione: Araba Films, Bac Films, Kino Vision, Le Studio Canal, Live Entertainment, Origen Producciones Cinematograficas, Orly Films, R.P. Productions, TF1 Films Productions, Vía Digital - Distribuzione: Cecchi Gori Group, Artisan Entertainment, United International Pictures - Soggetto: dal romanzo di Arturo Perez-Reverte Il club Dumas - Sceneggiatura: John Brownjohn, Enrique Urbizu, Roman Polanski - Fotografia: Darius Khondji - Montaggio: Hervé de Luze - Art Director: Dean Tavoularis - Costumi: Anthony Powell - Musiche: Wojciech Kilar - Effetti speciali: Gilbert Pieri, Jean-Louis Trinquier - Formato: Color - Durata: 133'.
Cast: Johnny Depp, Frank Langella, Lena Olin, Emmanuelle Seigner, Barbara Jefford, Jack Taylor, José López Rodero, Tony Amoni, James Russo, Willy Holt, Allen Garfield, Jacques Dacqmine, Joe Sheridan, Rebecca Pauly, Catherine Benguigui, Maria Ducceschi, Jacques Collard, Dominique Pozzetto.
---
---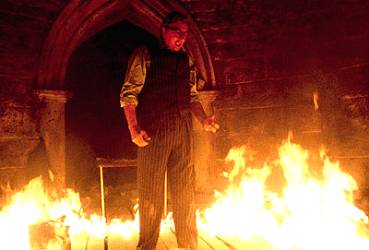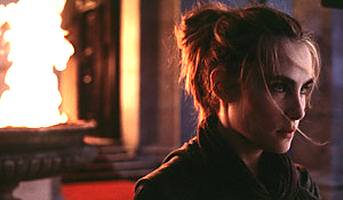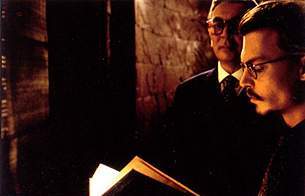 Trama e commenti: cinematografo.it - mymovies.it - revisioncinema.com - cinefile.biz - film.spettacolo.virgilio.it: «Dean Corso, cercatore di libri antichi per collezionisti, viene ingaggiato dal famoso bibliofilo Boris Balkan. La sua missione è quella di trovare gli ultimi tre esemplari di un leggendario manuale di invocazione satanica e scoprire quale è quello vero. Dean accetta la sfida protetto da una creatura angelica. Horror dei più classici questo film che Polanski ha tratto dal romanzo "Il Club Dumas" di Arturo Perez-Reverte, e che conduce attraverso le prime due ore come un'indagine inquietante e minacciosa. Poi il finale molto criticato, dove tutto esplode: il rito, l'eccesso. Ridicolo? Può darsi: ma Polanski ha un buon motivo per detestare e coprire di ridicolo qualsiasi setta».
it.answers.yahoo.com: «La Nona Porta potrebbe essere una metafora per indicare i piaceri della carne. Nel basso Medioevo e anche nel Rinascimento, tali piaceri sono sempre stati dalla Chiesa considerati come "peccato". Quindi, plausibilmente, come una manifestazione del maligno, del demonio. Nel film la nona incisione, fulcro del mistero, è presente in due varianti: una falsificata ed una autentica. Quella falsificata dimostra la propria natura facendo fallire il rituale di Balkan... ed in effetti, ad un'attenta analisi, la differenza tra questa incisione e quella autentica, che il protagonista rinviene solo alla fine, è lampante: nell'incisione "vera", infatti, compare l'immagine di una donna, che invece era assente nell'altra. Ed infatti, l'incisione con la raffigurazione della donna consente al protagonista di completare il rito e di avere successo...».

Plot Summary, Synopsis, Review: IMDb - entertainment.msn.com - rottentomatoes.com - indiewire.com - popmatters.com - dieterwunderlich.de - tvguide.com: «Johnny Depp traipses across Europe looking at old books in this slow and hugely old-fashioned supernatural thriller. Sure, in real life rational people are no quicker to blame the Devil for their troubles than they were some 30 years ago, when Polanski made the supremely creepy Rosemary's baby. But today's audiences become impatient with movie characters who, bedeviled at length by supernatural mayhem, persist in declaring that they don't believe in such mumbo-jumbo. Which brings us to Dean Corso (Johnny Depp), an unprincipled rare book dealer who's hired by wealthy Boris Balkan (Frank Langella) to investigate a 17th-century tome called "The Nine Gates of the Kingdom of Shadows", which is rumored to contain hidden instructions on conjuring the devil. Only three copies exist, since the rest were burned (along with the author) some 300 years ago; Balkan owns one, another is in Lisbon and a third in Paris. Balkan claims to believe that only one is authentic, and wants Corso to compare his book with the other two. Complicating matters are black widow Liana Telfer (Lena Olin), who wants to get back...».

Approfondimenti: Movie Review
Conosciuto anche con i titoli: La neuvième porte; La novena puerta.

Il castello delle ombre: La recensione di Vito Attolini
---
---