---
---
---
Le proibitissime viziose di Canterbury
(Ribald Tales of Canterbury)
1985, regia di Bud Lee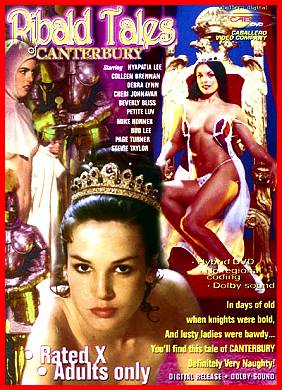 Scheda: Nazione: USA - Produzione: CCC (Caballero Control Corporation) - Distribuzione: CCC (Caballero Control Corporation), Caballero Control Corporation Home Video - Soggetto: dai Canterbury Tales di Geoffrey Chaucer: - Sceneggiatura: dai Canterbury Tales di Geoffrey Chaucer - Montaggio: Pearl Diamond - Art Direction: Vince Earl - Costumi: Sheree Eastmore - Formato: Medieval Merriment - Durata: 90'.

Cast: Hyapatia Lee, Beverly Bliss, Field Marshall Bradley, Bud Lee, Josephine Carrington, Howard Darkley, Buffy Davis, Dennis Duggan, Jesse Eastern, Mary Jayne Forcade, Elmo Friar, Mike Horner, Cheri Janvier, Sharon Kelly, Petite Louve, Debra Lynn, Jon Martin, Tony Martin, Peter North, Stevie Taylor, Marc Wallice

.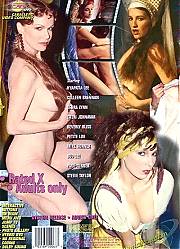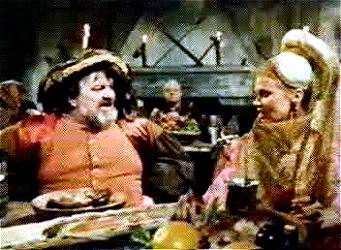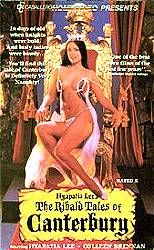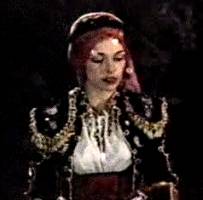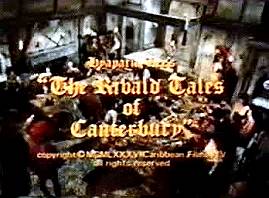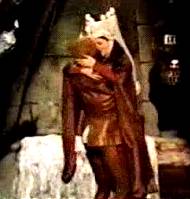 Trama e commenti: cinematografo.it - film.zam.it - magazine.libero.it: «Onesto lavoro di Bud Lee, che ostenta urta inusuale accuratezza letteraria relativamente al suo paratesto, si avvale oltretutto di impianti scenici, recitazione, modelli retorici lontani dal genere ed esiste proprio per la sua antifrastica inclassificabilità. Hyapatia Lee ricopre il ruolo dell'oste e simbolicamente si autodefinisce cronisti della compagnia, che dovrà con fedeltà registrare le parole del singolo pellegrino, per quanto 'grossamente parlasse o in maniera sboccata' ed accompagnare i palmers verso Canterbury. Mentre in Pasolini lo stranianiento (il viaggio) era annunciato dal singing dell'indulgenziere, ('Fenesta ca lucive'), in Lee invece da un invito assolutamente più sbrigativo e scolastico. La morale verrà quindi fuori da sola, senza intermediazioni di sorta, intesa come franca disponibilità ad ogni forma di discorso. Il lento travelling iniziale sui tavoli della locanda e quello dell'epilogo sotto il tavolo e poi sotto il saio del monaco, confermano la volontà di simmetria e di ricerca da parte del regista di un'atmosfera scurrile instaurata (e bloccata) a tavola, lì dove anche in Chaucer si sciolgono i vincoli del censo e la parola circola irrispettosa degli status e/o dei protocolli d'uso» (Segnocinema).

Plot Summary, Synopsis, Review: IMDb - amazingtails.com - fwfr.com - moviefilmfest.com - edenfantasys.com - cduniverse.com - excaliburfilms.com: «Hyapatia Lee is your hostess in the most erotic version of Geoffrey Chaucer's 13th century classic you'll ever see! The sets are fabulous, the costumes sensational, and the sex is hotter than HOT. Join in the lusty merriment as a group of pilgrims recounts one ribald tale after another on this way to Canterbury. "First there's the classic 'Miller's Tale.' where a miserly miller cheats two students (Jon Martin and Peter North) until the miller's wife (Stevie Taylor) and daughter (Page Turner) repay the boys with a piston-pumping daisy chain. Playing a gypsy. Hyapatia has a sizzling girl-girl encounter with the Wife of Bath (Colleen Brennan), while later she inflames the crystal balls on two gypsy studs! There are many, many more Ribald Tales of Canterbury. And as our lusty travelers reach their final destination, the romantic air of their journey lingers on to become a reality!"».
Film per adulti, conosciuto anche con il titolo: Medieval Merriment.
---
---