---
---
---
LA SCIMITARRA DEL SARACENO
1959, regia di Piero Pierotti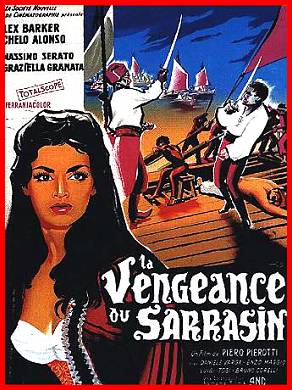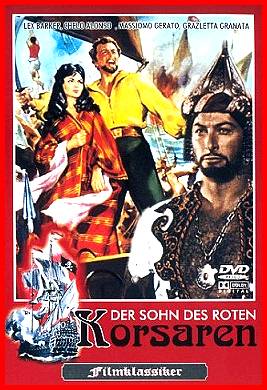 Scheda: Nazione: Italia-Francia - Produzione: Fortunate, Misiano, Romana Film, Société Nouvelle de Cinématographie - Distribuzione: Siden, Crest - Soggetto: Luciano Martino, Piero Pierotti, Bruno Rasia - Sceneggiatura: Luciano Martino, Piero Pierotti, Bruno Rasia - Fotografia: Augusto Tiezzi - Montaggio: Jolanda Benvenuti - Scenografia: Alfredo Montori - Musiche: Michele Cozzoli - Formato: Totalscope Ferraniacolor - Durata: 92' (104').
Cast: Lex Barker, Chelo Alonso, Massimo Serato, Graziella Granata, Luigi Tosi, Bruno Corelli, Michele Malaspina, Ubaldo Lay, Anna Arena, Enzo Maggio, Daniele Varga, Franco Fantasia, Stefania Re, Takis Kavuras, Nino Musco, Ugo Sasso, Gino Scotti, Erminio Spalla, Andrea Fantasia, Clara Bindi, Nadia Brivio, Geneviève Audry, Evelina Laudani, Rina Mascetti.
---
---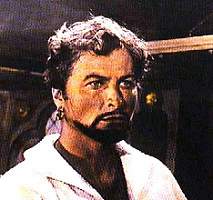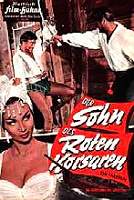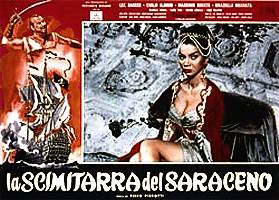 Trama e commenti: mymovies.it - film.spettacolo.virgilio.it - cinematografo.it: «Durante una scorreria, il famoso pirata Dragut si impadronisce di alcuni documenti segreti, inviati a Rodi dalla Repubblica di Venezia, e rapisce Bianca, la figlia del Governatore dell'isola. Quest'ultimo libera dal carcere un avventuriero, il capitano Diego, affidandogli l'incarico di rintracciare la figlia e di riportargliela insieme ai documenti. Diego riesce a farsi arruolare nella ciurma di Dragut e ad avvicinare la fanciulla; ma, scoperto, è condannato a morire di fame e di stenti nel deserto. Myriam, la principessa delle oasi, ritrova il malcapitato e lo porta in salvo. Intanto Bianca riesce a sottrarsi a Dragut e raggiunge Diego. Myriam s'innamora dell'avventuriero e sarebbe disposta ad opporsi ai piani di Dragut; ma quando vede che il suo affetto non è ricambiato e che il capitano Diego ama Bianca, stabilisce di vendicarsi e si unisce nuovamente a Dragut. I due capitani, pronti a tutto, si scontrano in una battaglia navale».

Plot Summary, Synopsis, Review: entertainment.msn.com - movie-time.it - IMDb: «Bianca, the beautiful daughter of Rhodes military governor, travels in the San Luca from the Venice Republic to her home in Rhodes, and without her knowledge, the ship also brings secret orders for her father to attack the Mediterranean ports dominated by the Sultan Selim. Dragut, the terrific Mediterranean pirate, attacks and conquers the Sun Luca. The sad knews reach the Governor of Rhodes when he was expelling Diego, an unscrupulous captain, who immediately offers his services to retake the ship, and free the girl. Without alternatives, the Governor accepts, and Diogo enlists as a pirate under the service of Dragut. In his devious mind, once he gets his hands on the plans, he will sell them for good price to Suliman, whom he knows to pay in gold, rather than a polite thank you, as the Governor would do... Indeed, he is able to rob the secret plans from Dragut, but he was so much under the spell of Miriam's beauty, that he decides to take risks, and follow her through the desert to Selim's palace, where she is going to be sold as slave with her young women companions. After a number of adventures, escaping the wooing of beautiful and mean Arab Princess Miriam, and surviving naval battles and desert fights, Diego and the young women are captured by Dragut, and condemned to hang him from the highest mast. Meanwhile, the Governor managed to warn the Venetian navy, who appears just in time to interrupt the proceedings. Diego gets free just in time to defend Bianca, and engage Dragut in a decisive sword duel to the death».
Conosciuto anche con i titoli: The Pirate and the Slave Girl; The Pirate's Captive; La Vengeance du sarrasin; Der Sohn des Roten Korsaren.
---
---