---
---
---
Il Signore degli Anelli: Il ritorno del Re
(The Lord of the Rings: The Return of the King)
2003, regia di Peter Jackson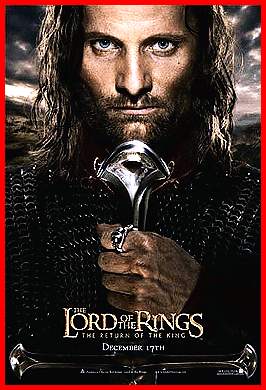 Scheda: Nazione: Nuova Zelanda-Usa - Produzione: New Line Cinema, The Saul Zaentz Company, WingNut Films - Distribuzione: Medusa, A-Film Distribution, New Line Cinema, Svensk Filmindustri, Warner Bros. - Sceneggiatura (dall'omonimo romanzo di J.R.R. Tolkien): Peter Jackson, Philippa Boyens, Stephen Sinclair, Frances Walsh - Fotografia: Andrew Lesnie - Montaggio: Jamie Selkirk - Art Direction: Alan Lee - Scenografia: Grant Major - Costumi: Ngila Dickson - Musiche originali: Howard Shore - Effetti speciali: Eyetech Optics, Weta Digital - Formato: Color - Durata: 210'.
Cast: Elijah Wood, Billy Boyd, Dominic Monaghan, Sean Astin, Ian McKellen, Ian Holm, Viggo Mortensen, Orlando Bloom, Liv Tyler, Christopher Lee, Cate Blanchett, John Rhys-Davies, Bernard Hill, Brad Dourif, Miranda Otto, Karl Urban, John Noble, David Wenham, Alexandra Astin, Sala Baker, Wi Kuki Kaa, Bruce Spence.
---
---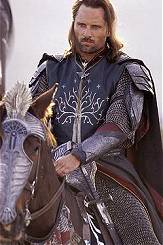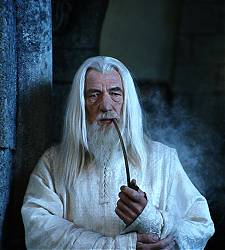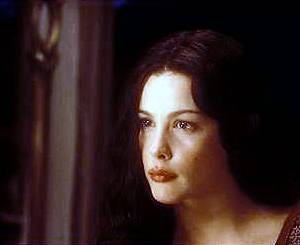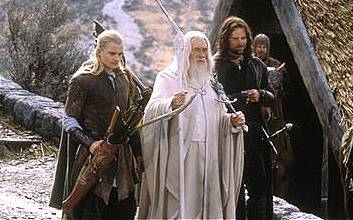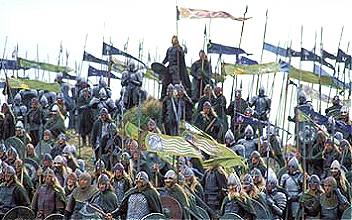 Trama e commenti: cinematografo.it - kataweb.it - filmup.com - auditoriumcasatenovo.com - cinema.castlerock.it - centraldocinema.it - fantasymagazine.it - cinefile.biz: «La guerra dell'Anello è iniziata: Sauron l'oscuro signore vuole porre fine all'Era degli uomini ancor prima che il temuto erede di Isildur, Aragorn, possa divenire re, spodestare il sovrintendente di Gondor e minacciare il dominio del male. A tal fine viene sguinzagliato un esercito infinito di orchi in marcia alla volta della capitale degli uomini con un solo obiettivo: distruggere tutto ciò che si opponga al loro cammino. E mentre Gandalf riesce nel tentativo di riunire tutti gli uomini della Terra di Mezzo per combattere contro il Male, l'amore di Arwen per Aragorn convince Elrond a forgiare nuovamente Narsil, la spada che tagliò via l'anello a Sauron, e unica arma in grado di dar potestà al nuovo re. Tutto nella speranza di destare lo sguardo dell'Oscuro Signore e permettere ai due piccoli hobbit, Frodo e Sam, di insediarsi alle pendici del Monte Fato e distruggere l'Unico Anello, senza sapere che Gollum, sopraffatto dal desiderio di rimpossessarsi del tesoro, progetta la morte dei due coraggiosi mezz'uomini, rischiando di far cadere la Terra di Mezzo in una seconda oscurità. Si conclude dopo sei anni di lavorazione quella che senza la minima ombra di dubbio è la più spettacolare e magniloquente trilogia della storia del cinema, l'unica veramente in grado di aver tracciato una sottile linea di confine del genere fantastico/avventuroso, che sancisce d'ora in poi una netta suddivisione di film pre e post Signore degli Anelli. In grado di spodestare senza alcuna difficoltà l'ormai quasi arenata mitologia di Star Wars, e con una capacità inventiva da fare impallidire il più prolifico Spielberg, il regista Peter Jackson firma quello che è probabilmente il suo capolavoro, dirigendo con una maestria acquisita in quattro anni d'attività (quelli necessari a realizzare i precedenti due capitoli), che sfocia qui in una delle più straordinarie e perfette rappresentazioni di un mondo mitologico capace di stupire sempre e comunque. ...».

Plot Summary, Synopsis, Review: IMDb - entertainment.msn.com - tvguide.com - rottentomatoes.com - moviemistakes.com - movieweb.com - cinemacomrapadura.com.br - blackfilm.com: «... The story kicks off exactly where The Two Towers ended. Frodo, Sam, and Gollum are on their way to Mordor to destroy the ring. Aragorn and company have defeated the evil wizard Saruman and are staying with Theoden in his castle. Pippen, in another stupid act, touches the seeing eye of Saruman and has a vision of Sauron's next move. He will use his army to destroy Gondor, the other human kingdom. Gandalf and Pippen ride to Gondor to warn their leader Denethor of the upcoming attack. He is taken with madness over the death of his son Boromir. He blames his other son, Faromir, for the death and is unwilling to lead the battle. Aragorn, with some trickery from Gandalf and Pippen, convinces Theoden to march his army of Rohan to Gondor's aid. He is met on the journey by Elrond, the Elf King, with the reforged Sword of the King; used by Aragorn's ancestor to cut the ring off Sauron's hand. He is now the unified king of the humans; the ancestral leader that must take his place atop the throne of man. As you can see, this is pretty epic stuff. Gollum, leading the Hobbitts to their death, schemes to drive them apart. The ring has overcome Frodo. Elijah Wood does a fantastic job of bearing the burden of the world. Sean Astin, as Sam, is his devout friend and the shinning star of the film. He could win an Oscar for his riveting performance. ...».

Approfondimenti: Movie Review
Conosciuto anche con i titoli: The Return of the King; Le Seigneur des Anneaux: Le Retour du Roi; Der Herr der Ringe: Die Rückkehr des Königs.

Scheda filmica di Francesco Mastromatteo nel volume virtuale Immagini del Medioevo nel cinema - I classici
---
---