---
---
---
IL TROVATORE
1949, regia di Carmine Gallone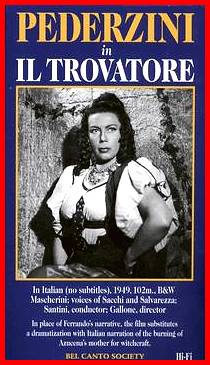 Scheda: Nazione: Italia - Produzione: Continentalcine - Distribuzione: San Paolo Audiovisivi, CDI Home Video, Globe, Union Film - Soggetto: dal libretto operistico di Salvatore Cammarano ispirato ad un racconto di Antonio García Gutiérrez - Sceneggiatura: Mario Corsi, Tullio Covaz, Ottavio Poggi - Fotografia: Aldo Giordani - Scenografie: Gastone Medin - Costumi: Dario Cecchi - Musiche: dal Trovatore di Giuseppe Verdi - Formato: B.N., musicale - Durata: 90' (102') - Aiutoregista: Sergio Leone.
Cast: Gino Sinimberghi, Vittorina Colonnello, Antonio Salvarezza, Franca Sacchi, Gianna Pederzini, Enzo Mascherini, Enrico Formichi.



Trama e commenti: cinematografo.it - kataweb.it - mymovies.it - stpauls.it - it.wikipedia.org - film.spettacolo.virgilio.it: «Azucena, figlia di una zingara arsa viva sul rogo, rapisce uno dei figli del conte di Luna e lo alleva. Diventato adulto, il giovane Manrico si innamora di Eleonora, promessa sposa al superstite conte di Luna, cioè al suo ignaro fratello. I due si scontrano e Manrico riesce a fuggire, ma si fa nuovamente catturare per salvare dal rogo colei che crede sua madre. Viene condannato a morte e giustiziato, mentre Eleonora si avvelena; a quel punto, Azucena svela la verità al conte di Luna. Versione cinematografica dell'opera verdiana a cura dello specialista Gallone. Noti cantanti (Sinimberghi, la Pederzini), belle scenografie, melodie immortali».

Plot Summary, Synopsis, Review: www.answers.com - movies.nytimes.com - blockbuster.com - allmovie.com: «At the time of its release, this filmization of Verdi's opera Il Trovatore was praised for its "cinematic" qualities: that is, it didn't look like just another photographed stage play. Director Carmine Gallone even expanded upon the battle sequences that are usually sketchily presented on stage. At 102 minutes, the film takes a lot less time getting to the tragically ironic finale than the original opera, which runs four full acts. The leading roles of gypsy woman Azucena and Conte di Luna are sung and acted by opera favorites Gianna Pederzini and Enzo Mascherini; on the other hand, hero and heroine Manrico (Gino Sinimberghi) and Leonora (Vittorina Colonello) appear to be dubbed. The choral numbers are performed by members of the Rome Opera House. One word of warning: anyone who's seen the Marx Brothers' Night at the Opera may have trouble getting through The Anvil Chorus with a straight face» (Hal Erickson).
---
---