---
---
IL TROVATORE
1988, regia di Brian Large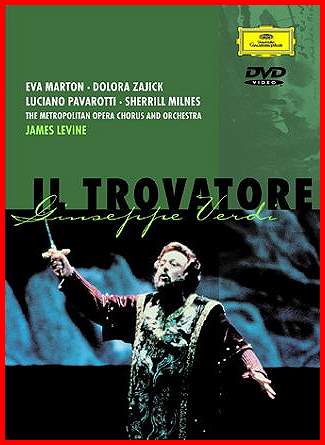 Scheda: Nazione: USA - Soggetto: dal libretto operistico di Salvatore Cammarano ispirato al dramma Il Trovador di Antonio García Gutiérrez - Scenografia: Ezio Frigerio - Musiche: di Giuseppe Verdi, dirette da James Levine - Formato: Color, musicale - Durata: 130'.
Cast: Luciano Pavarotti, Eva Marton, Dolora Zajick, Mark Baker, Sherrill Milnes, Jeffrey Wells, Loretta di Franco, Mark Baker, Ray Morris, John Bills, Dolora Zajick.
---
---

Trama e commenti: music-on-tnt.com: «...Quella del Trovatore è una storia truce, a tratti perfino grottesca, ambientata tra Biscaglia e Aragona all'inizio del XV secolo. Le tinte fosche sono una costante del dramma, i suoi personaggi sono prigionieri di ossessioni e contraddizioni, i re e i grandi condottieri non hanno cittadinanza: qui abitano un piccolo e oscuro conte, un cantastorie-cavaliere di ventura e un seguito di zingari e popolani...».

Plot Summary, Synopsis, Review: entertainment.msn.com - IMDb: «Set in the mountains of Medieval Northern Spain, "Il Trovatore" (the Troubadour) is a chanting warrior named Manrico. Manrico's enemy in the region is led by the Count di Luna. From the outset, these two opposing forces are in conflict. Count di Luna loves Leonora, one of the queen's ladies in waiting. Ferrando, the captain of the guard narrates to his troops a terrible happening of 15 years ago: an old woman, accused of casting the evil eye over the count's brother, was burnt at the stake. The subsequent disappearance of the boy, followed by the discovery of a child's skeleton in the ashes, led to the conclusion that the woman's daughter, who was present at the burning, had thrown him into the flames to avenge her mother. She was never found. For us, the spectators, she has not yet been found... Meanwhile, Leonora doesn't love the count, but the troubador Manrico, raised by the gypsy Azucena. Manrico is then not only the Count's rival, but as a follower of the rebellious Count d'Urgell, Manrico is also the Count's sworn enemy. In the Second Act...».
Film tv, registrato al Metropolitan di New York (1988).
---
---