---
---
---
DESIDERIA E L'ANELLO DEL DRAGO
1994, regia di Lamberto Bava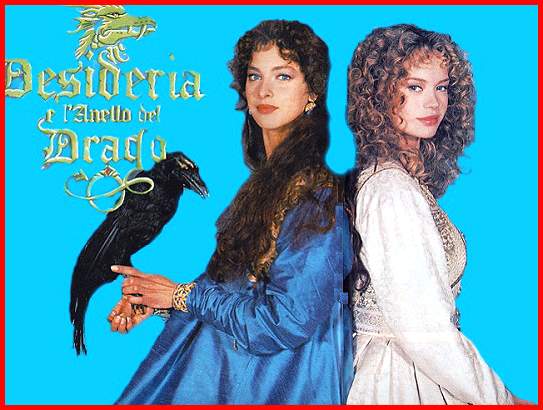 Scheda: Nazione: Italia - Produzione: ANFRI, Reteitalia, Taurus Film - Distribuzione: SBS Television - Soggetto: Gianni Romoli - Sceneggiatura: Gianni Romoli - Fotografia: Romano Albani - Montaggio: Piero Bozza - Costumi: Rosanna Andreoni - Musiche: Amedeo Minghi - Effetti speciali: Sergio Stivaletti - Formato: Panoramico Color - Durata: 186' (in due parti).
Cast: Franco Nero, Anna Falchi, Sophie von Kessel, Joel Beeson, Billie Zoeckler, Ute Christensen, Karel Roden, Stefania Sandrelli, Marek Vasut, Oldrich Bartik, Nikol Stíbrová, Zuzana Rybárová, Katarina Litomericka, Jan Kolinsky, Vladimir 'Furdo' Furdik, Stanislav Satko, Lubomir Misak.
---
---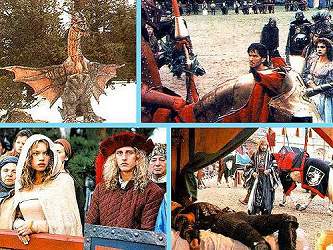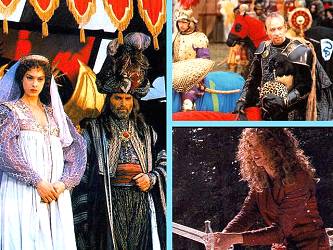 Trama e commenti: cinematografo.it - film.spettacolo.virgilio.it: «Il Re Guerriero è diventato sovrano dei sovrani vincendo Re Karl. Unico superstite è il piccolo principe Victor che, cresciuto, guiderà i ribelli nella rivolta contro lo spietato regnante. Lui si innamora della figlia del Re, la bella Desideria, ma il loro amore è contrastato da Selvaggia, malvagia sorellastra della principessa che, dotata di magici poteri, mira a conquistare il potere. Nato praticamente sulla scia del successo di Fantaghirò - che pure qualche merito lo aveva - è una ripetizione degli stessi temi e degli stessi schemi basati sulla fiaba tradizionale. Peccato che qui, più di una volta, la noia faccia capolino».

Plot Summary, Synopsis, Review: IMDb - en.wikipedia.org: «...Desideria is the eldest daughter of the Dragon King and Queen, rulers of a powerful conquering kingdom. Selvaggia is the magical adopted daughter of the Dragon King and Queen, and although she is constantly playing tricks to get her elder sister in trouble, she is frequently praised as being the smarter and better daughter. As the eldest birth daughter of the Dragon King, Desideria is due to inherit the Dragon Ring, the highest symbol of power in the kingdom, but she can only do so once she has chosen a husband. Unfortunately, the prince that finally catches her attention is Prince Victor, a rebel prince who has fought against her father and is to be sentenced to death for his treachery. Desideria helps Victor escape from the castle prisons, but her father catches her in the act and she is punished. The Dragon King decides to let all the princes in his conquered kingdoms fight in a tournament for her hand in marriage, but when Desideria sees that all the princes are selfish, cruel men, she runs away. When the Dragon King discovers that she has fled, he declares that Desideria has forfeited her right to the throne and Selvaggia will become the new prize. But unknown to him, the jealous Selvaggia wants to beat her elder sister completely. Desideria eventually ends up in the desert, where she is saved from the Witches of the Sand by none other than Prince Victor himself. She learns from him and other rebels in his camp that her beloved father is actually a cruel and vicious ruler. Just as she agrees to fight at Victor's side, Selvaggia casts a spell from the castle, causing Victor to fall in love with her and rush to join the tournament to win Selvaggia's hand...».
Film tv. Conosciuto anche con il titolo: The Dragon Ring.

La recensione di Cuccu'ssétte su "Terre di Confine"
---
---