---
---
---
ORLANDO
(Orlando)
1992, regia di Sally Potter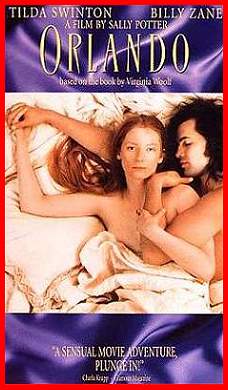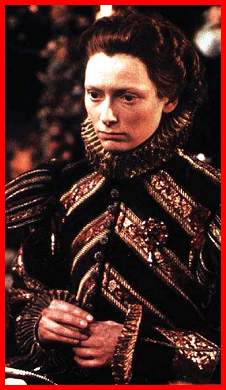 Scheda: Nazione: GB-Francia-Italia-Russia-Olanda - Produzione: Adventure Pictures, British Screen, European Script Fund, Lenfilm Studio, Mikado Films, Rio, Sigma - Distribuzione: Mondadori Video, Mikado Films, Concorde Films, Film Arte, JMM Invest, Sony Pictures Classics, Transeuropa Video Entertainment - Soggetto: dal romanzo Orlando. A Biography di Virginia Woolf - Sceneggiatura: Sally Potter - Fotografia: Aleksei Rodionov - Montaggio: Hervé Schneid - Scenografia: Michael Buchanan, Michael Howells - Costumi: Sandy Powell, Dien van Straalen - Musiche: David Bedford, Fred Frith, David Motion, Sally Potter (e Georg Friedrich Händel) - Effetti speciali: Effects Associates Ltd. - Formato: Panoramica Eastmancolor - Durata: 95'.
Cast: Tilda Swinton, Quentin Crisp, Jimmy Somerville, John Bott, Elaine Banham, Anna Farnworth, Sara Mair-Thomas, Anna Healy, Toby Stephens, Dudley Sutton, Simon Russell Beale, Matthew Sim, Jerome Willis, Viktor Stepanov, Charlotte Valandrey, Oleg Pogodin, Heathcote Williams, Thom Hoffman, Sarah Crowden, Lothaire Bluteau, John Wood.
---
---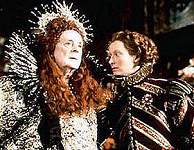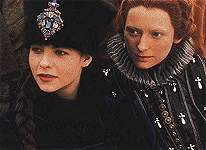 Trama e commenti: cinematografo.it - kataweb.it - film.spettacolo.virgilio.it - cinemadonne.it: «Il film è tratto dal romanzo che Virginia Wolf ha scritto per Vita Sackville-West e che narra la vita di un uomo che divenne donna lungo l'arco di quattrocento anni dal titolo originale di Orlando. A Biography. Siamo alla fine del '500, durante il regno della regina Elisabetta, in uno dei più bei castelli d'Inghilterra, Knole (la casa di Vita/Orlando); conosciamo Orlando a sedici anni quando, splendente di giovinezza nella dimora avita è un poeta inquieto e curioso"… un milione di candele ardevano in Orlando, senza che egli si desse pensiero di accenderne neppure una sola. Era agile come un cervo senza bisogno di pensare alle sue gambe. Parlava con la voce che la natura gli aveva dato ed ecco che faceva risuonare un gong d'argento…" Persino l'anziana Elisabetta ne rimane affascinata tanto da chiamarlo presso sé a corte e conferirgli l'ordine della Giarrettiera. Poi, nell'anno del grande gelo, 1608, Orlando si innamora di una bellissima principessa russa, Sasha, in visita a corte, che danza sul ghiaccio con piglio speciale; non esita a rinunciare al casato ed alla sposa promessa per fuggire con lei. Ma appena il Tamigi ghiacciato tornerà a fluire lei se ne va. Orlando resterà per lungo tempo legato al ricordo della ragazza: il crollo di quell'amore e' il crollo del suo stesso mondo … cade nel sonno per una settimana … poi, sempre nel tentativo di dimenticarla, siamo ormai nel 18° sec., si fa mandare a Costantinopoli come ambasciatore di sua maestà Carlo; qui assiste allo scoppio di una sommossa, senza riuscire a riconoscersi nel ruolo militare e virile della guerra… caduto ancora in un sonno lungo sette giorni...».

Plot Summary, Synopsis, Review: entertainment.msn.com - tvguide.com - user.tu-berlin.de - IMDb: «Orlando, a man of ideal nobility starts his search for love, poetry, a place in society and a meaning in life, in and around the court of historical England in the late 16th century. The blessing of eternal life from Queen Elizabeth I enables him a long and deep philosophical quest, accompanied by the features of "noble" English life with a good taste for irony. Both sides of the coin are shown when Orlando, partly fed up and disgusted with how men think and act, returns from his ambassadorship in the Far East as exactly the same person, let alone his sex. Orlando, a woman of ideal nobility continues her journey to realize the truth about life, love, and approaching one's own sex in the late 18th century England. For one who lived four hundred years and haven't aged a day, finding humanity's forgotten need for androgynity as the key to the happiness of her own as well as her daughter's. Sally Potter's adaptation of Virginia Woolf's Orlando not only tells the story on film with brilliant visual design, but also tries to extend the plot as Woolf would have, had she lived to the end of the twentieth century» (Adam Dobay).

Approfondimenti: Movie Review
---
---