---
---
---
I VISITATORI
(Les Visiteurs)
1993, regia di Jean-Marie Poiré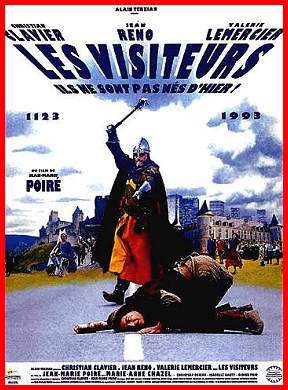 Scheda: Nazione: Francia - Produzione: Alpilles Productions, Amigo Productions, France 3 Cinéma, Gaumont International, Le Studio Canal+ - Distribuzione: Filmauro, BMG Video, Cine Company, Lions Gate Films Inc., Miramax Films - Soggetto: da un'idea di Jean-Marie Poiré - Sceneggiatura: Christian Clavier, Jean-Marie Poiré - Fotografia: Jean-Yves Le Mener - Montaggio: Catherine Kelber - Scenografia: Hugues Tissandier - Costumi: Catherine Leterrier - Musiche: Eric Levi (e Felix Mendelssohn-Bartholdy) - Effetti speciali: Duboi - Formato: Scope Color - Durata: 105' (113').
Cast: Christian Clavier, Jean Reno, Valérie Lemercier, Marie-Anne Chazel, Christian Bujeau, Isabelle Nanty, Gérard Séty, Didier Pain, Jean-Paul Muel, Arielle Séménoff, Michel Peyrelon, Pierre Vial, François Lalande, Didier Bénureau, Frédéric Baptiste, Pierre Aussedat, Tara Gano, Stéphanie Marie, Jean-Luc Caron, Anna Gaylor, Claire Magnin, Eric Averlant, Jean-Pierre Clami, Thierry Liagre, David Gabison, Patrick Burgel, Paul Bandey.
---
---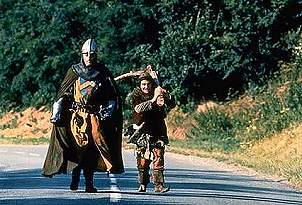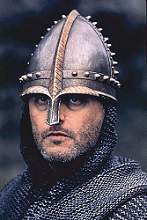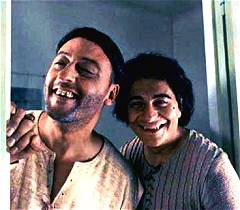 Trama e commenti: kataweb.it - mymovies.it - film.spettacolo.virgilio.it - cinematografo.it: «Francia, 1122. Di ritorno all'avito castello per incontrare la futura sposa Fremebonda, promessagli dal re Louis VI per meriti guerreschi, Goffredo De Montaille si imbatte in una malvagia strega, impegnata in riti satanici, e la imprigiona. Costei gli lancia un sortilegio sicchè scambia il futuro suocero, che rincorre la figlia, per un orso e lo abbatte con la balestra. Disperato, si rivolge al mago Eusebius, che con un beverone ed una magica formula si propone di farlo tornare indietro nel tempo per deviare il colpo fatale, ma uno sbaglio proietta Goffredo ed il fido scudiero Jeancojon, obbligato ad assaggiare l'intruglio, nel 1992. Una girovaga, Ginette, li scambia per gente di cinema, e la discendente e sosia di Fremebonda, Beatrice, sposata al dentista Jean-Pierre, pensa che sia il cugino Hubert, disperso da anni in Borneo, mentre il discendente e sosia di Jeancojon, che ha mutato l'inelegante nome di famiglia in Giacinto Maria Jeancò, dirige quello che fu l'antico maniero dei Montaille, ora divenuto hotel di lusso in stile secondo impero. Per Goffredo è indispensabile ritrovare il passaggio alle segrete del maniero ed il libro nero del mago per invertire la formula. Ciò avviene dopo equivoci e qui pro quo, ed oltrettutto la pozione viene preparata da un discendente dli Eusebius, che s'era accorto dell'errore e gli aveva lasciato precise disposizioni. Ma al momento di partire col padrone, Jeancojon, che nel frattempo si è innamorato di Ginette e sembra irretito dalle comodità che offre l'era moderna, decide di ingannare il padrone, sostituendo alla sua persona Giacinto Maria. Così lo scudiero resta con Ginette ed il suo discendente si ritrova nell'anno 1122. Qui, ovviamente, Goffredo riesce, riconoscendo il futuro suocero, a deviare il dardo indirizzandolo alla fronte della malvagia strega e ad impalmare così la dolce Fremebonda».

Plot Summary, Synopsis, Review: IMDb - entertainment.msn.com - tvguide.com: «To anyone who still thinks French film is all about sophisticated dialogue and significant sidelong glances, this vulgar comedy -- a blockbuster back home -- should represent a sharp kick in the derriere. Smelly, high-handed, 12th-century knight Godefroy (Jean Reno) and his scurvy vassal Jacquouille (Christian Clavier) are transported to the topsy-turvy 20th century, where they meet their own descendants. Godefroy's progeny have fallen on hard times -- Beatrice (Valerie Lemercier) is an impoverished aristocrat who's sold the family castle -- while Jaquouille's family tree has flowered: Boorish nouveau riche Jacquart (also Clavier) has bought the castle and turned it into a posh hotel. Quel horreur! The bright spot in this morass of bodily function and hygiene jokes is Lemercier, an effortlessly charming comedian. As for the rest, Beavis and Butt-head would approve, if only they were willing to read subtitles».

Approfondimenti: Movie Review
Conosciuto anche con il titolo: The Visitors.
---
---