---
---
---
I VISITATORI 2: RITORNO AL PASSATO
(Les couloirs du temps: les Visiteurs 2)
1998, regia di Jean-Marie Poiré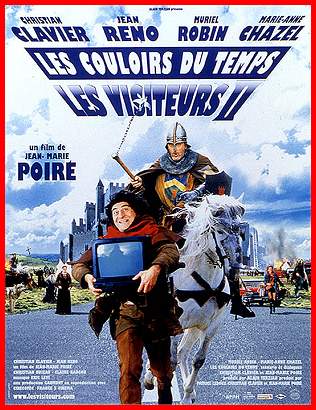 Scheda: Nazione: Francia - Produzione: Centre National de la Cinématographie, CineComic, Conseil General de la Dordogne, France 3 Cinéma, Gaumont, Le Studio Canal+ - Distribuzione: Filmauro, Gaumont Buena Vista International, Lusomundo, NTV-PROFIT, Tobis Filmkunst - Soggetto: Christian Clavier, Jean-Marie Poiré - Sceneggiatura: Christian Clavier, Jean-Marie Poiré - Fotografia: Christophe Beaucarne - Montaggio: Catherine Kelber, Jean-Marie Poirér - Scenografia: Hugues Tissandier - Costumi: Catherine Leterrier - Musiche: Eric Levi- Effetti speciali: Jean-Louis Trinquier - Formato: Color - Durata: 118'.
Cast: Christian Clavier, Jean Reno, Muriel Robin, Marie-Anne Chazel, Jean-Luc Caron, Patrick Burgel, Eric Averlant, Pierre Vial, Armelle, Franck-Olivier Bonnet, Philippe Morier-Genoud, Philippe Nahon, Christian Bujeau, Olivier Claverie, Olga Sékulic, Michèle Garcia, Mireille Franchino, Jean-Paul Muel, Christian Pereira, Didier Bénureau, Georges Téran, Rodolphe Sand, Claire Nadeau, Philippe Beglia.
---
---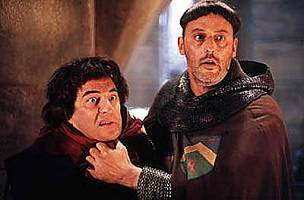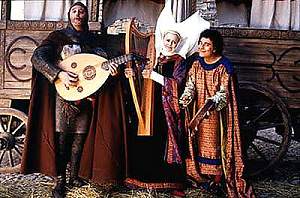 Trama e commenti: cinematografo.it - mymovies.it - film.spettacolo.virgilio.it: «Goffredo conte di Montmirail si prepara a celebrare le nozze con Fremebonda di Pouille quando il Duca, suo padre, interrompe i preparativi della cerimonia. Qualcuno gli ha rubato i goielli, e cosa peggiore, la preziosa reliquia di Santa Rolanda, che assicura fertilità alle donne della casa. Il "bottino" è rimasto nel presente con Jeancoion, scudiero di Goffredo e Ginette. Il fatto impedisce ai corridoi del tempo di richiudersi. Campione d'incassi in Francia, il film ripercorre senza sorprese la struttura del primo film. Il cinema ultracommerciale d'oltralpe è cialtrone come il nostro, ma almeno non sceglie di scimmiottare la Tv. Certo il doppiaggio italiano mortifica le battute (ma Stefano Masciarelli-Clavier è molto bravo), alcuni stereotipi (il gay...) sono da caserma e il refrain della "puzza di piedi" stufa. Splendida la giovane Marie Guillard (Philippine)».

Plot Summary, Synopsis, Review: IMDb - entertainment.msn.com - allocine.fr - variety.com: «The Visitors -- a noble time traveling knight and his scruffy vassal -- are back in The Corridors of Time The Visitors II, the sequel, after a five year hiatus, to the second-most-successful French film (13.6 million tickets sold) of the postwar era. (First-place honoree, 1966's La Grande Vadrouille," was also a wacky homegrown comedy.) Part II picks up where the open ended original left off, and sustains non stop silliness and mayhem for nearly two frenetic hours. Insofar as opening day (Feb. 11) ranked as the strongest national kick off in Gallic B.O. annals (420,OOO tix sold, 60,000 of which were in Paris) and shows are still selling out at a healthy clip, boffo local returns seem a foregone conclusion. But whether this second adventure in time travel will journey much beyond French lingo territories is another story. Original generated an OK $10 million or so outside its native country but barely surfaced in the U.S., where Gaumont paid a small fortune to Mel Brooks to prep a dubbed version, which was subsequently tested and dropped in favor of a traditional subtitled edition from Miramax. The characters here are central to an undeniable pop culture phenomenon, but the culture in question is French to the bone. Based on local reaction alone, beloved and funny Jean Reno and Christian Clavier as intrepid travelers could well be back for another widescreen visit, since the corridor is wide open for a third installment. The only main performer absent from the sequel is Valerie Lemercier, whose clipped and delectably snooty pronunciation of "OK!" became a national catchword. Her replacement, in exactly the same role, is Muriel Robin, who, despite an utterly dissimilar physique, pretty much achieves the next to impossible task of making one forget Lemercier's quirky turn in The Visitors..».

Approfondimenti: Movie Review
Conosciuto anche con i titoli: The Corridors of Time; The Corridors of Time: The Visitors II.
---
---