---
---
---
La bella addormentata nel bosco
(Sleeping Beauty)
1959, regia di Walt Disney (supervisione di Clyde Geronimi)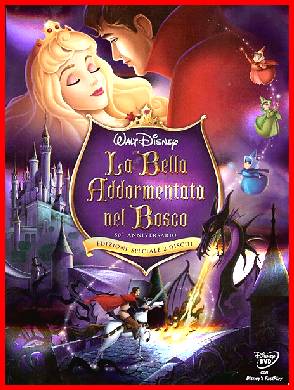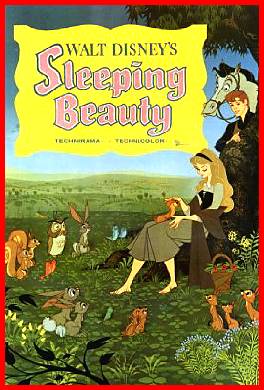 Scheda: Nazione: USA - Produzione: Walt Disney Productions - Distribuzione: Rome International Film, Walt Disney Studios Home Entertainment, Buena Vista Film Distribution Company, American Broadcasting Company, RKO, Gativideo - Soggetto: dalla fiaba di Charles Perrault - Sceneggiatura: Erdman Penner, Ray Aragon, Milt Banta, Tom Codrick, Basil Davidovich, Winston Hibler, Bill Peet, Joe Rinaldi, Ted Sears, Ralph Wrigh - Montaggio: Roy M. Brewer jr., Donald Halliday - Musiche: George Bruns (e Tchajkoskij) - Effetti speciali: Dorse A. Lanpher, Jack Boyd, Jack Buckley, Dan MacManus, Joshua Meador - Formato: Technicolor Technirama, animazione - Durata: 75'.
Voci: (edizione italiana) Maria Pia Di Meo, Tina Centi, Sergio Tedesco, Tina Lattanzi, Lydia Simoneschi, Rina Morelli, Flaminia Jandolo, Bruno Persa, Giorgio Capecchi, Nino Bonanni, Emilio Cigoli (voce narrante).
---
---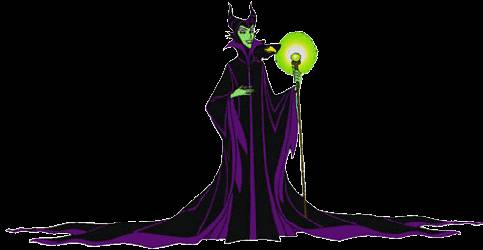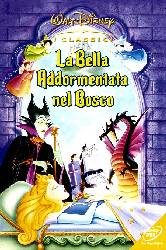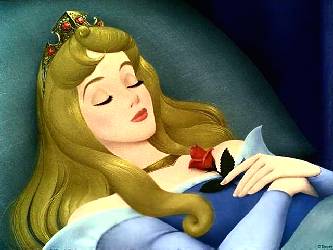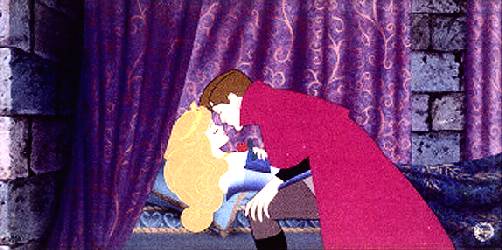 Trama e commenti: cinematografo.it - kataweb.it - mymovies.it - film.spettacolo.virgilio.it - it.wikipedia.org - movieplayer.it - it.movies.yahoo.com - movieconnection.it - screenweek.it - cinemadelsilenzio.it - film.tv.it - disneyano.altervista.org: «...Diversi passaggi di questo film sono memorabili; è d'obbligo la citazione della danza nel bosco, dove la perfezione dell'immagine di Aurora e Filippo e del loro riflesso nel lago, compete con prodotti realizzati al computer quarant'anni dopo. Spettacolo puro nella fuga del principe dal castello stregato e nello scontro con la strega che ne segue. Anche la sequenza d'apertura, che può apparire un pochino statica nell'animazione, è in realtà una riproduzione di alcuni arazzi del '400. Per una magia della Disney, quegli arazzi hanno preso vita. La vicenda narrata ha il sapore eterno delle fiabe più classiche. Principi, principesse, fate, streghe e draghi creano un insieme magico di incanto e suggestioni. Meravigliose musiche accompagnano il tutto. Nell'epoca dei cavalieri e degli eroi, re Uberto e re Stefano sognano di unire i loro regni. La nascita della principessa Aurora è l'occasione tanto attesa per farlo. La piccola è figlia di re Stefano e viene promessa all'erede di Uberto, il principe Filippo; un giorno i due regneranno sui popoli dei loro genitori. Festa grande per la presentazione ai sudditi della principessa; tutti sono invitati a palazzo, indipendentemente dalla condizione sociale. Arrivano le tre fate buone Flora, Fauna e Serena che donano alla neonata la beltà e il canto. Serena non ha ancora offerto il suo dono quando il fragore del tuono annuncia l'arrivo dell'unico ospite indesiderato del regno: la strega Malefica! Malefica è indignata per essere stata esclusa e non intende lasciare impunito l'affronto. La strega lancia un maleficio sulla principessa promettendole sì sedici anni felici, ma il giorno stesso del suo sedicesimo compleanno, Aurora è condannata a pungersi il dito su un fuso e a morire. Soddisfatta e sicura di sé, Malefica lascia il castello...».

Plot Summary, Synopsis, Review: IMDb - allmovie.com - rottentomatoes.com - movies.msn.com - en.wikipedia.org - bcdb.com - efilmcritic.com - filmcritic.com - answers.com - bbc.co.uk - ultimatedisney.com - animationarchive.net: «Sleeping Beauty, Disney's 16th feature film, came to the screen on January 29,1959. King Stefan and King Hubert celebrate the birth of Stefan's infant daughter, Aurora and the betrothal of Hubert's son Phillip to her. The three good fairies, Flora, Fauna and Merryweather, are in the midst of bestowing gifts on the princess, when Maleficent, the evil fairy, interrupts. Furious at having been excluded from the ceremonies, Maleficent curses the child to die on her sixteenth birthday, by the prick of her finger on the spindle of a spinning wheel. Though Merryweather is able to soften the curse, bestowing an enchanted sleep instead of death, Stefan orders the kingdom's spinning wheels burned and sends his daughter into hiding with the three good fairies. By chance, on the eve of her sixteenth birthday, Aurora meets Phillip in the woods, and the two fall in love. At the same time, Maleficent discovers Aurora's whereabouts, captures Prince Phillip, and entices Aurora to a remote castle tower, where she pricks her finger and falls into the magic sleep. Phillip defeats and destroys Maleficent and wakes the princess Aurora with true love's kiss».

Approfondimenti: Movie Review
---
---