---
---
---
La bussola d'oro
(The Golden Compass)
2007, regia di Chris Weitz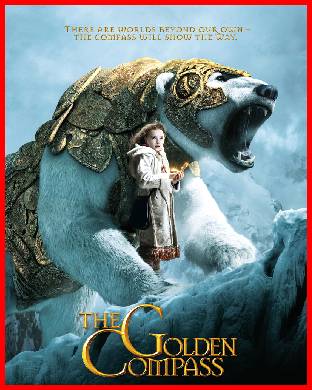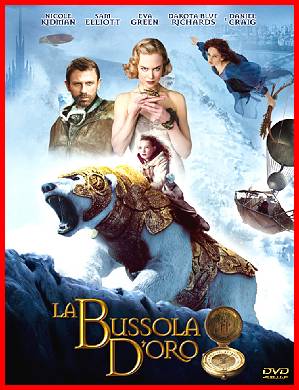 Scheda: Nazione: USA-GB - Produzione: New Line Cinema, Scholastic Productions, Depth of Field, Ingenious Film Partners, Rhythm and Hues - Distribuzione: 01 Distribution, Warner Home Video, Alliance Films, Cinestar, Entertainment Film Distributors, Fox-Warner, Metropolitan Filmexport, New Line Cinema, RCV Home Entertainment - Soggetto: dal primo libro della trilogia Queste oscure materie di Phlip Pullman - Sceneggiatura: Chris Weit - Fotografia: Henry Braham - Montaggio: Anne V. Coates, Peter Honess, Kevin Tent - Art Direction: Richard L. Johnson, Chris Lowe, Andy Nicholson - Costumi: Ruth Myers - Musiche: Alexandre Desplat - Effetti speciali: Neal Scanlan Studio, Rhythm and Hues, Framestore CFC, Cinesite, Digital Domain, Rainmaker, Tippett Studio, Matte World Digital, Digital Backlot, Peerless Camera Company, Rodeo FX - Formato: Panavison Color - Durata: 120'.

Cast: Nicole Kidman, Daniel Craig, Christopher Lee, Dakota Blue Richards, Eva Green, Jim Carter, Tom Courtenay, Clare Higgins, Sam Elliott, John Bett, Magda Szubanski, Hattie Morahan, Simon McBurney, Ben Walker, Adam Godley, Nonso Anozie, Charlie Rowe, Madrios Ohannessian.
---
---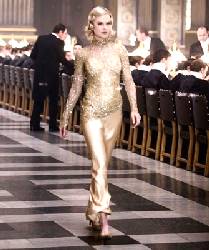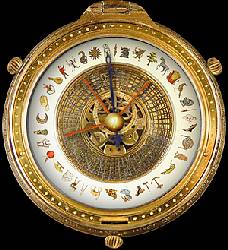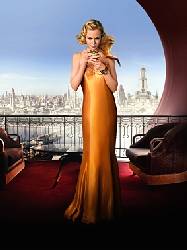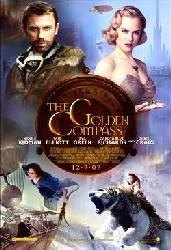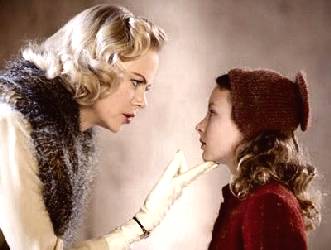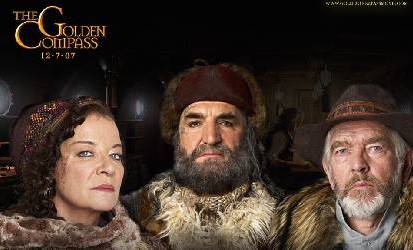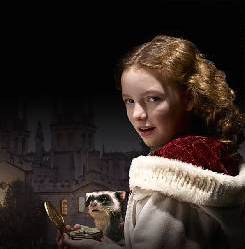 Trama e commenti: cinematografo.it - kataweb.it - mymoviews.it - film.spettacolo.virgilio.it - it.wikipedia.org - filmup.leonardo.it - movieplayer.it - spietati.it - comingsoon.it - 35mm.it - cineboom.it - fantasymagazine.it: «La cornice del fantasy La Bussola d'oro è un mondo parallelo britannico/norvegese, vittoriano e cristallizzato nei nostri anni Trenta, in cui la tecnologia si è sviluppata in modo diverso, favorendo lo sviluppo di tecnologie in grado di agire sull'anima(le) e di separarla dal corpo delle persone, ma arretrata per quanto riguarda i mezzi di trasporto e comunicazione (niente aerei né telefoni). Buona parte di questo mondo ci è familiare: i continenti, gli oceani, la Brytannia, la Nordovegia e il Polo Nord. Ma un'altra parte è incredibilmente diversa, divisa in etnie con caratteristiche molto forti: i gyziani, popolo di mare simile ai gitani; gli orsi, guerrieri indomabili che vivono a Svalbard, regione del Nord fredda e inospitale; le streghe, creature centenarie che si spostano nei cieli. è il Magisterium a dominare la scena e a guidare le vite di tutti coloro i quali abitano questo mondo, a progettare di dominare i mondi dell'universo. A fare cose terribili ai bambini per disgiungerli dalle loro anime che prendono la forma di animali chiamati daimon, sorta di famigli che stringono un legame straordinariamente forte con gli umani. Una persona senza un daimon, nel mondo di Lyra, è considerata vittima di un'orribile mutilazione. Roger, uno degli amici della giovane Lyra, è rapito misteriosamente insieme a molti altri bambini. La ribelle nipote di Lord Asryel, ricercatore che torna dal Circolo Artico con la prova dell'esistenza di un elemento mistico chiamato Polvere che incarna il libero arbitrio, s'impegna a trovare e salvare il suo miglior amico. Intraprende così un pericoloso viaggio che la porterà a...».

Plot Summary, Synopsis, Review: IMDb - movies.msn.com - allmovie.com - rottentomatoes.com - netflix.com - movieweb.com - movies.yahoo.com - hollywoodreporter.com - comingsoon.net - en.wikipedia.org: «...The story concerns Lyra, an orphan living in a fantastical parallel universe in which a dogmatic theocracy called the Magisterium threatens to dominate the world. When Lyra's friend is kidnapped, she travels to the far North in an attempt to rescue him and rejoin her uncle. Before its release, the film received criticism from secular organizations and fans of His Dark Materials for the dilution of the religious elements from the novels, as well as from some religious organizations for the source material's perceived anti-Christian and atheistic themes. ... In a parallel universe in which a person's soul resides outside the body in an animal-like form called a "dæmon", Europe is controlled by an authoritarian organization called the Magisterium. In Oxford, orphaned Lyra Belacqua, a ward of Jordan College, tells tales of the "Gobblers", whom she and her friends believe are responsible for several local children's disappearance. Visiting the college is Lyra's uncle, Lord Asriel, who, against official Magisterium doctrine, is presenting evidence that particles called "Dust" exist. After Lyra saves Asriel from an assassination attempt by a Magisterial representative, the college funds his expedition to the far north to investigate the Dust substance. He believes it originates in a parallel universe and enters a person's body via their dæmon. Fearing the effects of Dust, the Magisterium has been experimenting on children to discover a way to inoculate others against it...».

Approfondimenti: Movie Review
---
---