---
---
---
Caravaggio
2007, regia di Angelo Longoni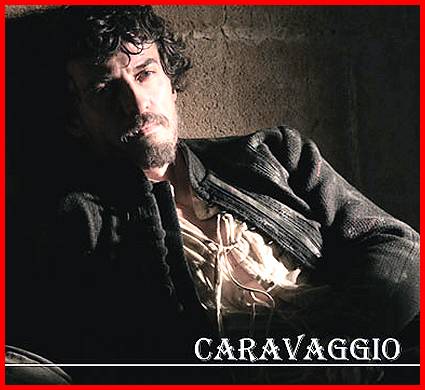 Scheda: Nazione: Italia-Francia-Spagna-Germania - Produzione: Titania Produzioni, Rai Cinema, RaiFiction, GMT Productions, EOS Entertainment, Institut del Cinema Català, Televisió de Catalunya - Distribuzione: Radiotelevisione Italiana - Soggetto: James H. Carrington, Andrea Purgatori - Sceneggiatura: James H. Carrington, Andrea Purgatori - Fotografia: Vittorio Storaro - Montaggio: Mauro Bonanni - Art Direction: Jasna Dragovic - Scenografia: Giantito Burchiellaro - Costumi: Lia Morandini - Musiche: Luis Enríquez Bacalov - Effetti speciali: Proxima - Formato: Color, film tv - Durata: 180' (130').

Cast:

Alessio Boni, Claire Keim, Jordi Mollà, Paolo Briguglia, Benjamin Sadler, Elena Sofia Ricci, Sara Felberbaum, Ruben Rigillo, Marta Bifano, Maurizio Donadoni, Maria Elena Vandone, Simone Colombari, Marcello Catalano, Francesco Siciliano, Paolo Giovannucci, Luigi Diberti, François Montagut.
---
---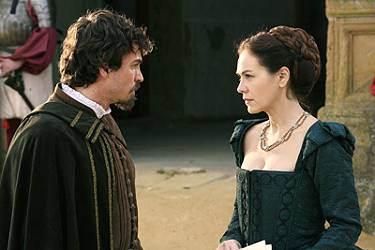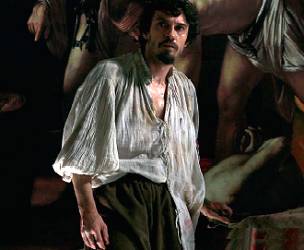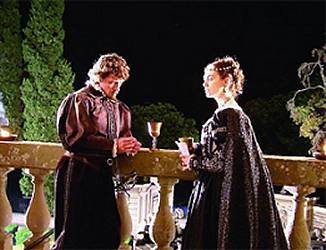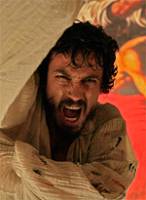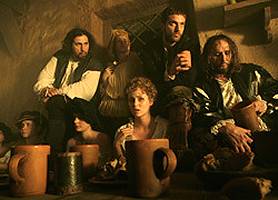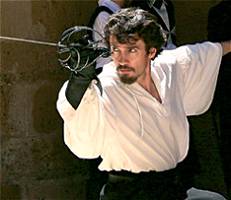 Trama e commenti: cinematografo.it - raifiction.rai.it - cinemagay.it - castlerock.it - oggi7.info - cinematocasa.it - ilgrandetalk.it - it.wikipedia.org - mymovies.it: «Luci e ombre di Michelangelo Merisi da Caravaggio, nato lombardo sul finire del sedicesimo secolo e trasferitosi a Roma per amore dell'arte. Affetto da un carattere orgoglioso e irascibile, oltre che da una forma di malaria che lo mina per quasi tutta la vita, Michele sperimenta e registra prima la crudeltà della fame, delle risse nei bordelli, delle impiccagioni pubbliche della città eterna e solo in seguito la magnanimità del cardinal Del Monte, ecclesiastico illuminato, vicino alla nobildonna Costanza Corona (Elena Sofia Ricci), che a sua volta protegge e favorisce il pittore fin da piccolo. ... Il Caravaggio della Rai è un'opera dal doppio formato: miniserie in due puntate per la televisione nazionale e riduzione cinematografica pensata per il mercato estero. È anche un'opera di qualità, che schiva la deriva estetizzante e il pamphlet didascalico, e gode dell'illustre collaborazione di Vittorio Storaro, "autore della fotografia" tre volte premio Oscar, che con il pittore ha un debito di gratitudine, essendosi consacrato allo studio della luce e del colore per amor suo. ... Il film parte dalla nomea di artista maledetto che circonda il mito del protagonista per fare dell'ambivalenza e della contraddizione la propria cifra. Amante onnivoro ma incapace di legarsi, artista sensibile ma uomo iracondo, fermo credente tanto nelle Sacre Scritture quanto nella materia del reale anche nei suoi aspetti più truci, Caravaggio viene ammirato per il suo talento e detestato perché dipinge i santi con i volti degli emarginati, le madonne con i tratti somatici delle meretrici. Al centro del racconto, l'impossibilità di conciliare la sua natura umana, carnale e instabile, con la prepotenza del suo genio. Al centro della forma, la potenza della luce, che altera ogni forma che investe, fa nascere le figure dall'oscurità, permette l'esistenza del cinema stesso...».

Plot Summary, Synopsis, Review: IMDb - filmitalia.org - newyorkcool.com - italianacademy.columbia.edu - uabkscope.com - cafilm.org - indiewire.com - ricardsadurni.net: «...Angelo Longoni's Caravaggio is a sprawling, ambitious and stunning artistic achievement. Brilliantly shot by visionary legend Vittorio Storaro ( Reds , Apocalypse Now ), this sumptuous eye-popping feast is one of the few films in recent memory about the life of an artist, that tries to capture and understand the artist as well as his work. (Robert Altman's great Vincent and Theo comes to mind as another.) The result is a mesmerizing and beguiling work that almost achieves greatness. The artistic temperament is usually portrayed as a type of madness in film. Here we experience the painter's passion and his struggle to work in a world that, strangely, adores and detests him because of his audacity. Caravaggio must paint. His way. And, ironically, it's the thing that irked the Catholic hierarchy the most that, ultimately, makes his art so beautiful and rapturous. The Church and many others were offended by his use of street folk (prostitutes, vagabonds, etc...) portrayed as saints and even Jesus himself. And, then there was the rowdy, rapscallion that frequented pubs and whorehouses, usually engaging the creepier characters into quarrels, and sometimes life-threatening duels. Angelo Longoni's film depicts a portrait of a constantly conflicted and flawed artist trying to do what he was placed on this earth to do. The central role would be quite a challenge for any actor...» (Frank J. Avella).
Il sito ufficiale del film - FotoFiction - Video.aol
Miniserie tv: due puntate trasmesse su Rai1 domenica 17 e lunedì 18 febbraio 2008, ma presentate negli Usa già nel 2007.
---
---