---
---
---
Chained Sinners: Medieval Fleshpots
2003, regia di Lloyd A. Simandl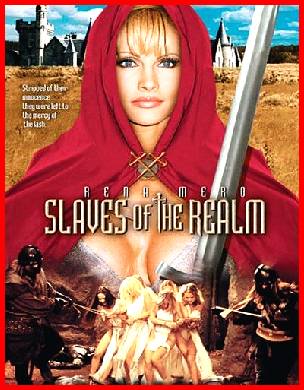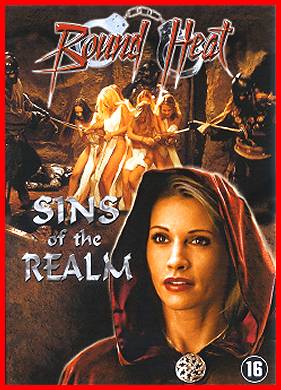 Scheda: Nazione: Canada-Repubblica Ceca - Produzione: North American Pictures - Distribuzione: Albatros Film, MTI Home Video, Third Millennium - Soggetto: Chris Hyde - Sceneggiatura: Chris Hyde - Fotografia: Vladimír Kolár - Montaggio: Mira Veli - Costumi: Eva Stanek - Musiche: Lubos Krticka - Formato: Color - Durata: 90' (99').
Cast: Rena Mero, Daniela Krhutova, Lucie Vondrácková, Ryan MacDonald, Marketa Rosak, Milan Gargula, John Comer, Richard Pistek, Jana Mrazek, Katerina Prosek, Philip Lenkowsky, Vladimira Kopal, Katerina Cermak, Katerina Hovorek, Jana Vostra, Jana Melichar, Jaroslava Halas.
---
---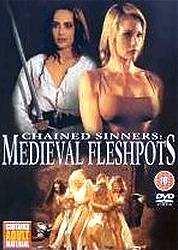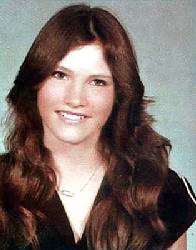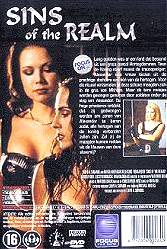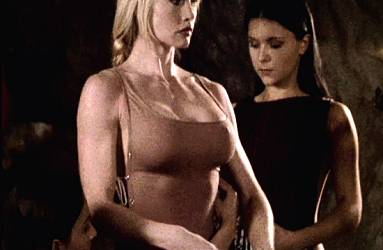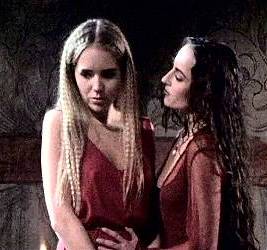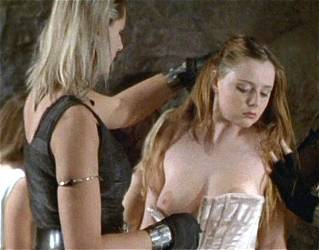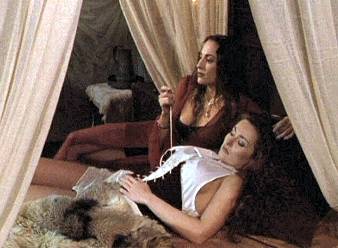 Trama e commenti: thrauma.it - centraldocinema.it: «Se Slaves of the Realm puň suonare sulle prime il titolo di un film un po' porno, č perché lo č. Ma solo un pochino. Se fosse stato mantenuto il titolo originale Chained Sinners: Medieval Fleshpots si sarebbe felicemente evitata qualsiasi confusione tra il pubblico non di settore. Non potendo neanche con tutta la buona volontŕ possibile parlare di trama, o di racconto o di qualsiasi altro termine che esprima una concatenazione logica di fatti, il pretesto del film vede un re morto, un figlio in cerca di una moglie, incarcerato dalla sorella la quale fa rapire tutte le potenziali mogli (vergini figlie dei nobili del regno) costringendole a un improbabile serie di lavori forzati nelle miniere, ovviamente vestite in maniera estremamente succinta e con abbondanza di catene. Una maga andrŕ a salvare tutti quanti. Le ripetute ispezioni corporali, massaggi tutti al femminile e altre scene di sottomissione, per la maggior parte verbale, o di improbabili duelli si susseguono senza il minimo filo logico. L'interpretazione di Rena Mero (la maga) spicca sulle altre in quanto č l'unica tra tutte a non finire mai nuda nonché per essere l'unica "attrice" di lingua inglese. Le altre... attrici... sono tutte Ceche, la cui scelta si č palesemente basata sulle misure, data l'assoluta inespressivitŕ e incapacitŕ a recitare (non che si possa dire di meglio della Mero)...» (Mattia Bonsignori).

Plot Summary, Synopsis, Review: IMDb - iwannawatch.co - rarelicenseddvds.com - allsf.net - sendit.com - buried.com: «Long, long ago the King of the land has died and it's now up to his heir to take a new bride, which will be picked by the high priestess, Shira (Rena Mero). There are eight virgin princesses and the bride will be one of them. But they are all kidnapped by an evil woman, a daughter of the old King, who brands them and puts them to work in the silver mines. And now Shira must try to rescue them. Of course, the female villain is over-the-top, with a thick accent, dark hair and-since she's imprisoned and tortured the princesses-an evil lesbian. In several fight scenes, which are primarily in close-up as to not show real sword fighting, she kills quite a few men. The only thing I wished to see was a more supernatural element, perhaps a monster or two.This movie is exactly like those low-budget sword and sorcerer movies from the early 80's, which isn't entirely a bad thing. Shot in the Czech Republic, the producers made great use of an old castle and the other locations. And although I've never seen Rena Mero (WWE's Sable) in anything, believe it or not, she proves herself a competent actor and has a good presence».

Approfondimenti: Movie Review
Conosciuto anche con i titoli: Slaves of the Realm; Empire of Sin; Sins of the Realm.
---
---