---
---
---
Guerrieri del cielo e della terra
(Tian di ying xiong)
2003, regia di Ping He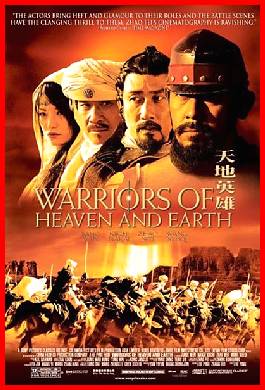 Scheda: Nazione: Cina-Hong Kong-USA - Produzione: Columbia Pictures Film Production Asia, Huayi Brothers, Taihe Film Investment Co., Xi'an Film Studio, China Film Co-Production Corporation - Distribuzione: Sony Pictures Entertainment, Sony Pictures Classics, Columbia TriStar, LK-TEL, Mongrel Media, Nelonen - Soggetto: Ping He, Rui Zhang - Sceneggiatura: Ping He, Rui Zhang - Fotografia: Fei Zhao - Montaggio: Jing Lei Kong - Costumi: Xiaohong Yao - Musiche: A.R. Rahman - Effetti speciali: Andrea Parkes - Formato: Color - Durata: 114'.
Cast: Wen Jiang, Kiichi Nakai, Xueqi Wang, Wei Zhao, Bagen Hasi, Tao Ho, Linian Lu, Deshun Wang, Haibin Li, Yeerjiang Mahepushen, Chuangao Hou, Yun Zhou, Wei Li, Yuming Du, Handong Wang, Haiquan Yang, Tuerxunjiang Zunong, He Huang, Baozhong Sang.
---
---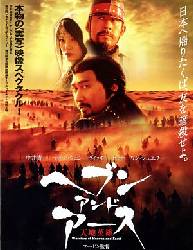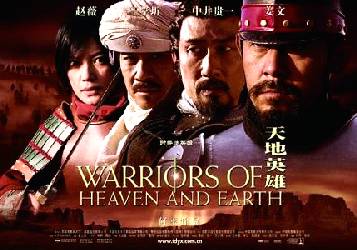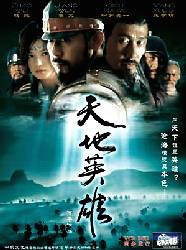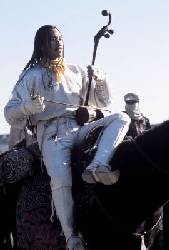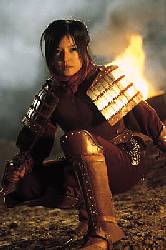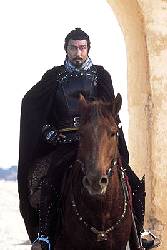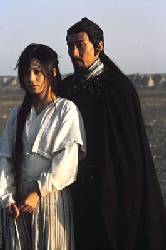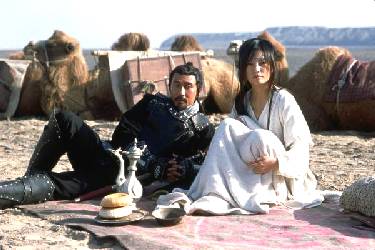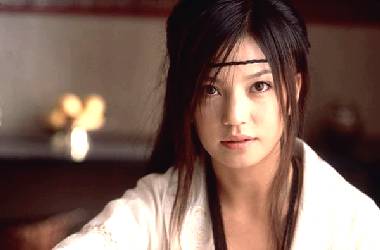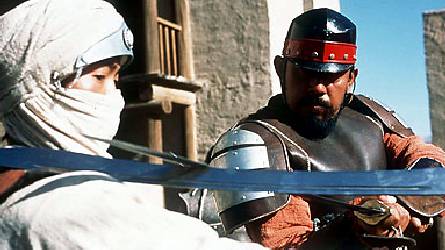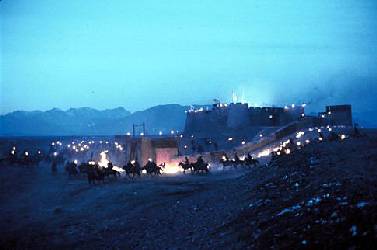 Trama e commenti: mymovies.it - unilibro.it - ibs.it - filmscoop.it - filmexpress.it - asiaexpress.it: «L'agente governativo Lai Xi, sicario giapponese agli ordini dell'imperatore Tang, viene spedito nelle province occidentali per catturare il tenente ribelle Li Zai, reo di aver disobbedito agli ordini e di essersi ammutinato ai superiori. L'unico desiderio di Lai sarebbe tornare in Giappone insieme alla giovane figlia, dopo aver sistemato in tutta fretta la questione, visto che si tratta della sua ultima missione; ma il fato lo costringe ad allearsi con la composita carovana che Li Zai, insieme a un giovane monaco buddista e a un soldato scampato a una tempesta di sabbia, sta conducendo verso la capitale, per scortare una misteriosa reliquia. L'intoppo č maestro An, bandito di confine che ha messo gli occhi sul carico, disposto a tutto, persino un'alleanza con le tribł nomadi che premono da sempre sui confini dell'impero, pur di entrarne in possesso. Warriors of Heaven and Earth assomiglia a un western arso e desolato dove onore, fatalismo e senso della morte incombente accompagnano l'avanzare scomposto nelle sabbie dell'inevitabile. ... Meglio di quanto archiviato dal consimile Musa: the Warrior di Kim Sung-su (2001), cui č assimilabile per il punto di vista sugli eroi, per l'architettura narrativa e, non da ultimo, per l'inessenzialitą della figura femminile (lą Zhang Ziyi, qui Vicky Zhao) - probabilmente inserita nel cast solo come nome di richiamo. Tanto testosterone, qualche bel duello, sanguigno al punto giusto, riflettori puntati sulla fierezza del guerriero: bastevole, a patto di sorvolare sulla poca fantasia dispiegata e su un finale enfatico e pomposo» (Stefano Locati).

Plot Summary, Synopsis, Review: IMDb - allmovie.com - nytimes.com - villagevoice.com - efilmcritic.com - dighkmovies.com - filmsasia.net - slantmagazine.com - trailerfan.com - movie-gazette.com: «...Set in China at end of the 7th Century, much of the tale centres around Captain Li Zai (Wen Jiang). Dubbed "The Butcher Li", he's on the run from the law after refusing orders to slaughter a bunch of innocent women and children (some "butcher" then, eh?). Acting on instructions from the Emperor, a Japanese war veteran called Lai Qi (Kiichi Nakai) agrees to take a break from writing gushy letters to his mammy for just long enough to track ol' Butch down and kill him. So, when the pair come face-to-face with each other just a little way into the film, you might think things are hurtling towards a ridiculously premature end - but fear not, epic fans, for the two of them soon strike up a deal not to start hacking chunks out of one another until they've safely escorted a precious trinket-carrying caravan across the bandit-riddled Gobi desert...».

Approfondimenti: Movie Review
Conosciuto anche con i titoli: Warriors of Heaven and Earth; Guerreros del cielo y la tierra; Wächter über Himmel und Erde.
---
---