---
---
---
Moi Renart
1987, regia di Jean Cubaud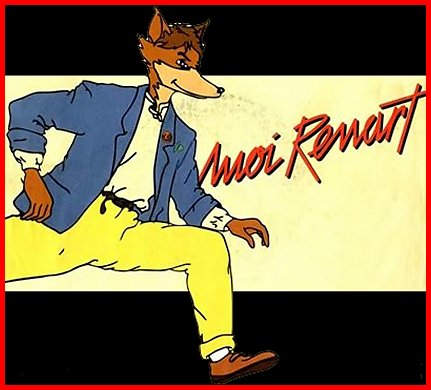 Scheda: Nazione: Francia - Produzione: I.D.D.H. - Distribuzione: Canal+ - Soggetto: da Le roman de Renard - Sceneggiatura: Bruno-René Huchez, Olivier Massart, Gilles Taurand - Art Direction: Jean-Louis Bompoint - Musiche: Joël Cartigny, Jacques Davidovici, Cyril de Turckheim - Formato: Color, serie tv, animazione - Durata: 24' ognuno dei 26 episodi.
Voci: Jean-Pierre Denys, Laurent Hilling, Maryline Saffar, Raymond Baillet, Rolande Forest.
---
---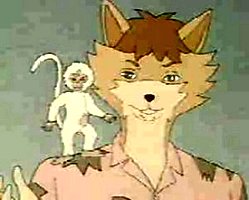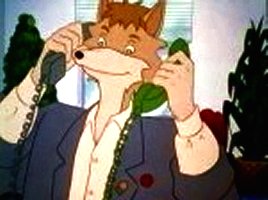 Plot Summary, Synopsis, Review: IMDb - coucoucircus.org - fr.wikipedia.org - lestelevores.com - les-annees-80.fr - furry.wikia.com: «The series revolves around the adventures of Renart (voiced by Jean-Pierre Denys), a young and mischevious fox who has just moved to Paris from the countryside, accompanied by his pet monkey Marmouset. He moves to the city to get a job and visit his grumpy and stingy uncle, Isengrim, who is a deluxe car salesman, and his reasonable yet dreamy she-wolf aunt, Hirsent. Reynard meets Hermeline, a young and charming motorbike-riding vixen journalist. He immediately falls in love with her and tries to win her heart during several of the episodes. As Reynard establishes himself into Paris, he creates a small company at his name where he offers to do any job for anyone, from impersonating female maids to opera singers. To help with this, he is a master of disguise and is a bit of a kleptomaniac, which gets him trouble from police chief Chantecler (a rooster) who often sends to him police cat inspector Tybalt in order to thwart his plans. A few key characters of the series derive from French folk tales, including Renart (who is derived from the trickster figure Reynard), Chantecler the rooster and Tybalt the cat».
Serie televisiva francese in 26 episodi di 24 minuti ciascuno, creata da Bruno René Huchez, in onda su Canal+ dal 20 settembre 1986 (poi ridiffusa tra 1992 e 1995 su M6, e tra luglio e agosto 1997 su France 3.
---
---