---
---
Sadko
1994, regia di Brian Large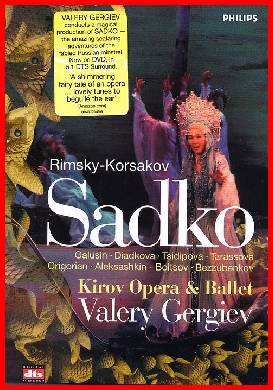 Scheda: Nazione: Russia - Produzione: Beatrice Du Pont, NHK/Cameras Continentales - Distribuzione: Amaya Distribution - Soggetto: dal romanzo di Vladimir I. Belesky e dall'opera di Nikolai Rimsky-Korsakov - Montaggio: Steve Eveleigh - Musiche: Nikolai Rimsky-Korsakov (dall'opera Sadko) - Effetti speciali: NHK - Formato: Color, film tv - Durata: 175'.

Cast:

Tatiana Filimonova, Sergei Alexashkin, Gennady Bezzubenkov, Larissa Diadkova, Alla Dmitrieva, Yury Dolgopolov, Ekaterina Galanova, Vladimir Galouzine, Nikolai Gassiev, Alexander Gergalov, Roman Gibatov, Gegam Grigorian, Alexandra Gronskaya, Ludmilla Kassianenko, Vladimir Kniazev, Bulat Minjelkiev, Vladimir Ognovenko, Nikolai Putilin, Nonna Shestakova, Valery Sobanov, Marianna Tarasova, Valentina Tsidipova, Svetlana Volkova.
---
---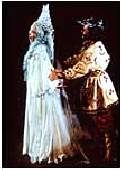 Plot Summary, Synopsis, Review: europeimages.com - bow.it - play.com - mcomet.com - hollywood.premiere.com - selections.com - IMDb: «Nikolai Rimsky-Korsakov's dazzling opera by-line in seven tableaux. The epic journey of Sadko a sea-faring minstrel from Novgorod, his wife Libava and their encounters with Volkhova, a sea Princess and the court of her parents the Tsar and Tsarina of the Sea. Sadko traveling on his ship "Falcon" also meets visiting foreign merchants from India (a Hindu), Scandinavia (a Varangian) and Italy (a Venetian) singing of the magic of their own lands to try and lure him. In the seventh tableaux Sadko is reunited with his wife, thinking his journey a dream, until he sees his fleet of ships coming up the newly created river Volkhova and realizes his sea Princess has transformed herself into the river in order to create the gateway to the ocean for Novgorod. In conclusion Sadko leads the hymn of praise and everyone rejoices their good fortune».
---
---