---
---
---
Sampo
1959, regia di Aleksandr Ptushko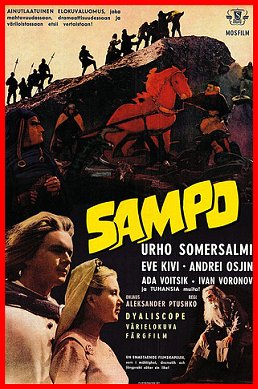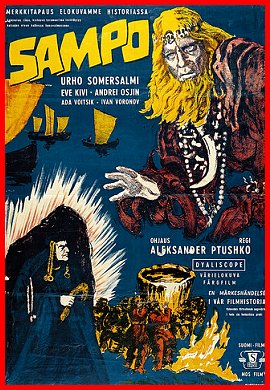 Scheda: Nazione: Finlandia-URSS - Produzione: Mosfilm, Suomi-Filmi - Distribuzione: Retromedia Entertainmen - Soggetto: dal romanzo Kalevala di Elias Lönnrot - Sceneggiatura: Väinö Kaukonen, Viktor Vitkovich, Grigori Yagdfeld - Fotografia: Gennadi Tsekavyj, Viktor Yakushev (come Sid Roth) - Montaggio: Holger Harrivirta, I. Rostovtsev - Art Direction: Lev Milchin - Set Decoration: Aleksandr Makarov - Costumi: Set Decoration: Aleksandr Makarov - Musiche: Igor Morozov (come Otto Strode) - Effetti speciali: Z. Moryakova - Formato: Sovcolor - Durata: 90' (67').
Cast: Andris Oshin (come Andris Oshin), Eve Kivi (Nina Anderson), Anna Orochko, Ivan Voronov (Peter Sorenson), Urho Somersalmi, Ada Vojtsik, Georgi Millyar (G. Miljar), Mikhail Troyanovsky.Lennart Lauramaa, T. Romppainen, Emma Hippeläinen, N. Kollen, Viktor Uralsky, Aleksandr Macheret, Anatoli Barantsev, Vladimir Boriskin, P. Modnikov, A. Lenskaya, D. Karpova, Valentin Bryleyev.
---
---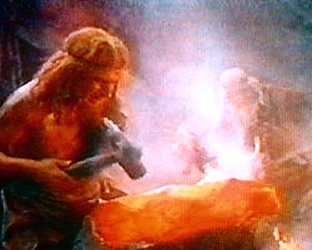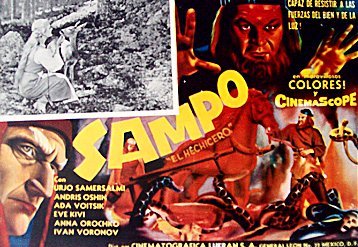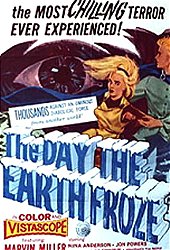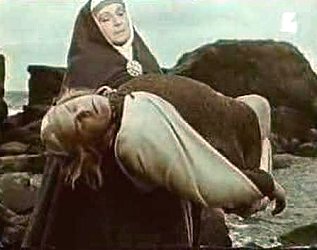 Trama e commenti: it-it.facebook.com - benitomovieposter.com - suomitaly.blogspot.com: «...La trama del film, frutto di una collaborazione finno-sovietica, è liberamente ispirata alle avventure del Kalevala. Il titolo prende il nome dal Sampo, il magico oggetto, forgiato dal fabbro Ilmarinen, capace di portare ricchezza e felicità a chi lo possiede. In altre parole qualcosa di simile alla cornucopia greca o al Santo Graal cristiano. Secondo quanto descritto nel decimo runo del Kalevala, il Sampo sarebbe stato forgiato come un coperchio splendente con la punta di una piuma di cigno, il latte di una vacca sterile, la lana di una pecora feconda e un solo granello d'orzo. Inizialmente il film fu distribuito solo in russo e in finlandese ma a distanza di 5 anni fu prodotta una versione in inglese, per il mercato americano, con il nome di The Day the Earth Froze. Tale versione però è stata tagliata di circa 25 minuti rispetto a quella originale».

Plot Summary, Synopsis, Review: IMDb - allrovi.com - http://www.elonet.fi - en.wikipedia.org - cinefania.com - mperience.com - monstershack.net - scifilm.org - dvdtalk.com - abandomoviez.us - d1041111.dotsterhost.com - ranker.com - kiddiematinee.com: «Based on Norse/Scandinavian mythology, Sampo is a classic tale from the Kalevala, the Finnish national epic, compiled by famed storyteller Elias Lönnrot.) In the village of Kalevala, lives a community of good, hard-working people. They have everything they need, but for the coveted "sampo", a magical machine which will give its owner grain and salt and gold! A fearless young soldier, Lemminkainen sets eyes one day on the beautiful young maiden, Annikki, and the two fall in love. Annikki's father Ilmarinen, the village blacksmith, knows that this is a sign that the time has come for him to create the Sampo. Meanwhile, in the evil land known as Procura, the evil witch Louhi and her demonic gnomes slave away, trying to create a "Sampo" for themselves, so that Louhi can rule the world! Loukhy kidnaps the beautiful Annikki in order to compel her father to build the Sampo. Annikki is trapped in a dank cave, in which the evil witch has imprisoned the very winds themselves! Lemminkainen and Ilmarinen go to Procura to retrieve Annikki and battle Louhi. Louhi first makes Ilmarinen create a magic horse, and forces Lemminkainen to plow a field of deadly snakes! Ilmarinen then forges a magical boat which sails them back to Kalevala. Failing to recover the Sampo, Louhi flies to Kalevala, and while the villagers are having a celebratory dance, steals the very sun from out of the sky! Suddenly, the world is plunged into a horrible, frozen darkness. The villagers almost freeze to death, but decide to fight for their lives. They create magical harps out of the trees. They sail to Procura, play the magical instruments, and destroy Louhi's power forever. Louhi turns into a pillar of salt. The sun escapes it's mountain prison, returns to the sky, and brings warmth and life back to the good villagers. ...».

Approfondimenti: Movie Review
Conosciuto anche con i titoli: The Day the Earth Froze; Das gestohlene Glück.
---
---