---
---
---
Spartacus
2008, regia di Tim Dunn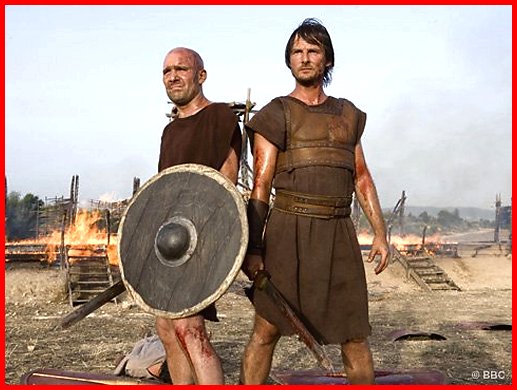 Scheda: Nazione: GB-Grecia - Produzione: British Broadcasting Corporation (BBC) - Hellenic Radio & Television (ERT) - Distribuzione: British Broadcasting Corporation (BBC) - Soggetto: Colin Heber-Percy, Lyall B. Watson - Sceneggiatura: Colin Heber-Percy, Lyall B. Watson - Fotografia: Rob Goldie - Art Direction: Gregory Fangeaux - Costumi: Ros Little - Musiche: John Dutton - Effetti speciali: Garrett Honn, Luciano Lopes - Formato: Color, documentario; episodio 3 della serie tv Heroes and Villains - Durata: 60'.

Cast: Anthony Flanagan, Andrew Tiernan, Johnny Harris, Robert Glenister, Rupert Vansittart, Mark Wingett, Jamie Foreman.
---
---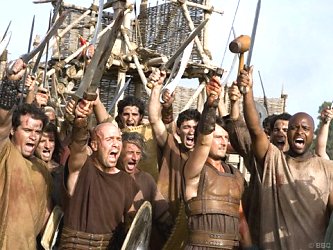 Plot Summary, Synopsis, Review: IMDb - planete.tm.fr - bbc.co.uk: «Dramatised documentary revealing Spartacus as he really was - a brilliant leader of a guerrilla band, but a flawed and indecisive human being. Starring Anthony Flanagan as Spartacus and Robert Glenister as his nemesis, Marcus Licininus Crassus».
programme.tv: «Spartacus est le célèbre chef d'esclaves qui a fait trembler Rome en menant la plus grande révolte de sans-grade jamais organisée au sein du puissant empire. Ancien berger devenu soldat, il déserte, est repris par l'armée romaine puis vendu comme gladiateur à un entraîneur de Capoue. En 73 avant J.-C., Spartacus s'évade avec 70 compagnons, appelle les esclaves à la révolte armée et se retranche sur le Vésuve avec une troupe nombreuse. A la tête de son armée de 70 000 anciens esclaves, le chef des révoltés se dirige vers la Gaule et pille l'Italie. Alarmée, Rome envoie dix légions, dirigées par Crassus, pour mettre fin aux agissements de Spartacus. Ce sera chose faite en 71 avant J.-C.».
Conosciuto anche con il titolo: Spartacus, un gladiateur rebelle; Spartakos.
Gli episodi della serie, conosciuta anche con i titoli Chefs de guerre e Stratilates - Iroes kai ahreioi: 1) Napoleon - 2) Attila the Hun - 3) Spartacus - 4) Cortes - 5) Richard the Lionheart - 6) Shogun.
---
---