---
---
---
Valhalla Rising
2009, regia di Nicolas Winding Refn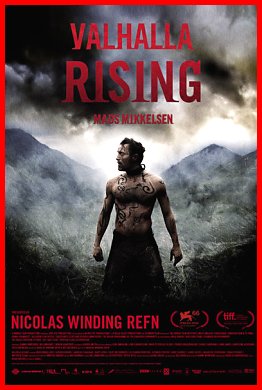 Scheda: Nazione: Danimarca-GB - Produzione: La Belle Productions, BBC Films, NWR Film Productions, Nimbus Film Productions, One Eye Production, Savalas Audio Post-Production - Distribuzione: Vertigo Films, IFC Films, Le Pacte, Scanbox Entertainment - Soggetto: Roy Jacobsen, Nicolas Winding Refn - Sceneggiatura: Roy Jacobsen, Nicolas Winding Refn - Fotografia: Morten Søborg - Montaggio: Mat Newman - Art Direction: Natalie Astridge - Scenografia: Laurel Wear - Costumi: Gill Horn - Musiche: Peter Kyed, Peter Peter - Effetti speciali: Dragon Digital Intermediate - Formato: Color - Durata: 100' (90').
Cast: Mads Mikkelsen, Gary Lewis, Jamie Sives, Alexander Morton, Ewan Stewart, Callum Mitchell, Gary McCormack, Douglas Russell, Andrew Flanagan, Stewart Porter, Gordon Brown, Robert Harrison, Mathew Zajac, Rony Bridges, James Ramsey, Maarten Steven.
---
---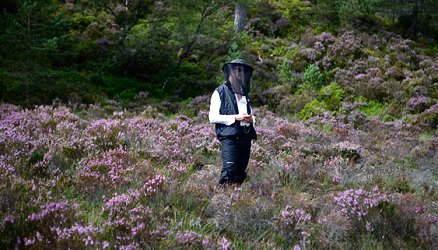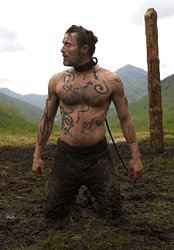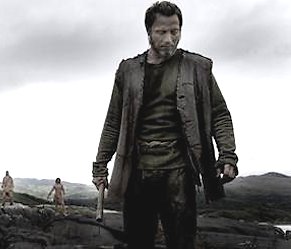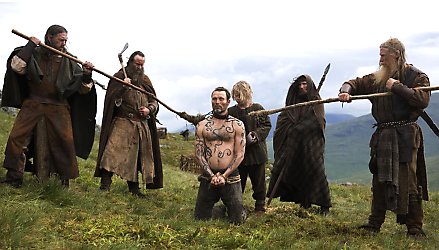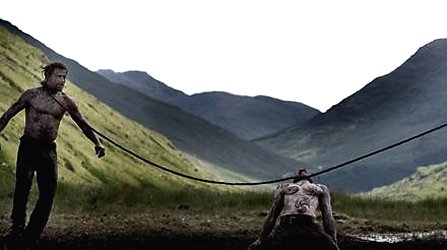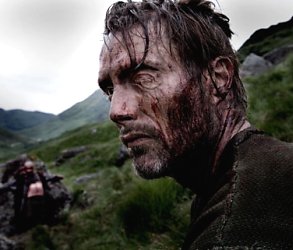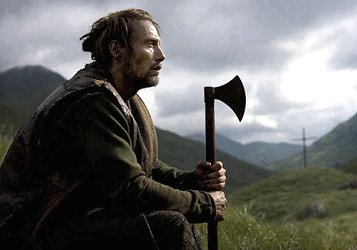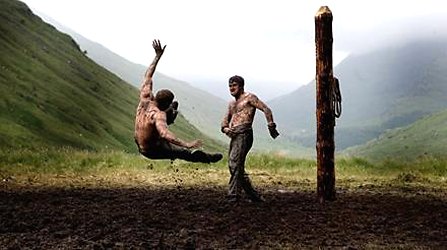 Trama e commenti: cinematografo.it - film.spettacolo.virgilio.it - cineclandestino.it - movieplayer.it - mymovies.it: «In un tempo mitologico sconosciuto, c'era una volta uno schiavo di incredibile forza guerresca. Con l'aiuto di un giovane ragazzo, un giorno riuscì a liberarsi e riversò la sua furia sugli uomini che lo avevano tenuto prigioniero per anni torturandoli e uccidendoli. Attraverso le valli della Scozia, questo guerriero orbo e muto ma dalla potenza sovrumana si imbarcò su un vascello di nobili vichinghi per intraprendere una crociata in Scandinavia, ma, passando attraverso una bruma inquietante e ripetuti attacchi da una forza sconosciuta, comprese presto di essersi addentrato in una terra oltre i confini della natura e che il suo fato era già stato scritto dagli dei. L'immaginario della mitologia norrena è ricco di suggestioni legate alla natura selvaggia, intesa sia come paesaggi incontaminati che come brutalità primordiale dell'uomo. Proprio a partire da queste stesse due componenti cerca di costruire la fascinazione del suo film il danese Nicolas Winding Refn, proseguendo un percorso di estetizzazione della violenza iniziato con la trilogia di Pusher. Tutelato da illustri precedenti assai simili nella logica e nello stile (Apocalypto di Mel Gibson; 300 di Zack Snyder), il regista di Copenhagen filma nello stesso modo tanto i grandiosi paesaggi scozzesi quanto la violenza perpetrata contro i corpi squartati dal silenzioso guerriero protagonista. Non conta la distanza: che sia in campo lungo come la verde vallata immersa nella bruma o in primissimo piano come i volti e le ferite dei personaggi, ogni inquadratura è costruita per suscitare contemplazione, per rispettare non tanto un principio di mitopoiesi quanto una riconoscibile rappresentazione del furore cosmico. La continua esibizione di primi piani obliqui, viraggi al rosso, sotto o sovraesposizioni pare essere l'unico modo che il regista conosce per tematizzare una storia che parla della brutalità della natura umana in termini di religione e sacrificio. E che, anche a voler mettere da parte i naturali dubbi etici, è davvero troppo poco per un film che ambirebbe ad essere un personale Ashes of Time di terra scandinava e che invece rappresenta solo l'ennesimo capitolo di un'"invasione barbarica" di certo cinema contemporaneo che mitizza la violenza» (Edoardo Becattini).

Plot Summary, Synopsis, Review: IMDb - movingpicturesmagazine.com - tiff.net/filmsandschedules - cinemagia.ro - ecranlarge.com - movingpicturesmagazine.com - monstersandcritics.com - peliculas.labutaca.net - moviemoxie.blogspot.com - bfi.org.uk: «One-Eye (Mads Mikkelsen), a mute warrior of formidable strength, has been held prisoner by the chieftain Barde for years. A spectacularly brutal and efficient killer, One-Eye is dispatched by Barde to fight for money and land in increasingly ferocious hand-to-hand conflicts. Shown kindness only by Are (Maarten Steven), the young boy who tends him, and knowing there is a greater calling on his life, One-Eye escapes, taking Are with him. On their flight, One-Eye and Are meet a group of Viking Christians, 'God's own soldiers' on pilgrimage to the Holy Land. Joining together, each embarks on a journey into their own personal heart of darkness. On one level One-Eye's mission to find his destiny is rendered with explicit and violent physicality, but director Winding Refn also employs the beauty and strangeness of the natural world to create an impression of the quietness and stillness of his inner self. This journey itself is highly metaphorical: whether traveling toward a new Jerusalem, the New World or into the arms of Valhalla itself, Winding Refn creates an outstanding sense of time, place and emotion. With beautiful atmospheric visuals and a hauntingly evocative electronic score, Valhalla Rising has echoes of the doomed voyages of Aguirre, Wrath of God or Apocalypse Now but, as we have come to expect with Winding Refn's work, this is a true original» (Sarah Lutton).

Approfondimenti: Movie Review
Conosciuto anche con i titoli: Le Guerrier Silencieux.
---
---