---
---
---
Le verdi bandiere di Allah
1963, regia di Guido Zurli, Giacomo Gentilomo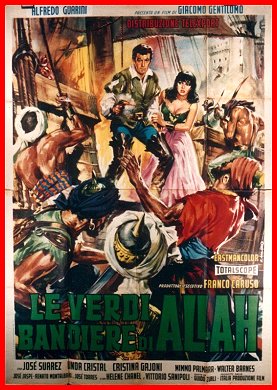 Scheda: Nazione: Italia-Jugoslavia - Produzione: Italia Produzione, Dubrava Film - Distribuzione: Regionale, Telexport, American International Pictures, Something Weird Video - Soggetto: Umberto Lenzi - Sceneggiatura: Umberto Lenzi, Bebo Marrosu, Guido Zurli, Sergio Leone, Adriano Bolzoni - Fotografia: Luciano Trasatti, Franco Villa - Montaggio: Otello Colangeli - Musiche: Guido Robuschi, Gian Stellari - Formato: Eastmancolor - Durata: 100'.
Cast: José Suárez, Linda Cristall, Cristina Gajoni, Mimmo Palmara, Hélène Chanel, Vittorio Sanipoli, José Jaspe, Walter Barnes, Renato Montalbano.
---
---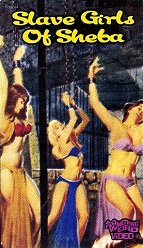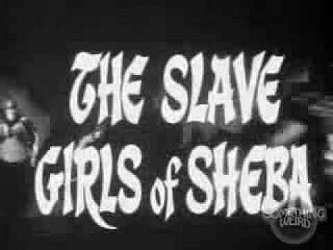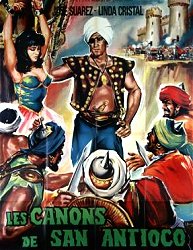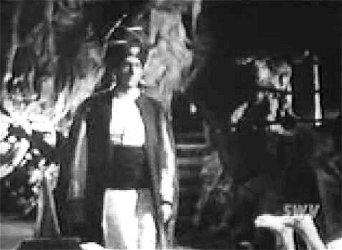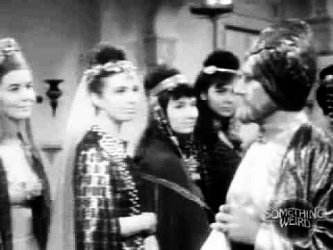 Trama e commenti: mymovies.it - movieplayer.it - cinema-tv.corriere.it - film.virgilio.it - it.movies.yahoo.com: «L'isola di Sant'Antioco con la sua fortezza inespugnabile è nelle mani di un governatore ambizioso, Demetrios, che, corrotto dall'oro francese, cerca di pregiudicare la tregua che regna tra la Spagna e l'Impero del Turchi. Alla stessa corte del Sultano, il vizir Ibrahim cospira con Demetrios per impadronirsi del trono. In questa rete di intrighi si incontrano Dionigi, capitano della Serenissima e ribelle a Demetrios, Giafer, fedelissimo al Sultano e comandante dello "Sparviero", ed anche uno strano tipo, Fra Medicina, prigioniero ed amico nello stesso tempo di Giafer. In mezzo a pericoli e ad insidie di ogni genere, questi tre generosi riescono ad avere in mano le prove del tradimento di Ibrahim e delle folli ambizioni di Demetrios. All'impresa contribuiscono tre fanciulle: Isabella, fidanzata di Dionigi ma succube per paura a Demetrios, Rosellana ed Alima che, vendute schiave, si impegnano in ogni modo perché il Sultano abbia la certezza della congiura ordita da Ibrahim e lo possa punire. Nello scontro finale, Isabella fa saltare la fortezza con sacrificio della sua vita. La fine di Demetrios riporta la serenità a Sant'Antioco e la vicenda si conclude con le nozze tra Dionigi ed Alima».

Plot Summary, Synopsis, Review: IMDb - allmovie.com - ftvdb.bfi.org.uk - cinefil.com - hollywood.com - tracktvlinks.com - fandango.com - screened.com - watchthisfree.com - wconnolly.blogspot.com: «...Well, Barnes got to play a lusty and brawling Friar in Le verdi bandiere di Allah. And while it wasn't the world famous Tuck, it was pretty darn close. Reminding viewers of The Guns of Navarone, the cannon of San Antioch devastated all Saracen ships which came near. While the King of Spain and the Sultan of Constantinople were working toward peace, Governor Demetrius of San Antioch made a deal with King Charles of France to do all that he could to keep hostilities alive. Our hero, Captain Dionigi Tragona, refused to overlook this treason, and resigned from the military. This estranged him from his father, who continued to serve the Governor, and his fiancee, Isabella, whose father wouldn't allow the marriage. Soon, however, a failed attack by Turkish sailors and the kidnapping of Isabella would change everything. ...».
Conosciuto anche con i titoli: Green Flags of Hallah; Slave Girls of Sheba; Les canons de San Antioco.
---
---