Le Mille e Una Notte - Arabian Nights, volume 1: Inquieto
(As Mil e uma Noites, volume 1: O Inquieto)
2015, regia di Miguel Gomes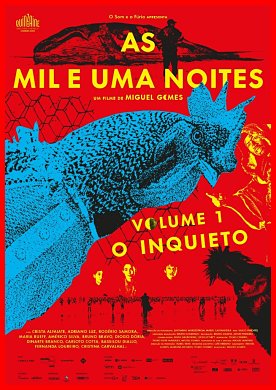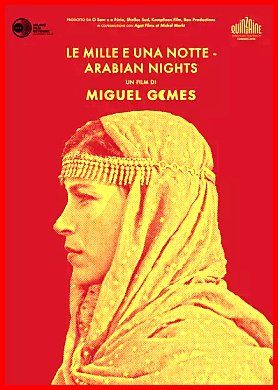 Scheda: Nazione: Portogallo-Francia-Germania-Svizzera - Produzione: BOX Productions, Komplizen Film, O Som e a Fúria, Shellac Sud - Distribuzione: Milano Film Network, Shellac Distribution, Kino Lorber, O Som e a Fúria, Real Fiction, Outside the Box - Soggetto: ispirato alle Mille e Una Notte - Sceneggiatura: Telmo Churro, Miguel Gomes, Mariana Ricardo - Fotografia: Mário Castanheira, Sayombhu Mukdeeprom - Montaggio: Telmo Churro, Miguel Gomes, Pedro Marques - Art Direction: Artur Pinheiro - Scenografia: Pascalle Willame - Costumi: Lucha d'Orey, Silvia Grabowski - Musiche: Mariana Ricardo - Effetti speciali: Conor Coughlan - Formato: Color - Durata: 125'.
Cast: Crista Alfaiate, Miguel Gomes, Maria Rueff, Bruno Bravo, Rogério Samora, Dinarte Branco, Américo Silva, Carloto Cotta, Diogo Dória, Adriano Luz, Basirou Diallo, Luísa Cruz, Cristina Carvalhal, Chico Chapas, Tiago Fagulha, Susana Afonso Lopes, Louison Tresallet.
---
---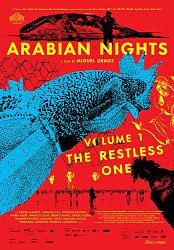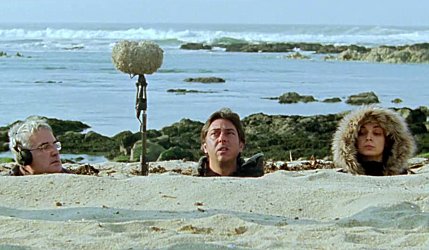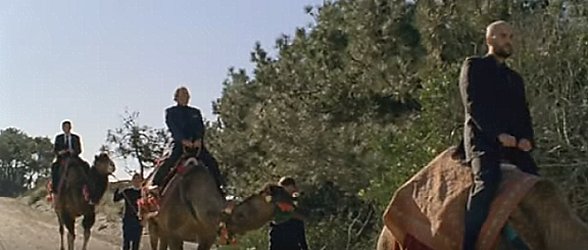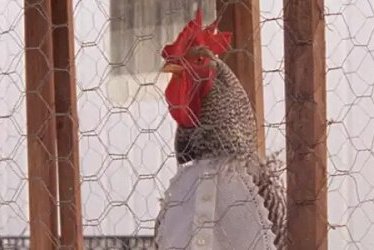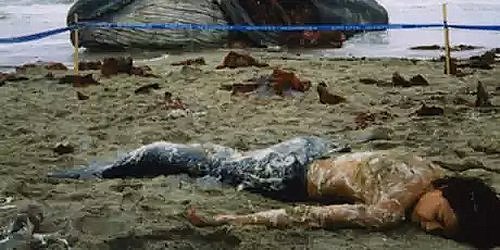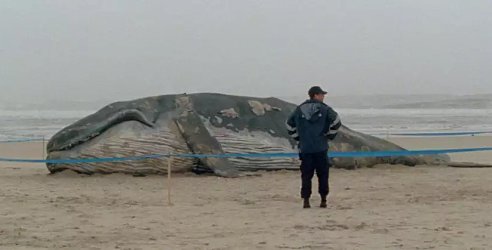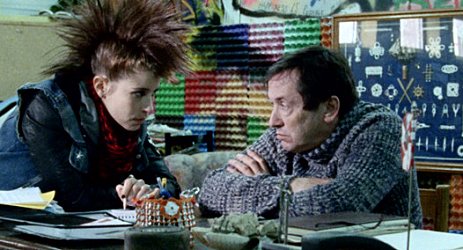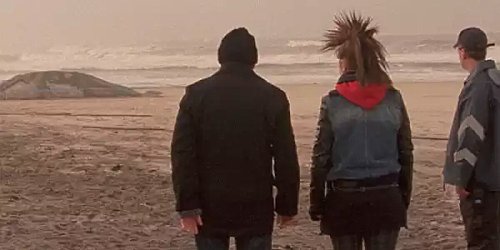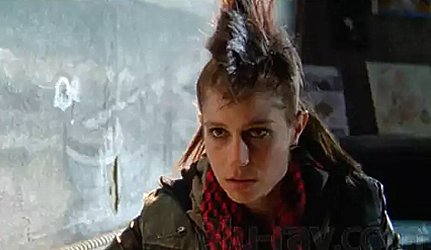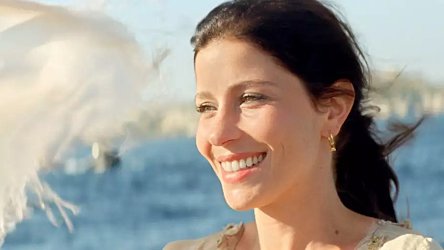 Trama e commenti: cinetecadibologna.it - it.wikipedia.org - comingsoon.it - ineclandestino.it - linkinmovies.it - quinlan.it - direzionecinema.blogspot.co.ke - ecodelcinema.com - oberdan.cinetecamilano.it - cineblog.it: «Sherazade racconta al sovrano le storie di un Paese triste che sogna balene e sirene, dove la disoccupazione cresce, le foreste bruciano ogni notte anche quando piove, i cittadini desiderano soltanto gettarsi nell'Oceano in pieno inverno. Gli animali talvolta parlano ma nessuno li ascolta. In questo Paese le cose non sono mai come sembrano: gli uomini di potere vanno in giro a cavallo di un cammello e nascondono un'erezione enorme. Aspettano di incassare gli introiti delle tasse per pagare una strega che li aiuti».
mymovies.it: «Uno sciopero al porto. Sheherazade e il suo sacrificio. Un gallo che parla e la troika che scopre un unguento miracoloso. Sono solo alcune delle storie che compongono le nuove Notti Arabo-Portoghesi di Miguel Gomes. Primo volume di una ambiziosa e forse impensabile trilogia ispirata da Le mille e una notte, O inquieto prepara sul piano teorico e stilistico a quel che Miguel Gomes ha in serbo per i suoi spettatori. In un continuo gioco di scatole cinesi, un possibile documentario sugli scioperi dei lavoratori portuali di fronte ai tagli insostenibili del governo diviene il suo opposto, una storia di fantasia; una riflessione sullo storytelling, affrontata innanzitutto, prima di ogni astrazione teorica, raccontando delle storie, parabole di una società indecifrabile. Descrivere a parole l'atmosfera di libertà che si respira in O inquieto è arduo come lo è per Gomes cercare di porsi un obiettivo preciso senza divagare. Ma è proprio qui, nell'apertura continua di una nuova porta, nell'introduzione di nuovi personaggi, gioie e dolori che sta il punto. Prima vengono le storie, poi si possono studiare i loro intrecci: il legame tra i lavoratori e i nidi di vespe da disinfestare, tra una balena - animale allegorico e letterario per eccellenza - che esplode come il signor Creosoto dei Monty Python e un gallo bunuelliano che si difende di fronte a un giudice. Forse solo il racconto degli uomini di potere e delle loro erezioni calca eccessivamente la mano, ma probabilmente è giusto che in tempi di barbarie etica siano i fescennini e la loro immediatezza a rimettere a posto valori e priorità. Un'avventura di gioia, speranza, malinconica come Perfidia di Alberto Dominguez che la accompagna. Da vivere e rivivere, per poi ricominciare ancora, come quella mendace matrice letteraria che l'ha ispirata» (Emanuele Sacchi).

Plot Summary, Synopsis, Review: IMDb - allmovie.com - wikipedia.org - bfi.org.uk - thefilmstage.com - hollywoodreporter.com - yo-video.net - criticsroundup.com - filmstarts.de - rottentomatoes.com - cinemagazine.nl - bbfc.co.uk - metacritic.com - blu-ray.com: «Arabian Nights is not something to be approach casually. Director Miguel Gomes takes on an incredibly ambitious project with this extended vision of Portugal woes (broken down into three chapters: The Restless One, The Desolate One, The Enchanted One), demanding over six hours of screen time to work out his vision for storytelling and symbolism. It's a huge undertaking, reserved for those who appreciate cinematic artistry, world culture, and have the patience to deal with a filmmaker who indulges himself in full, often for little payoff. Arabian Nights is quick to distance itself from the famous collection of folk tales, merely taking inspiration from the original work to feed a widescreen study of Portugal during 2013/14, which experienced crippling financial pressures overseen by clueless politicians, who allowed the country to sink deeper into doom. Gomes leads with his heart in "Arabian Nights," blending documentary material with drama, sampling surrealism, comedy, and agony throughout. The AVC encoded image (2.39:1 aspect ratio) presentation for Arabian Nights brings out the best of the picture's visual heft, working with terrific colors that identify costuming and culture, while greenery remains precise and skintones natural. Detail is sharp and inviting, allowing viewers to survey wide shots of character activity and study facial and fabric textures, adding depth to the feature's mix of fantasy and realism. Delineation is comfortable. Interestingly, for a newly shot effort, the source does show signs of wear and tear, with speckling common, surging in intensity from time to time. ...» (Brian Orndorf).

Movie Review Query Engine
Conosciuto anche con i titoli: Arabian Nights, volume 1: The Restless One; As 1001 Noites; 1001 Nacht: Volume 1: Der Ruhelose; Les mille et une nuits: volume 1, l'Inquiet.

Mille e Una Notte Arabian Nights 2 - Mille e Una Notte Arabian Nights 3
---
---