Aladdin
(Adam Green's Aladdin)
2016, regia di Adam Green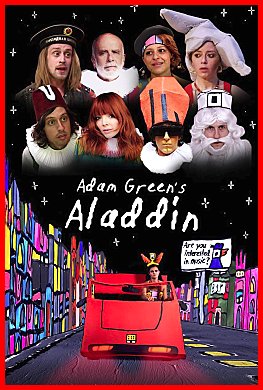 Scheda: Nazione: USA-Svizzera - Produzione: Adam Green e altri - Soggetto (dalle Mille e Una Notte): Adam Green - Sceneggiatura: Adam Green - Fotografia: Dima Dubson - Montaggio: Dima Dubson, Jordan Galland, Adam Green - Art Direction: Tom McMillan - Scenografia: Adam Green - Costumi: Cara Alpert - Musiche: Adam Green - Effetti speciali: Tom Bayne - Formato: Color - Durata: 82'.
Cast: Adam Green, Alia Shawkat, Zoë Kravitz, Macaulay Culkin, Natasha Lyonne, Penn Badgley, Nicole LaLiberte, Har Mar Superstar, Binki Shapiro, Sophia Lamar, Andrew VanWyngarden, Devendra Banhart, Francesco Clemente, Jack Dishel, Rodrigo Amarante, Karley Sciortino, Leo Fitzpatrick, Bip Ling, Neil Harbisson, Elyssa Budd, Parker Kindred, Luke Rathborne.
---
---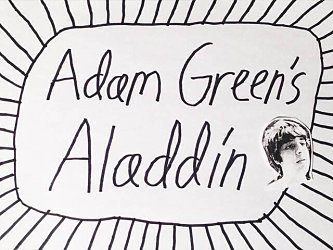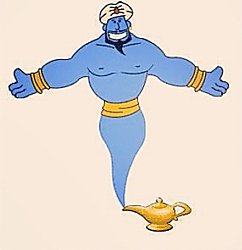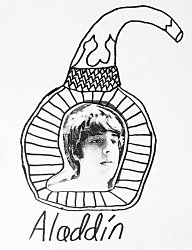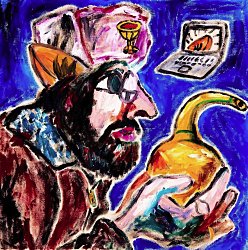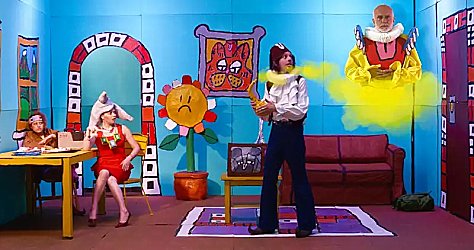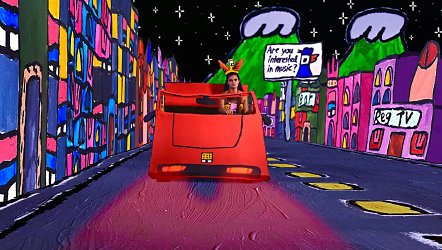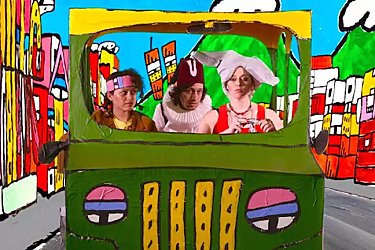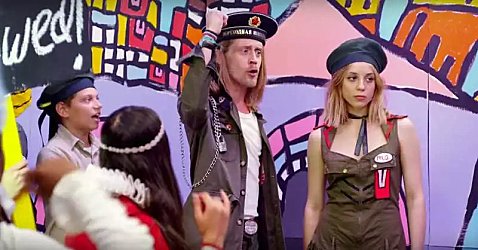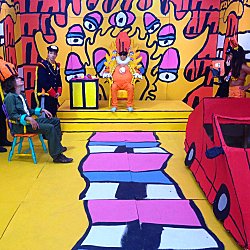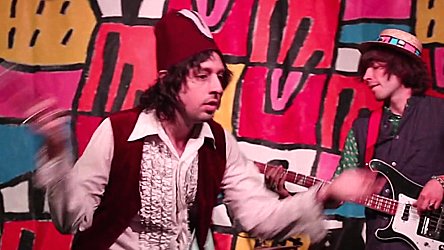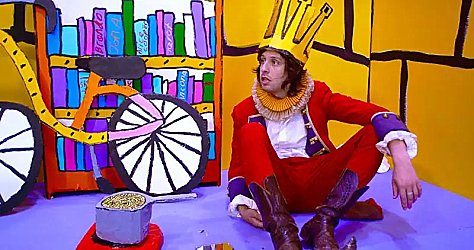 Trama e commenti: sirenfest.com - filmtv.it - rumoremag.com - loudvision.it - cosebellemagazine.it - mymovies.it: «Dal genio pop indie folk newyorkese Adam Green, una versione surreale, poetica, umoristica e moderna del classico arabo "Le mille e una notte", tra famiglie disfunzionali, sultani corrotti e borghesia decadente».
sentireascoltare.com: «Rolling Stone America lo ha definito "Fellini sotto ketamina". Certo è che il film di Adam Green, Adam Green's Aladdin – uscito ad aprile 2016, co-finanziato via Kickstarter e distribuito online on demand – è di quelli fortemente surreali, una sorta di psichedelia a 8 bit applicata alle immagini (e alle scenografie, e alla trama) che stravolge il celebre racconto tratto da Le mille e una notte. Vi basti sapere che il genio della lampada qui esaudisce le richieste del protagonista stampando oggetti in 3D (un 3D cartoonesco e assurdo, va da sé) e che le vicende mescolano tematiche agli antipodi come il controllo politico, la tecnologia, l'amore, la musica, la droga, il sesso, in un turbine comico/surreale tutto da decifrare – se volete farvene un'idea, c'è il trailer del film. Nel cast ci sono, tra gli altri, Devendra Banhart, Jack Dishel (Moldy Peaches), l'artista Francesco Clemente e addirittura il Macaulay Culkin di Mamma ho perso l'aereo (qui cresciuto e capellone, nel ruolo di un leader rivoluzionario non troppo convinto), a far decollare ancora di più sull'asse dell'inverosimile una pellicola artigianale e lisergica, eppure a suo modo credibile e ben fatta. ...».

Plot Summary, Synopsis, Review: IMDb - allmovie.com - en.wikipedia.org - cimmfest.org - kickstarter.com - facebook.com - thecreatorsproject.vice.com - abandomoviez.net - vulture.com - adamgreen.info: «Aladdin is the newest film that Adam is writing/directing. It's a hyper-sensory, poetic, and humorously modern take on the Arabian Nights Classic tale. The feature film will further explore the recesses of Adam's symbolic imagination, playing like an Alejandro Jodorowsky version of Aladdin on handmade sets à la "The Science of Sleep"; with frenetic dialogue at the pace of Xavier Renegade Angel or South Park. Revolving around Aladdin's dysfunctional family, who live in an "average" American city ruled by a corrupt Sultan with a decadent socialite daughter, the film explores themes of technology, government repression, greed, and true-love. In the months following the successful Kickstarter campaign, Adam's focus was on pre-production in a 6000-square foot warehouse in Redhook, Brooklyn, where he and a small crew made 350 papier mache props and 33 hand-made sets! Shooting has started and the cast includes acclaimed actors Macaulay Culkin, Alia Shawkat (Arrested Development) and Natasha Lyonne (Orange Is The New Black), celebrated NY musicians, Adam Green, Dev Hynes, Devendra Banhart, Har Mar Superstar, Andrew VanWyngarden (MGMT), as well as renowned artist Francesco Clemente. A soundtrack and tour will accompany the release. Adam is Aladdin right now!».
---
---