Ambikapathy
1937, regia di Ellis Dungan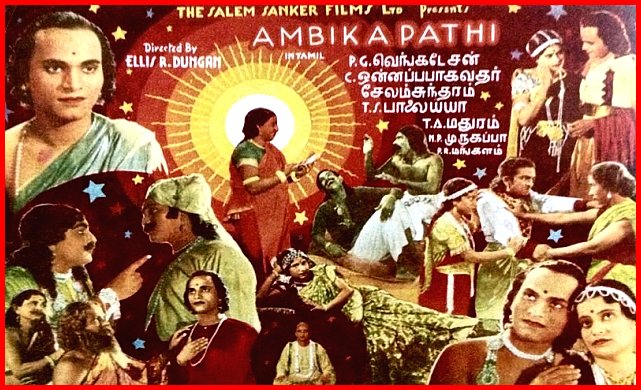 Scheda: Nazione: India - Produzione: Salem Shankar Films - Sceneggiatura: Elangovan, T.P.S. Mani - Fotografia: Paul Bricke, Krishna Gopal - Montaggio: Ellis Dungan - Musiche: Krishna Chandra Dey, Papanasam Sivan - Formato: B.N., linguaggio Tamil - Durata: 210'.
Cast: M. K. Thyagaraja Bhagavathar, Serukalathun Sama, M. S. Santhanalakshmi, P. B. Rangachari, T. S. Balaiah, N. S. Krishnan, T. A. Mathuram, P. G. Venkatesan, P. R. Mangalam.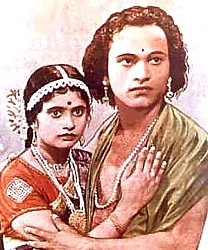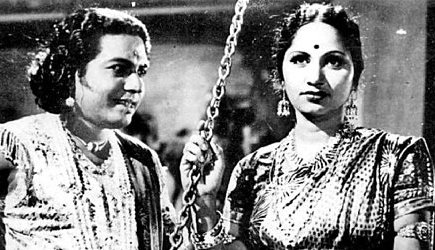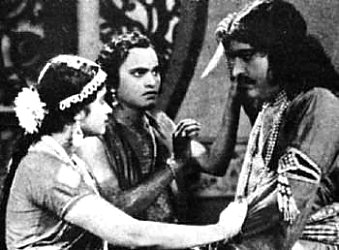 Plot Summary, Synopsis, Review: IMDb - liquisearch.com - in.com - ovguide.com - vernonjohns.org - en.wikipedia.org: «Ambikapathy is a 1937 Indian Tamil musical period film directed by American film director Ellis R. Dungan. ... Ambikapathy is regarded as one of the greatest hits of pre-independence Tamil cinema. Ambikapathy, along with Chintamani were the greatest hits of 1937 and made critics regard him as the "first superstar of Tamil cinema". This was the first Tamil film to name a music director in its credits. The film highlighted the Romeo-Juliet type romance between Bhagavathar and Santhanalakshmi. Dungan who did not know Tamil, used Shakespeare's Romeo and Juliet as an inspiration and incorporated some of its scenes in the script. The writer for the film was the Tamil scholar Thanigachalam working under the pen name Elangovan. He translated the scenes Dungan had marked out from Shakespeare into Tamil. One of them was the balcony scene. The lines describing Romeo taking leave of Juliet .. The film is based on a story set in the Chola Empire in year 1083 AD. The titular character in the story is Ambikapathy (M K. Thyagaraja Bhagavathar), the son of the Tamil poet Kambar (Serugulathur Sama) who is in love with the Chola princess and daughter of Kulothunga Chola, Amaravati (played by M. R. Santhanalakshmi). The king objects to their love and insists on testing Ambikapathy's literary mettle before judging his worth. The test given to Ambikapathi is that he should write and sing a hundred poems in the field of Puram (dealing with war and politics). The poems should not have any reference to the field of Aram (dealing of love and romance). Ambikapathi begins the test in the King's court with a Kadavul Vaazhthu (invocation to God). Amaravathi who is keeping the count, mistakes the invocation as a poem and counts it as poem number one. When he has sung only ninety nine Puram poems, she thinks he has completed the task and signals him that hundred poems have been sung. Declaring victory, Ambikapathy sings of his love for her and thus fails the test. He is executed by the king».

Ambikapathy (1957)
---
---