---
---
---
Gli Erculoidi
(The Herculoids)
1967-1969, serie diretta da William Hanna, Joseph Barbera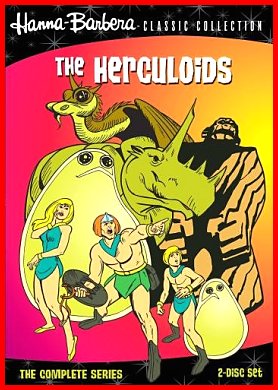 Scheda: Nazione: USA - Produzione: Hanna-Barbera Productions - Distribuzione: Turner Program Services, Warner Bros. Home Video, Columbia Broadcasting System, Taft H-B Program Sales, Telepictures Distribution, Worldvision Enterprises - Creatore della serie: Alex Toth - Sceneggiatura: Joe Ruby, David Scott, Ken Spears - Story director: Bill Perez, Paul Sommer - Montaggio: Larry C. Cowan, Geoffrey Griffin, David M. Horton - Musiche: Ted Nichols - Formato: Color, animazione, serie tv (CBS TV) in 36 episodi - Durata: 9' ogni episodio.
Voci: Mike Road, Virginia Gregg, Ted Cassidy, Ted Eccles, Don Messick.
---
---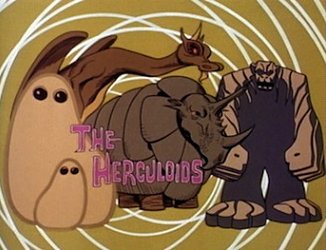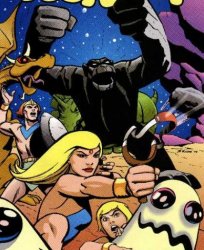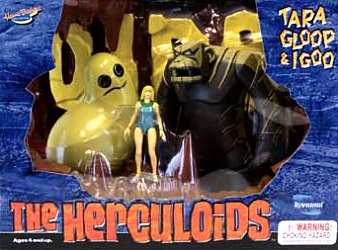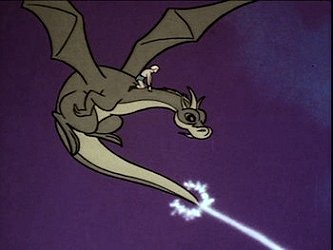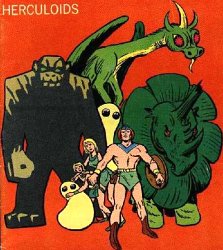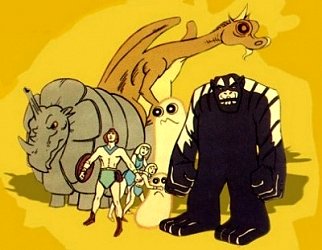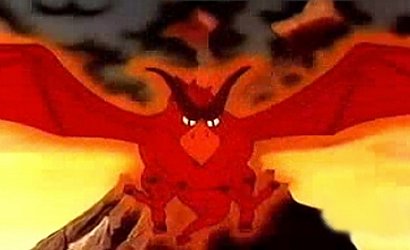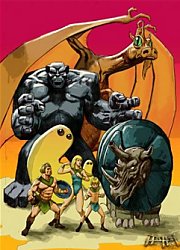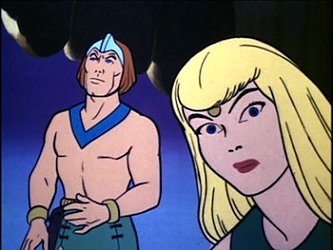 Trama e commenti: horrormagazine.it - docmanhattan.blogspot.it - mondojapan.net: «La serie originale degli Erculoidi risale al 1967 ed è prodotta da Hanna & Barbera. Questo anime americano è di genere fantascientifico e si compone di 18 episodi da 22 minuti l'uno [episodi originali: 36 di 9' ognuno]. Visto il grande successo ed il grande impatto con il pubblico, la serie viene ripresa sempre da H&B nel 1981, però con episodi più brevi ancora (circa 6 minuti l'uno) come parte dello "Space Star Show". Nel nostro paese purtroppo arriva soltanto la seconda serie. Nonostante siano passati molti anni però, gli Erculoidi continuano a mantenere tutt'oggi un grande appeal nei confronti degli spettatori di tutto il mondo. Basti pensare che nel 2007 vennero prodotte dalla Toynami una serie di action figures degli Erculoidi che andarono letteralmente a ruba. Inizialmente le vedevo in molte fiere e negozi specializzati e poi, con il passare del tempo, si sono andate lentamente esaurendo, vuoi per la grande qualità dei set Toynami, vuoi perché sono andate praticamente esaurite. ... Le avventure degli Erculoidi si svolgono sul pianeta Quasar (Amzot nella prima serie) nel quale una famiglia composta da tre persone (marito, moglie e figlio) scorrazzano sul pericoloso pianeta e lo difendono da misteriosi invasori spaziali che vogliono dominarlo per le sue ricchezze. ...».

Plot Summary, Synopsis, Review: IMDb - bcdb.com - hbshows.com - internationalhero.co.uk - tvshowsondvd.com - sharetv.com - comicsworthreading.com - dvdtalk.com - cartoonscrapbook.com - tv.com - en.wikipedia.org «The Herculoids is an American Saturday-morning animated-cartoon television series, created and designed by Alex Toth, that was produced by Hanna-Barbera Productions. The show debuted on September 9, 1967 on CBS. Hanna-Barbera produced one season for the original airing of the show, although the original 18 episodes were rerun during the 1968–69 television season, with The Herculoids ending its run on September 6, 1969. Eleven new episodes were produced in 1981 as part of the Space Stars show. The plotlines are rooted in science fiction, and have story direction and content similar to Jonny Quest and Space Ghost. This series is set on the distant planet Amzot (renamed Quasar in the Space Stars episodes). The name "Amzot" was first mentioned in the Space Ghost episode "The Molten Monsters of Moltar" (in which the Herculoids made a brief guest appearance) and in the series proper in the "Time Creatures" episode. ... The Herculoids battled to defend their planet from menaces on Amzot/Quasar and from outer space. All of the Herculoids displayed Human-level intelligence—employing precision teamwork and complex tactics—as well as emotions, and Zandor and Tara both displayed a working knowledge of complex alien technologies as well as the ability to pilot interstellar spacecraft. But essentially, Zandor, Tara, Dorno, and the Herculoids were all apparently fighting to keep Amzot/Quasar a technology-free, primitive planet. This is further indicated by the pseudo-barbarian outfits of Zandor, Tara, and Dorno and the fact that technology was used mainly by the various villains, but rarely if ever by the heroes. Although the "speech" of their companions was limited and repetitive, Zandor, Tara and Dorno demonstrated that Gloop and Gleep, at least, had a comprehensive mode of communication, and that they could at least understand and interpret this language (c.f. "The Mutoids:" "Gleep says that the aliens who landed are attacking Dorno and Tundro"). The "voices" used in the shows were actually brief tracks supplied by two actors and reused throughout the series, in keeping with Hanna-Barbera's thrifty ethos. A number of episodes featured alien invaders who came to Amzot/Quasar to seek revenge against Zandor for an unspecified battle or adventure from the past. All were apparently technocratic, and the aliens's grudges seemed basically to boil down to them being stymied in their attempts at bringing technology to Amzot/Quasar, which the apparently primitivistic Zandor wanted to avoid. The show's opening theme was a fully orchestral composition, suggesting uncommon heroism. An alternative opening theme was also utilized for some episodes. All of the show's incidental music was recycled from Jonny Quest. In some of the seasons, the episodes opened with the following narration: "Somewhere out in space live The Herculoids... Zok the laser-ray dragon! Igoo the giant rock ape! Tundro the tremendous! Gloop and Gleep, the formless fearless wonders! With Zandor their leader, and his wife, Tara, and son, Dorno, they team up to protect their planet from sinister invaders! All-strong! All-brave! All-heroes!! They are The Herculoids!!!" ...».

Approfondimenti: Movie Review
Conosciuto anche con i titoli: Sandor; Zartan.

L'"altra recensione", di Lilly Lazzarini (Cuccu'ssette)
---
---