---
---
---
Goliyon Ki Rasleela Ram-Leela
2013, regia di Sanjay Leela Bhansali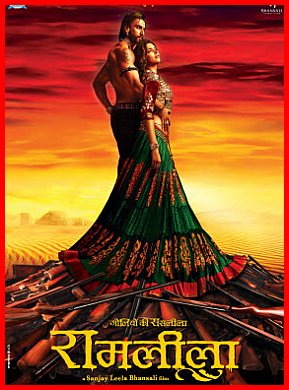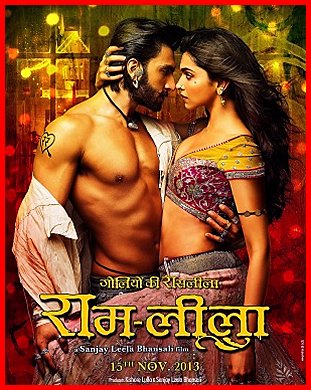 Scheda: Nazione: India - Produzione: Bhansali Productions, Eros International - Distribuzione: Eros International, Rapid Eye Movies, Aanna Films - Soggetto (basato sulla omonima tragedia di William Shakespeare): Sanjay Leela Bhansali - Sceneggiatura: Sanjay Leela Bhansali, Siddharth-Garima - Fotografia: Ravi Varman - Montaggio: Sanjay Leela Bhansali, Rajesh G. Pandey - Scenografia: Wasiq Khan - Costumi: Maxima Basu, Anju Modi - Musiche: Sanjay Leela Bhansali (e Monty Sharma) - Effetti speciali: Reliance Media Works Limited - Formato: Color, musical, linguaggio Hindi - Durata: 150' (155').
Cast: Ranveer Singh, Deepika Padukone, Gulshan Devaiah, Richa Chadda, Abhimanyu Shekhar Singh, Sharad Kelkar, Supriya Pathak, Sahedev Girish, Priyanka Chopra, Krishna Bisht, Homi Wadia, Barkha Bishit Sengupta, Raza Murad, Utkarsh Naithani, Sunil Shah, Reshma Merchant, Jameel Khan, Tarun Anand, Masood Akhtar.
---
---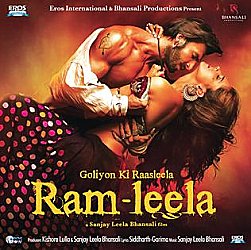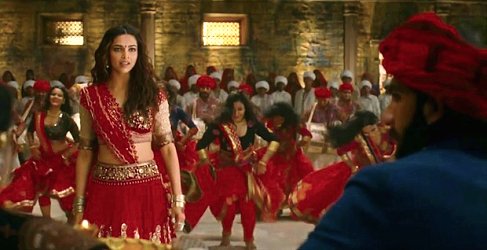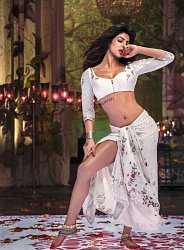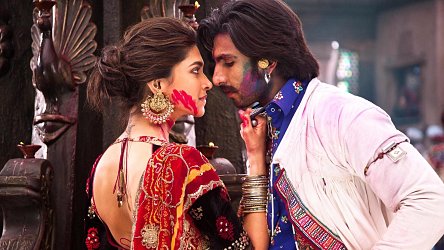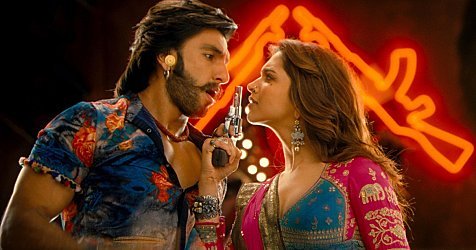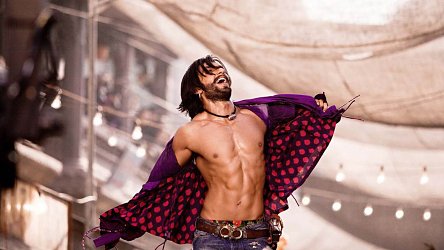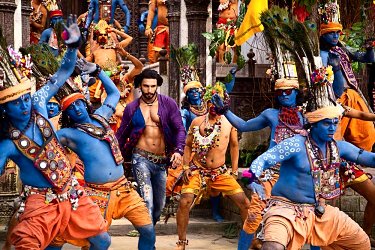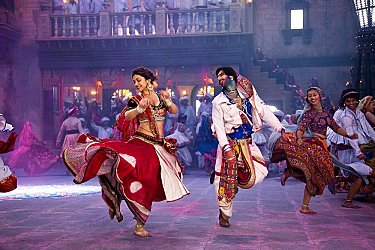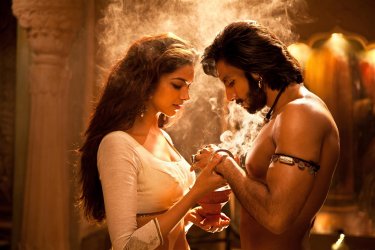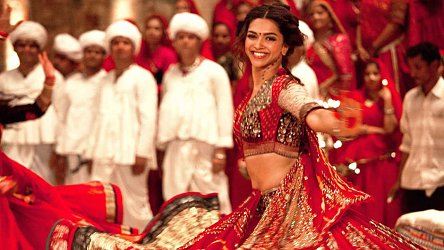 Trama e commenti: cinetecadibologna.it - flashvideo.it - mymovies.it - filmtv.it - taxidrivers.it - bollyrama.com: «Una rappresentazione, o trasposizione, o rifacimento (chi può dirlo?) sanguinoso, grandioso e "annaffiato" abbondantemente … da schizzi rosso sangue, il colore dell'Amore. Colori, odori che è quasi possibile visualizzare, luci e nebbie dell'India, fanno da contorno, ma contorno non sono, del dramma occidentale per eccellenza. Romeo&Giulietta, nella terra dello spirito e degli spiriti, si trasforma in Goliyon Ki Raasleela: Ram-Leela e ne esce come remake, eppure completamente diverso. Il soft, elegante e opulento Romeo e Giulietta di Zeffirelli? Dimenticatelo. Il dramma di Buz Luhrmann William Shakespeare's Romeo + Juliet collocato finalmente in epoca moderna? Passate avanti. Questa è la storia di Ram, e della sua Leela: un pugno allo stomaco, un pugno nell'occhio aduso ad atmosfere più cupe retaggio del cinema occidentale, non abituato forse (anzi togliete il "forse"), frastornato da colori così accesi da risultare quasi accecanti. E non parlo certo della scala cromatica.Come ogni regista, Sanjay Leela Bhansali si ritrova a dirigere sotto l'egida di alcuni obblighi: un set immenso, quasi tentacolare, una tavolozza di colori drasticamente contrapposti e gli attori principali perennemente impegnati in conflitti emozionali. Salta all'occhio che in Ram Leela c'è amore, c'è troppo amore. Tanto amore, da sfociare in una continua tensione sessuale e sensuale che"forse" potrebbe dare ipocritamente fastidio. Questo vecchio eppure sempre rinnovato dramma dell'amore si apre in una piccola cittadina Gujrati, che a cercarla su di una mappa sarebbe pura follia. Il posto è un perpetuo limbo tra il vecchio e il nuovo mondo, dove ci si veste orgogliosamente di abiti tradizionali, si cavalcano cavalli alla vecchia maniera e Harleys con moderna strafottenza e si utilizzano cellulari trillanti e sgargianti. E nonostante quest'ultimo aspetto lo collochi in quello che presumo essere il nostro tempo, mai e dico mai l'occhio si posa su qualcosa che sta sotto chili e chili di vesti sfavillanti o completi maschili e mascolini da Gujarati medio. ...».

Plot Summary, Synopsis, Review: IMDb - allmovie.com - rogerebert.com - movies.ndtv.com - bollywoodhungama.com - greatandhra.com - movies.ndtv.com - wikipedia.org: «Goliyon Ki Raasleela Ram-Leela (english: A Play of Bullets Ram-Leela) is a 2013 Indian romance drama film ... an adaptation of Shakespeare's Romeo and Juliet, set in violent times. ... In a Gujarati village, Ranjaar, infamous for its uninhibited manufacture and sale of arms and ammunition (weapons are sold like vegetables at the place), two clans, Rajadi and Sanera, have been at odds with each other for the past 500 years. The film opens with a violent altercation between the two over petty matters. Meghji (Abhimanyu Singh), a Rajadi head, sets out to kill Bhavani (Gulshan Devaiah) who is a Sanera, after the latter tries to kill the former's son. Bhavani is almost killed but Ram (Ranveer Singh), Meghji's younger brother, intervenes and saves him, only to be reprimanded by Meghji. All the Rajadi elders are irked by Ram's mindset of making truce with the other clan. During the festival of Holi, Ram boldly enters the house of the Sanera heads and flirts with Leela (Deepika Padukone), while her mother, Dhankor Baa (Supriya Pathak Kapur), the chieftain of the Saneras, is busy arranging a match for her daughter with a simple-minded NRI. Kanji (Sharad Kelkar), Leela's elder brother, angered by Ram's entry in the house, bribes the local police to raid the house of Rajadi heads, but Ram manages to convince the policemen to leave in exchange for a set of his blue films. Ram and Leela get romantically involved and plan to elope but a grim turn of events follows when Kanji accidentally kills Meghji, and is in turn killed by Ram.
To escape the suffering, Ram and Leela elope and marry but Ram's friends trace them and trick Ram by making him drunk and knock him out of his senses. They send an SMS informing the Saneras of their location from Ram's phone. The next morning, Leela is forcibly taken back home by Bhavani, her cousin, while Ram is hailed as a hero by the Rajadis for soiling the reputation of Leela, and her chieftain. He is rewarded by being made the new chieftain of the Rajadi. Meanwhile, Dhankor Baa (Supriya Pathak) arranges engagement for Leela with a bridegroom her brother has chosen,Leela refuses this and asks to remove the wedding ring through which she was engaged with Ram, Dhankor Baa cuts her finger, on listening to this Ram also cuts his finger and comes to visit Leela Leela still retains faith in Ram and sends Rasila (Richa Chadda), widow of Kanji, to give Ram an ultimatum to take her away. Rasila, however is molested by Ram's friends and when Dhankor Baa learns of this, she sends Bhavani and other men to assault Kesar (Barkha Bisht Sengupta), Meghji's widow, who manages to evade them. ...».

Approfondimenti: Movie Review
Conosciuto anche con i titoli: Ram Leela; A Play of Bullets Ram-Leela.
---
---