---
---
---
Mulan
(The legend of Mulan)
1998, regia di Tony Bancroft, Barry Cook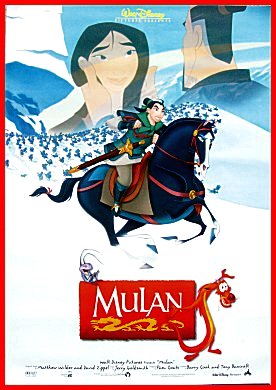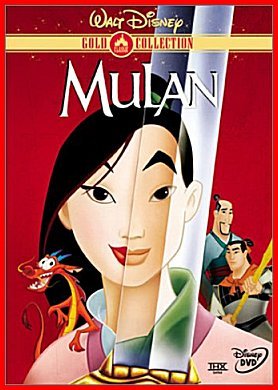 Scheda: Nazione: USA - Produzione: Walt Disney Feature Animation, Walt Disney Pictures - Distribuzione: Walt Disney Pictures, Buena Vista Pictures, American Broadcasting Company, Buena Vista International, Buena Vista Home Entertainment, Gativideo - Soggetto: Robert D. San Souci, Dean DeBlois, John Sanford, Tim Hodge, Burny Mattinson, Barry Johnson, Ed Gombert, Chris Williams, Julius Aguimatang, Lorna Cook, Thom Enriquez, Joe Grant, Floyd Norma - Sceneggiatura: Raymond Singer, Rita Hsiao, Philip LaZebnik, Eugenia Bostwick-Singer, Chris Sanders - Montaggio: Michael Kelly - Art Direction: Ric Sluiter - Musiche: Jerry Goldsmith - Effetti Speciali: Dave Tidgwell, Dorse A. Lanpher, David 'Joey' Mildenberger - Formato: Technicolor - Durata: 88' (85').
Voci (edizione originale): Miguel Ferrer, Harvey Fierstein, Freda Foh Shen, June Foray, James Hong, Miriam Margolyes, Pat Morita, Eddie Murphy, Marni Nixon, Soon-Tek Oh, Donny Osmond, Lea Salonga, James Shigeta, George Takei, Jerry Tondo, Gedde Watanabe, Frank Welker, Ming-Na, Matthew Wilder, B.D. Wong.
---
---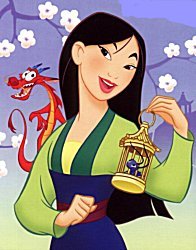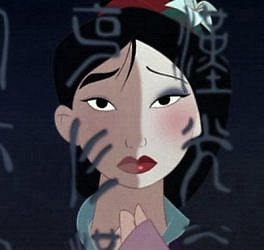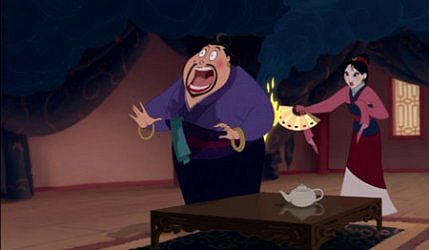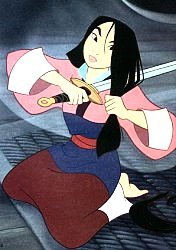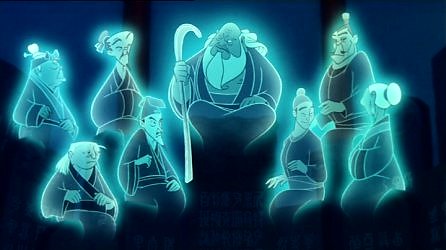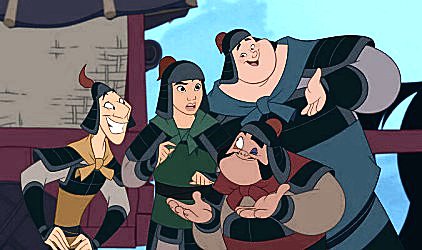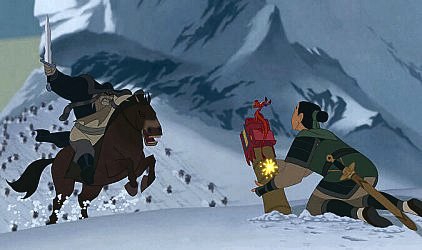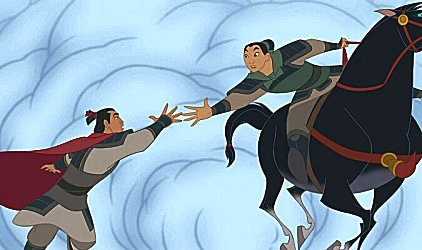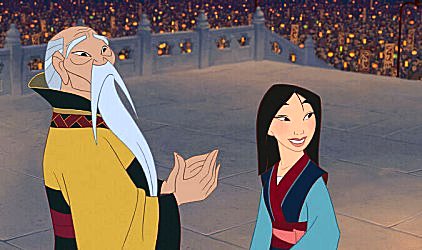 Trama e commenti: mymovies.it - disneyano.altervista.org - movies.yahoo.com - it.wikipedia.org - cinematografo.it: «Attestatosi sul confine estremo del Paese, delimitato dalla grande muraglia, il feroce condottiero degli Unni, Shan-Yu, annuncia di voler invadere con una potente armata la Cina. L'imperatore dei cinesi, molto amato dal popolo, organizza subito la difesa, emana un proclama con cui chiede ad ogni famiglia di mandare un uomo a combattere nell'armata imperiale e invia il fedele Chi Fu ad eseguire l'ordine. Intanto, in un lontano villaggio, la giovane Mulan, unica figlia della famiglia Fa, si sta preparando all'incontro decisivo con la sensale del villaggio. Mulan è uno spirito libero ma vuole onorare la propria famiglia e le tradizioni che impongono alla donna il matrimonio. Le cose però si mettono male per l'inopportuno intervento di Cri-Cri, il grillo portafortuna della giovane. Così la sensale caccia via Mulan, che è ormai disonorata. Tornata a casa, la ragazza viene confortata dal padre e, mentre parlano, viene annunciato il proclama imperiale. L'uomo non esita a farsi avanti ma Mulan sa che il padre è malato e l'arruolamento significherà morte sicura. Durante la notte prende la decisione di sostituirsi al padre: si taglia i capelli, indossa l'armatura e si unisce all'esercito. Ma questo gesto provoca la reazione degli antenati che si riuniscono e meditano di ripristinare l'onore familiare. Intanto Mulan, dopo i primi giorni d'incertezza, diventa un soldato come gli altri ed è pronta per la battaglia. Le truppe imperiali sono inferiori ma è proprio Mulan, con uno stratagemma, a far rovesciare le sorti della battaglia. Rimasta ferita, Mulan viene però scoperta nella sua vera identità ed espulsa dall'esercito. Tuttavia non si rassegna e, saputo che alcuni Unni superstiti stanno attaccando la Città Imperiale, escogita un piano e li ferma. Adesso può fare ritorno a casa, dove l'aspetta il padre orgoglioso e un ragazzo che la chiede in sposa».

Plot Summary, Synopsis, Review: IMDb - allmovie.com - en.wikipedia.org - rottentomatoes.com - movies.piczo.com: «This retelling of the old Chinese folktale is about the story of a young Chinese maiden who learns that her weakened and lame father is to be called up into the army in order to fight the invading Huns. Knowing that he would never survive the rigours of war in his state, she decides to disguise herself and join in his place. Unknown to her, her ancestors are aware of this and to prevent it, they order a tiny disgraced dragon, Mushu to join her in order to force her to abandon her plan. He agrees, but when he meets Mulan, he learns that she cannot be dissuaded and so decides to help her in the perilous times ahead».

Approfondimenti: Movie Review
Scheda a cura di Letizia Dello Mastro
---
---