---
---
Qayamat Se Qayamat Tak
1988, regia di Mansoor Khan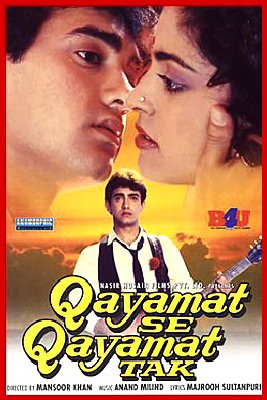 Scheda: Nazione: India - Produzione: Nasir Hussain Films, United Producers - Distribuzione: Nasir Hussain Films, B4U Entertainment, Eros Entertainment - Soggetto (ispirato alla tragedia Romeo e Giulietta di William Shakespeare): Nasir Husain - Sceneggiatura: Nasir Husain - Fotografia: Kiran Deohans - Montaggio: Zafar Sultan - Art Direction: Shib Shankar - Costumi: Bilquis Khan, Nikhat Khan, Nuzhat Khan, Sonia - Musiche: Anand Chitragupth, Milind Chitragupth - Effetti speciali: Prasad Productions Pvt. Ltd. - Formato: Color - Durata: 162'.
Cast: Aamir Khan, Juhi Chawla, Goga Kapoor, Dalip Tahil, Ravindra Kapoor, Asha Sharma, Alok Nath, Rajendranath Zutshim, Shehnaz Kudia, Charushila, Beena Banerjee, Reema Lagoo, Nandita Thakur, Ahmed Khan, Arjun, Ajit Vachani, Yunus Parvez, Viju Khote, Babbanlal Yadav, Imran Khan.
---
---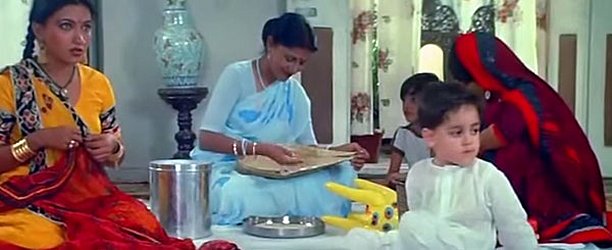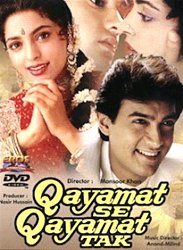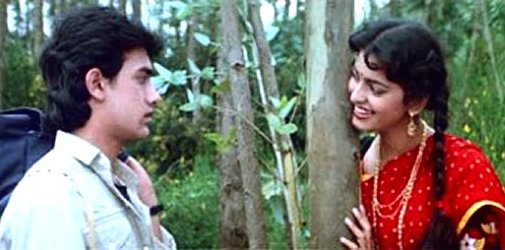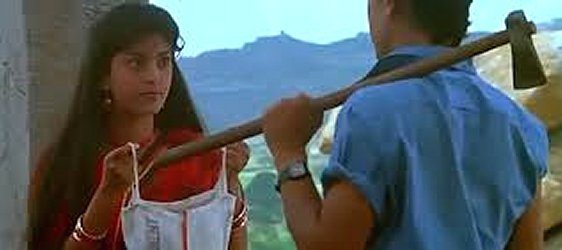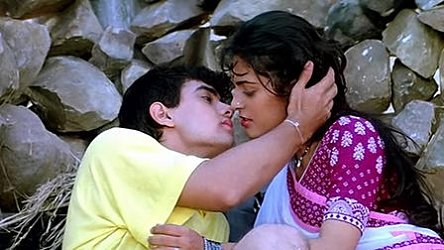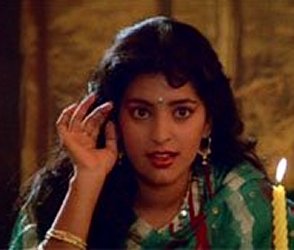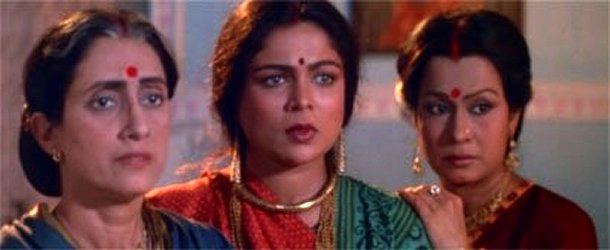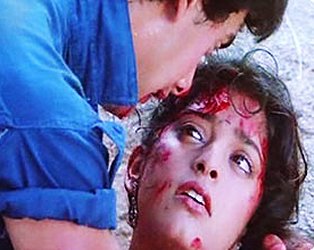 Trama e commenti: it.wikipedia.org - tuttocinema.biz - filmcinehindi.blogspot.it: «Dimentichiamoci degli action movies degli anni precedenti, niente più banditi dallo sguardo crudele né pericolosi inseguimenti in sfreccianti auto colorate. Questo film, diretto nel 1988 da Mansoor Khan, reindirizza i gusti del pubblico verso l'empatia assoluta con i protagonisti di una candida e dolcissima storia d'amore. I così detti villains non sono più capi della mala o loschi sicari ma persone normali; rispettabili membri della famiglia che con il loro orgoglio cieco finiscono per distruggere la vita delle persone che amano, dimostrandosi non meno pericolosi dei famigerati gangster … L'ispirazione parte da Romeo e Giulietta, la tragedia romantica per eccellenza. Nonostante la diversità storico-geografica del contesto, l'anima dell'opera e l'insieme di purezza, gioventù e romanticismo vengono rispettate a meraviglia. Nello stile dei capolavori Shakspeariani, la storia vera e propria, ricca di tensione, partecipazione, sofferenza, si intervalla a momenti di più leggera commedia rivolgendosi a un pubblico di qualsiasi età ed estrazione sociale. I protagonisti, Aamir Khan e Juhi Chawla al loro debutto ufficiale, immobilizzano lo spettatore con la loro tenerezza ed è impossibile non adorarli fin dalla prima inquadratura. ... Trama: vedi Romeo & Giulietta, immaginando Romeo con gli occhioni neri di Aamir Khan. Al di là della storia straordinariamente struggente, (capace di far commuovere un masso di granito e abbattere di colpo il primato di chi afferma da sempre "davanti ai film non piango mai!") QSQT è girato benissimo. Forse potrà sembrare banale ma nel suo essere semplice coinvolge ed è sempre guidato da una fluida naturalezza. Il finale non vuole soddisfare a tutti i costi e sceglie di rinunciare all'happy ending interrompendo di colpo l'ovattata atmosfera da favola. Proprio questo film ha portato al successo Aamir, introducendo una nuova versione dello star-crossed lover ... Qayamat se Qayamat tak ha inoltre aperto la strada a tutte le più famose love story degli anni a venire, tanti sono gli elementi che sono stati ripresi in altri titoli: lo spettacolo al college dove il protagonista si esibisce con una canzone, l'ambientazione del campeggio estivo, i due ragazzi che si ritrovano da soli dopo aver perso il gruppo degli amici, le famiglie conservatrici che ostacolano la libera espressione dei figli considerandoli come loro proprietà, la fuga romantica ecc...».

Plot Summary, Synopsis, Review: IMDb - allmovie.com - bollywoodlife.com - world4ufree.cc - thebollywoodfan.blogspot.it - rottentomatoes.com - nytimes.com - en.wikipedia.org: «Qayamat Se Qayamat Tak or QSQT (From Doom to Doom) is a 1988 Indian romantic drama film written by Nasir Hussain and directed by his son Mansoor Khan. The plot hints to be inspired by Shakespeare's Romeo and Juliet. The film starred Hussain's nephew, Aamir Khan, with Juhi Chawla in their first major roles ... Dhanakpur village farmer Thakur Jaswant Singh (Alok Nath) and Dhanraj Singh (Dalip Tahil) are brothers. They have a younger sister Madhumati, who was used, made pregnant and ditched by Ratan Singh (played by Arjun), the son of Thakur Raghuveer Singh from a big Rajput family. The family refuses Jaswant Singh's request to get his sister married to Ratan. Ratan's family refuses to accept that he is guilty, as they are interested in their status. Insulted, Jaswant leaves the village. Unable to tolerate the events, Madhumati commits suicide. Frustrated, Dhanraj kills Ratan at his wedding and gets imprisoned. The two families are now bitter enemies. Jaswant moves to Delhi, develops his business, and reaches good status; he also raises Dhanraj's kids. Years later, Dhanraj gets released from the prison. Upon release, Dhanraj receives a letter from his son, Raj (Aamir Khan), an ardent music lover, who completes his education in Rajput College. An emotional Dhanraj sneaks into Raj's college farewell party and is glad to see his son fulfill his dreams. In a twist of fate, Raj and his buddy go to Dhanakpur to clear his family's land deal. While returning home, Raj falls for Rashmi (Juhi Chawla), a relative of Raghuveer Singh. Raj sneaks into Rashmi's birthday bash. The two meet again at a holiday spot.
They become lost in the forest and fall in love while finding a way out. Raj finds out about Rashmi's family but is unable to tell her the truth. When Randhir Singh, Rashmi's father, finds out about the affair, he immediately arranges Rashmi's wedding. The lovers take on their families and elope, dreaming of an idyllic life together. Furious, Randhir hires a contract killer to kill Raj. The lovers have a brief interval of happiness. They stay in a deserted fort, happy in their own paradise. When Randhir learns their whereabouts, he goes there to bring Rashmi home and ensure that Raj is killed. Randhir's mother does not wish for this so she goes to Dhanraj and tells him to save them. Raj leaves the fort to bring some wood for their house. While Raj is away, Randhir meets with Rashmi and tells her to come home; he has "accepted their love". Rashmi is overjoyed at her father's words, not knowing the truth. In the forest, Raj is chased by the henchmen. Dhanraj reaches the fort and repeatedly asks about his son's whereabouts. They get in a fight and a gunshot is heard. Rashmi leaves the scene to make sure that Raj is okay. He is about to be shot but, on seeing Rashmi, the henchman shoots her instead. She is shot twice and rolls down the hill. Raj overpowers the henchman and reaches Rashmi's side, crying. They promise never to leave each other. On saying this, Rashmi breathes her last in Raj's arms. A grief-stricken Raj is devastated by Rashmi's death, and says that nothing can separate them. He commits suicide with a dagger given to him by Rashmi and dies with his head on her chest. The final scene is both families running toward them; the lovers are together, never to be separated, as the sun sets behind them».
Conosciuto anche con i titoli: QSQT; From Doom to Doom.
---
| su | Home Storiamedievale | Cinema e Medioevo-Indice | Indice film |
| --- | --- | --- | --- |
---