---

Alraune und der Golem
1919, regia di Nils Chrisander, Paul Wegener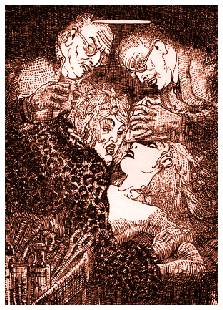 Scheda: Nazione: Germania - Produzione: Riesenbioskopfilm - Soggetto: dal romanzo Isabel of Egypt di Schim von Arnim (e indirettamente dal romanzo Alraune di Hanns Heinz Ewers (1911) - Fotografia: Guido Seeber - Art Direction: Nils Chrisander - Formato: B.N., muto.

Plot Summary, Synopsis, Review:

silentsf.com: «...(Isa)Bella is the daughter of Michael, a gypsy duke. Michael is innocently hung for defending two fellow gypsies. Bella is brought up by the old gypsy Braka. Being of royal gypsy blood does not provide Bella with much wealth. Braka tells her the legend of the Mandrake (Alraune). In this version of the folklore, the Mandrake (a creature created from the roots formed from a hung man's tears) is able to locate treasure. Bella decides to use her father's hanging to bring life to the creature. The imp is dubbed Cornelius and Bella develops a strange affection for him...».

bizoum.com: «The first adaptation of Ewers's novel, Alraune. Die Henkerstochter, Genannt die Rote Hanne, now lost, was produced by the German studio Neutrat Film and released in 1918, and directed by Eugen Illes (Hilde Wolter played Alraune). A second version, lost as well, directed by Mihaly Kertesz (later known as Michael Curtiz), was produced in Hungary and also released in 1918 (with Margit Lux as Alraune). Alraune (a.k.a. Unholy Love or Daughter of Destiny) was produced by the AMA Film studios at the very end of 1927 and directed by Heinrich Galeen (director of Der Student von Prag, based on a screenplay by Ewers himself). Professor Ten Brinken was played by Paul Wegener (Der Golem) and Alraune by Brigitte Helm After Oswald's UFA production, another West German version was produced in 1952 (Alraune, a.k.a. Unnatural, a.k.a. Vengeance, a.k.a. Mandragore), produced by the Carlton studios, and directed by Arthur Maria Rabenalt, famous for his Nazi propaganda films. Hildegard Knef played Alraune and Erich von Stroheim, played Ten Brinken».

Conosciuto anche con il titolo: Alraune and der Golem.
---
---