---

The Hamiltons
2006, regia di The Butcher Brothers (Mitchell Altieri, Phil Flores)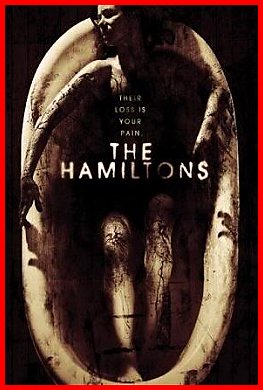 Scheda: Nazione: USA - Produzione: San Francisco Independent Cinema, Industrial City Films - Distribuzione: Lionsgate, After Dark Films, Sunfilm Entertainment, RCV Home Entertainment, Blue Sky Media, Free Dolphin Entertainment, Argentina Video Home, Pan Vision Oy - Soggetto: Mitchell Altieri, Phil Flores - Sceneggiatura: Mitchell Altieri, Phil Flores, Adam Weis - Fotografia: Michael Maley - Montaggio: Jesse Spencer - Art Director: Andrew Casden - Costumi: Alexis Beck - Musiche: Nathan Montiel, Joshua Myers - Formato: Color - Durata: 86'.
Cast: Cory Knauf, Samuel Child, Joseph McKelheer, Mackenzie Firgens, Rebekah Hoyle, Brittany Daniel, Al Liner, Jena Hunt, Tara Glass, Larry Laverty, Joe Egender, Nicholas Fanella, Jackie Honea, John Krause, Nathan Parker, Jason Pennetta, Andrew Casden, Tim Tracy.
---
---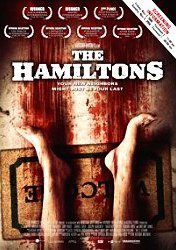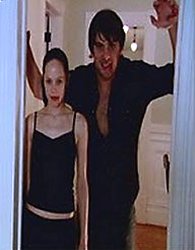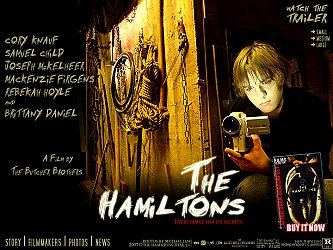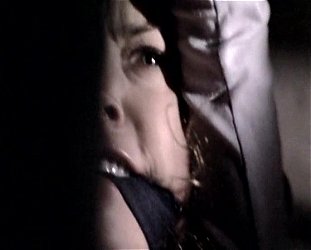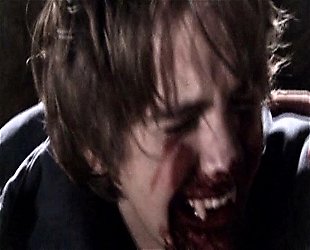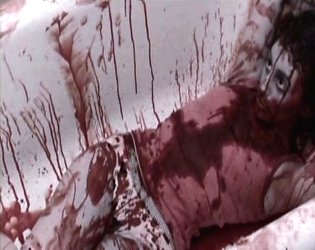 Trama e commenti: mymovies.it - exxagon.it - movieplayer.it - splattercontainer.com - filmscoop.it - cinemalia.it «Quattro fratelli (tre maschi e una femmina), rimasti orfani, si trasferiscono senza sosta. I tre più grandi uccidono spietatamente uomini e donne da dare in pasto a un misterioso individuo che nascondono in cantina. Il più giovane, Francis, sembra diverso e si ribella al comportamento dei fratelli. Ma in realtà è più simile a loro di quanto pensi. Basterebbe leggere il soprannome dei registi per capire la qualità del film, e soprattutto il genere: The Butcher Brothers, "i fratelli macellai" (Mitchell Altieri, Phil Flores i nomi reali) non fa presagire nulla di buono. Ed è proprio così...la pellicola non ha nulla di buono. è infatti tutto superficiale e poco approfondito: a partire da una sceneggiatura che sembra costruita intorno a poche e rivoltanti sequenze, pensate apparentemente prima della storia. La caratterizzazione dei personaggi è assai mediocre: Francis dovrebbe essere il "buono" e consolare un poco lo spettatore atterito da tanta crudeltà, ma ciò non avviene: piagnucola, non agisce e irrita. Si passa dal thriller splatter all'horror vampiresco nel giro di un'inquadratura, e questo non è bene. Girato in digitale e per lo più ripreso a mano, il film non ha neanche il pregio di essere scorrevole e la durata (83 minuti) viene percepita più lunga. La recitazione poi è tutt'altro che lodevole: il cast (soprattutto i protagonisti) non convince, le facce saranno anche azzeccate ma le capacità interpretative sono davvero scarse. Inoltre vi è la sgradevole sensazione di non capire ciò che si guarda fino alle ultime scene, tanto appaiono confusi l'intreccio e il montaggio. The Hamiltons non impaurisce, al massimo disgusta (e questo è un errore in cui cade la maggior parte della produzione "horror" recente, ma nemmeno tanto; è fin troppo banale, coinvolge ben poco e di tanto in tanto vengono inserite sequenze erotiche, anche incestuose, che non vengono giustificate. L'unica buona trovata è forse la contrapposizione tra i piani superiori della casa color pastello e la cantina tetra e squallida: esprime discretamente la differenza tra apparenza e realtà. Inedito in Italia, è uscito direttamente in dvd» (Riccardo Balzano).

Plot Summary, Synopsis, Review: IMDb - allmovie.com - taliesinttlg.blogspot.com - moria.co.nz - en.wikipedia.org - variety.com - hollywoodgothique.com - dvdresurrections.com - thedevilridesout.blogspot.com - dreadcentral.com - cinemafantastique.net - taliesinttlg.blogspot.com: «The story of the Hamiltons follows Frances (Cory Knauf) the youngest of four teenagers trying to cope with the world after their parents recent death. The head of the family is David (Samuel Child), and then their are also the gothic twins Wendell (Joseph McKelheer) and Darlene (Mackenzie Firgens). Frances finds himself increasingly alone since David is wrapped up with his perceived responsibilities and the twins only seem to need each other. The audience follows Frances' multi-layered rite of passage as he deals with his grief at the death of his parents, genuine teen concerns of growing up, as well as how to cope with the physical changes he is undergoing. Cory Knauf manages to pull off the confusion and anger wonderfully, avoiding the whiny stereotype to become a really sympathetic protagonist, torn between normality and his unusual "family"...».

Approfondimenti: Movie Review
Conosciuto anche con il titolo: Los Hamilton.
---
---