---

The Hunger: Necros
(The Hunger: Necros)
1997, regia di Russell Mulcahy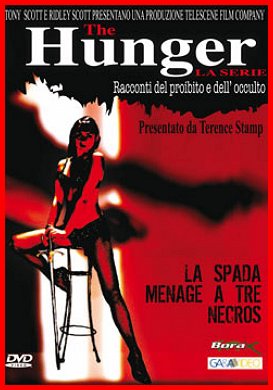 Scheda: Nazione: Canada - Produzione: Scott Free Productions, The Movie Network, Telescene Film Group Productions - Distribuzione: E1 Entertainment, Showtime Networks, York Entertainment, DV1, SPO - Soggetto: Brian Lumley - Sceneggiatura: Steven Salzburgh, Audrey Thaler Salzburg - Fotografia: Francois Protat - Montaggio (serie): Glenn Berman, Patrick Moore, Kathy O'Shea, Pamela Power - Art Director: Isabelle Guay - Costumi: Ron Braunstein, Nicole Pelletier - Musiche: Mike Hewer, Michelle Curran - Effetti speciali: Big Bang Animation - Formato: Color, film tv - Durata: 24' (30').
Cast: James Berlingieri, Céline Bonnier, Tony Calabretta, Philip Casnoff, Leonardo Cimino, Tony De Santis, Marc Désourdy, Richard Jutras, David McKeown.
---
---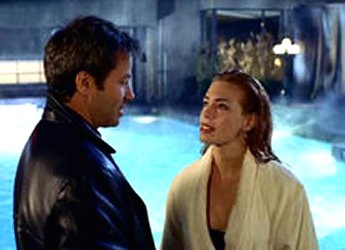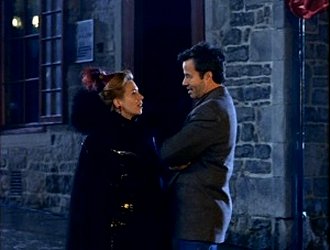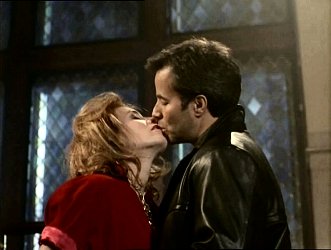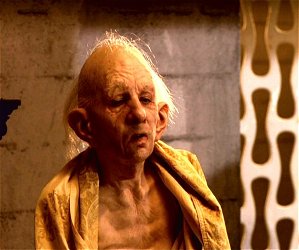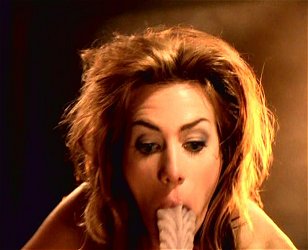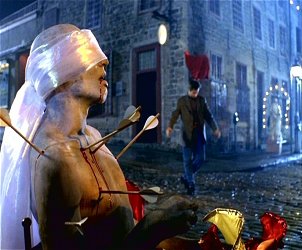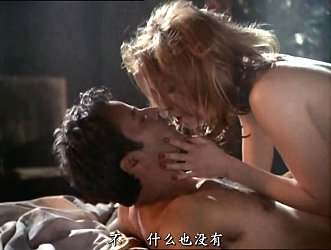 Trama e commenti: prvideosrl.com - horrortv.it: «The Hunger è una meritevole serie di racconti del terrore, che coniuga alla perfezione erotismo e morte. è stata realizzata dalla casa di produzione di Tony e Ridley Scott durante l'arco degli anni che vanno dal 1997 al 2000. La prima serie è presentata da Terence Stamp, la seconda da David Bowie. Nella tv italiana ha fatto la sua prima apparizione qualche anno fa su Cult Network (Stream). Recentemente è stata trasmessa da LA 7. Attualmente Canal Jimmy sta trasmettendo la seconda serie completa».
close-up.it: «Pericoloso fare sesso con una donna appena intravista ad una festa di paese, soprattutto se, in città, già alcuni giovani uomini sono scomparsi senza lasciare traccia, vittime, forse, di Necros, una malvagia creatura che si nutre della giovinezza degli uomini. Che Necros sia proprio quella donna appena intravista? O che non sia piuttosto quell'uomo anziano (il marito) sempre al suo fianco e sempre in cerca di giocatori di bridge? Giudizio critico: Non fosse che per l'ironia inaspettata della scena finale, Necros sarebbe da annoverare tra gli esiti più bassi dell'intera operazione. L'ambientazione risulta alquanto sfocata e, per questo, perdono potenza i dettagli di una cultura arcaica e superstiziosa entro cui l'intera vicenda andrebbe calata. Anche sul versante dell'erotismo puro e semplice, ci pare, le cose non vadano molto meglio a causa della femminilità greve quasi volgare (una scelta calcolata?) della protagonista. Gli attori sono mal gestiti e non si trovano, nel corso della puntata, con la parziale eccezione di alcuni inaspettati dettagli nella scena di sesso finale, vere ed originali soluzioni di regia».

Plot Summary, Synopsis, Review: IMDb - allmovie.com - vampyres-online.com - com/the-hunger - homecinema.thedigitalfix.co.uk - clicker.com - swapadvd.com - succubus.net - sidereel.com - tvguide.com - en.wikipedia.org - epguides.com - taliesinttlg.blogspot.com: «The Hunger was a supernatural TV series of short films produced by Tony and Ridley Scott. Despite the involvement of Tony Scott and the name of the series this was not related to the 1983 eponymous movie, though the series DVD insert claims it was inspired by said film. The subject matter of the episodes changed but what remained constant was an obligatory sex scene, some naked flesh and (often) flashes of lingerie. Season 1 was introduced, episode by episode, by Terence Stamp. The series itself is very good generally; however the quality can vary, from the pure horror (good) through to something like the Red Shoe Diaries with a murder/supernatural twist (poor). Necros was based on a short story by Brian Lumley. A religious carnival passes through a town whilst tourist William Cobb (Phillip Casnoff) burns a picture of the girlfriend who cheated on him. He steps out into the street and spots an elderly gentleman, Nero (Leonardo Cimino), and his young companion Helma (Céline Bonnier). An old woman accosts them, calling the man Necros and saying that he should not walk among the living. Hotelier Dino (Tony De Santis) explains that since Nero moved to the area people have vanished and that the older generation belive him to be a Necros, a vampire like creature, a dead thing who feeds upon the living. More they believe that Helma will be his next victim. William insinuates himself to Helma, whom he is attracted to and wants to save but it is clear that she is a terrible flirt who is quite happy to cheat on Nero, a man obsessed with bridge. Eventually, after Dino has vanished following – it seems at first – a misunderstanding with Nero, William gets to the couple's gothic mansion and beds Helma. During their passion she undergoes a horrific transformation sprouting a tail and revealing a long tongue that protrudes from her mouth. She rams this deep into William's mouth. ...».

Approfondimenti: Movie Review
Episodio 3 della stagione 1 della serie tv in 44 episodi The Hunger, conosciuta anche con i titoli: Les prédateurs; Desejos Proibidos.

The Hunger: Una questione di stile (1997, A Matter of Style) - Passi (1998, Footsteps) - Volare di notte (1998, Fly-By-Night) - Nunc dimittis (1999, Nunc dimittis)
---
---