---

Addicted to Murder
1995, regia di Kevin J. Lindenmuth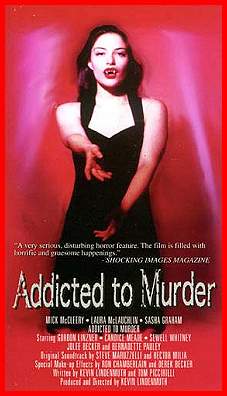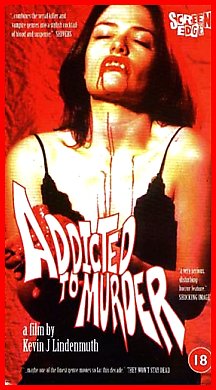 Scheda: Nazione: USA - Produzione: Brimstone Productions - Distribuzione: E.I. Video, Screen Edge - Soggetto: Kevin J. Lindenmuth, Tom Piccirilli - Sceneggiatura: Kevin J. Lindenmuth, Tom Piccirilli - Fotografia: Kevin J. Lindenmuth - Montaggio: Kevin J. Lindenmuth - Musiche: Steve Maruzzelli, Hector Milia - Formato: Color - Durata: 90'.
Cast: Mick McCleery, Laura McLauchlin, Sasha Graham, Bernadette Pauley, Candice Meade, Jolee Becker, Gordon Linzner, Debbie Troche, Morgan Ross, Rick Poli, Lori Tomlinson, Ron Ford.
---
---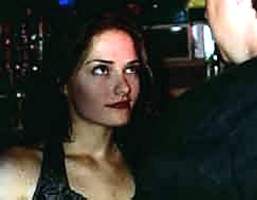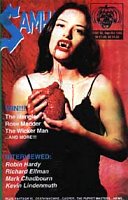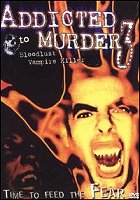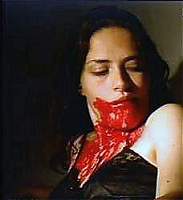 Trama e commenti: drivemagazine.net - eracle.it: «Il piccolo Joel è testimone durante la sua infanzia di un fatto che lo segna per il resto della sua vita: mentre passeggiava per un bosco vicino a casa sua vede un uomo che sta per ammazzare una giovane; all'irrompere di Joel, l'uomo si distrae un momento, attimo che gli è fatale. La donna, che è una vampira, riesce a morderlo e dissanguarlo... Addicted to Murder è una buona dimostrazione di come sia vitale il cinema indipendente statunitense. Se si considera che è stato girato direttamente in video, sorprende la cura particolare...».

Plot Summary, Synopsis, Review: IMDb - allmovie.com - movies.nytimes.com - entertainment.msn.com - terra.es/personal - vampyres-online.com: «Joel Winter (Mick McCleery) has always had a problem with sex; ask his mother. The problem is Joel keeps murdering the girls he has sex with. He knows he has a problem, but where does a serial killer go for help? As serial killers go, Joel is lucky. He has got someone to talk to, his lover, Rachel (Laura McLauchlin). Unfortunately Rachel is a vampire. Of course, like every couple they have their problems - Rachel longs to be human and die. Joel longs to kill and mutilate beautiful girls. They find a near perfect solution in a gruesomely fulfilling compromise. Life for Joel has never been better. But when Rachel leaves unexpectedly his torment begins once more. Until, that is, he finds Angie (Sasha Graham), an alluring succubus and proud of it. Together they embark on a hunger driven spree of bloodlust and copulation. Joel begins to change. As his hunger increases so does his disgust for the lifestyle he's adopted. He realises that the myth makers got it wrong - Vampires do not feed off innocent virtue, it is the darkside of human nature they relish. Joel decides he's had enough of love affairs with the undead. But how do you kick a habit that lasts longer than a lifetime?».

Approfondimenti: Movie Review

Addicted to Murder 2 - Addicted to Murder 3
---
---