---

Alraune
1918, regia di Eugen Illés, Joseph Klein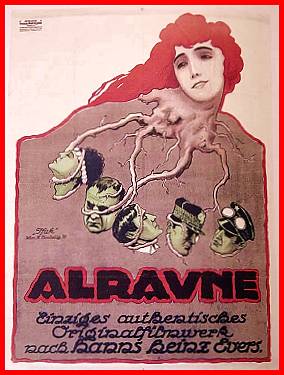 Scheda: Nazione: Germania - Produzione: Luna-Film - Distribuzione: Natural Film - Soggetto: dall'omonimo romanzo di Hanns Heinz Ewers (1911) - Sceneggiatura: Carl Froelich, Georg Tatzelt - Fotografia: Eugen Illés - Art Direction: Artur Günther - Formato: B.N., muto - Durata: 88'.
Cast: Hilde Wolter, Max Auzinger, Joseph Klein, Friedrich Kühne, Ernst Rennspies, Tatjana Sand, Gustav Adolf Semler.

Plot Summary, Synopsis, Review:

IMDb - missinglinkclassichorror.co.uk: «Insane scientist, Ten Brinken, experiments with genetics and artificially inseminates a prostitute with the semen collected from the base of a gallows below a hanged murderer. The result is Alraune, (Wolter), a soulless woman who eventually turns against her creator. The first, and now lost adaptation of the 1911 novel».

Dal sito bizoum.com: «The first adaptation of Ewers's novel, Alraune. Die Henkerstochter, Genannt die Rote Hanne, now lost, was produced by the German studio Neutrat Film and released in 1918, and directed by Eugen Illes (Hilde Wolter played Alraune). A second version, lost as well, directed by Mihaly Kertesz (later known as Michael Curtiz), was produced in Hungary and also released in 1918 (with Margit Lux as Alraune). Alraune (a.k.a. Unholy Love or Daughter of Destiny) was produced by the AMA Film studios at the very end of 1927 and directed by Heinrich Galeen (director of Der Student von Prag, based on a screenplay by Ewers himself). Professor Ten Brinken was played by Paul Wegener (Der Golem) and Alraune by Brigitte Helm [And see: released in 1919: Alraune]. After Oswald's UFA production, another West German version was produced in 1952 (Alraune, a.k.a. Unnatural, a.k.a. Vengeance, a.k.a. Mandragore), produced by the Carlton studios, and directed by Arthur Maria Rabenalt, famous for his Nazi propaganda films. Hildegard Knef played Alraune and Erich von Stroheim, played Ten Brinken».

Conosciuto anche con il titolo: Alraune, die Henkerstochter, genannt die rote Hanne. Non ne rimangono copie.
---
---