---

Il buio si avvicina
(Near Dark)
1987, regia di Kathryn Bigelow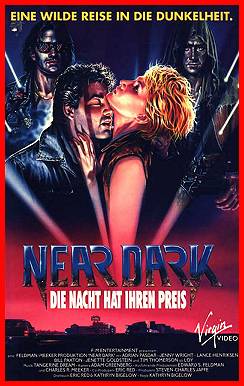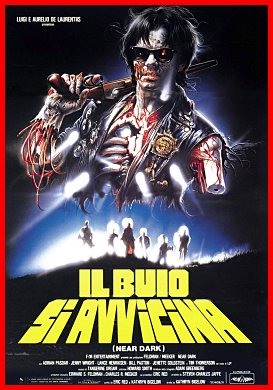 Scheda: Nazione: USA - Produzione: F/M, Near Dark Joint Venture - Distribuzione: Filmauro, De Laurentiis Entertainment Group, Anchor Bay Entertainment, Cinema Classics, Home Box Office, Image Entertainment Inc., Paramount Pictures - Soggetto: Kathryn Bigelow, Eric Red - Sceneggiatura: Kathryn Bigelow, Eric Red - Fotografia: Adam Greenberg - Montaggio: Karen Rea - Art Direction: Dian Perryman - Costumi: Joseph A. Porro - Musiche: Tangerine Dream - Effetti speciali: Edward J. Franklin, Bret Mixon - Formato: Color - Durata: 95' (88').
Cast: Adrian Pasdar, Jenny Wright, Lance Henriksen, Bill Paxton, Jenette Goldstein, Tim Thomerson, Joshua John Miller, Marcie Leeds, Kenny Call, Ed Corbett, Troy Evans, Bill Cross, Roger Aaron Brown, Thomas Wagner.
---
---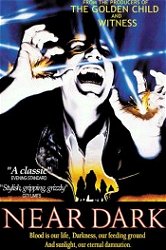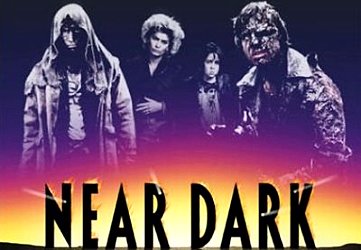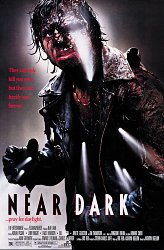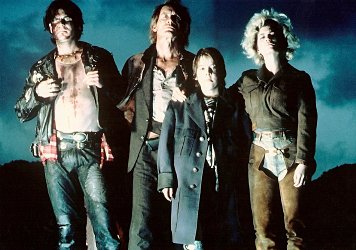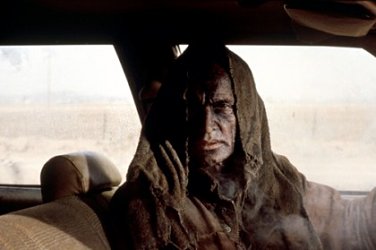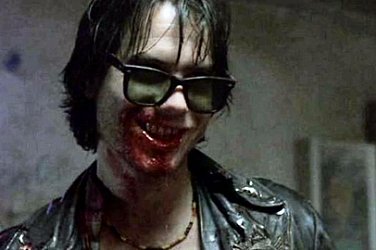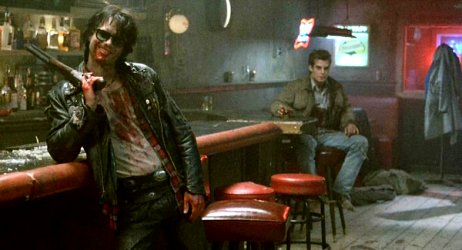 Trama e commenti: mymovies.it - comingsoon.it - splattercontainer.com - filmtv.it - kataweb.it - film.spettacolo.virgilio.it - cinematografo.it - it.wikipedia.org: «Caleb, un giovanotto americano di campagna, incontra una notte una ragazza affascinante, Mae, che gli pare molto misteriosa. Subito attratto da lei, passa alcune ore in sua compagnia, cercando di conquistarla; lei ricambia evidentemente il suo interesse, ma, ad un certo punto, cerca inutilmente di allontanarlo da sé, e si comporta in modo strano. Dopo averla vista diventare sempre più nervosa all'approssimarsi dell'aurora, Caleb scopre che Mae è una vampira e viaggia in una roulotte, insieme ad un gruppo di altri vampiri: una coppia matura, Jesse e Diamon Back; un giovane crudele e aggressivo, Severen, e un ragazzino, Homer, che pare un nano. Mentre gli altri sembrano esistere da molti anni (in alcuni casi da più di un secolo), Mae è stata contagiata solo di recente (da Severen) e i suoi attuali compagni l'hanno poi costretta a dividere la loro feroce esistenza, che si svolge soltanto nelle ore notturne. Poco prima dell'alba, la ragazza, durante uno scambio di baci, morde a sangue Caleb sul collo, e subito questi si sente male e non ha più la forza necessaria per fuggire. Allora i vampiri amici di Mae lo rapiscono, lo trasportano sulla roulotte e vorrebbero subito ammazzarlo, ma la ragazza si oppone, perché è già innamorata di lui, e promette che egli diverrà uno di loro, un vampiro, e imparerà ad uccidere altri esseri umani. Mae protegge Caleb e lo assiste, anzi, nei momenti in cui egli è particolarmente debole, si procura una ferita sul polso e fa suggere a lui il proprio sangue. Il giovanotto si è contagiato, ma non è diventato ancora un vero vampiro, e rifiuta di essere un assassino. Poiché i suoi compagni lo fanno assistere a scene di inaudita ferocia, quando debbono procurarsi il nutrimento, Caleb, inorridito ...».

Plot Summary, Synopsis, Review: IMDb - http://en.wikipedia.org - nytimes.com - ferdyonfilms.com - dailygrindhouse.com - thelostclassics.com - entertainment.msn.com - tvguide.com - coldfusionvideo.com - vampyres-online.com - horrorsnotdead.com: «...Caleb Colton (Adrian Pasdar, Heroes), a cowboy from a small town in Oklahoma is hanging out one late evening with friends at a convenience store when his eye is caught by an attractive, short haired blonde licking an ice cream cone. Putting on his best moves, Caleb convinces Mae (Jenny Wright) to come take a ride with him in his pickup truck. Pasdar, sufficient in his role as the grabby Colton, during his ride with Mae can't seem to keep his paws off her and then takes a rapey turn when he stops the truck on the road and insists Mae make out with him before he gets her home before dawn. It is no wonder the girl bites him on the neck before running off. On his way home, Colton himself starts to burn in the rising sunlight and stumbles his way across his family's cotton field when he's picked up by a small group of vamps in an RV, much to the dismay of his young sister and veterinarian father, who witness this kidnapping and begin their own manhunt alongside the police to find Colton. Combined with a highly effective soundtrack from Tangerine Dream, Near Dark's high point is its vampire characters featuring the re-pairing of Lance Henriksen, Jeannette Goldman, and Bill Paxton who had previously worked together in Aliens the year before. By and large the highlight of Near Dark is Paxton's portrayal of Severen, a vampire so in love with being immortal and with so little regard for human life that his over the top actions are endlessly entertaining. The bar scene, wherein Colton has his final chance to redeem himself in the eyes of the vampires by finally killing a human, is a standout with Paxton telling the trucker who's drink he knocks over to lick it up before it escalates into some hilarious and gory violence. It is one of Paxton's best performances in a long history of great ones. Henriksen is much more subdued, paired with Goldman, as two imposing forces that one knows by looking at them are not to be messed with....».

Approfondimenti: Movie Review
Conosciuto anche con i titoli: Aux Frontieres de l'Aube; Djaevlens Datter; Natten Har Sitt Pris; Los Viajeros de la Noche.
---
---