---

I Flintstones a Rocksylvania
(Flintstones Meet Rockula and Frankenstone)
1979, regia di Ray Patterson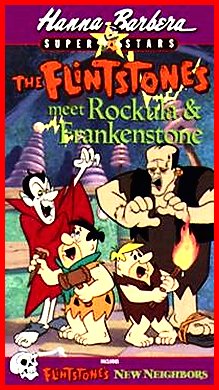 Scheda: Nazione: US - Produzione: Hanna-Barbera Productions - Distribuzione: Palan Entertainment - Soggetto: Willie Gilbert - Sceneggiatura: Willie Gilbert - Montaggio: Robert Ciaglia - Musiche: Hoyt Curtin - Effetti speciali: Murray Griffin - Formato: Color, animazione - Durata: 45'.
Voci: Gay Autterson, Mel Blanc, Ted Cassidy, Henry Corden, Casey Kasem, Don Messick, John Stephenson, Jean Vander Pyl, Lennie Weinrib.
---
---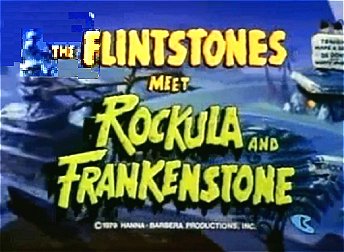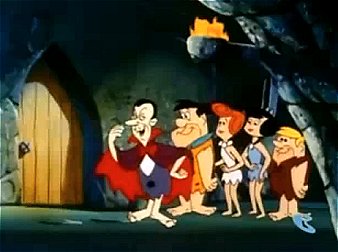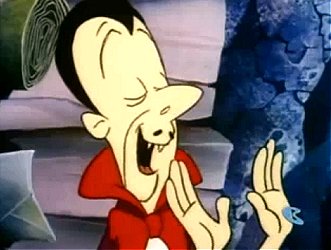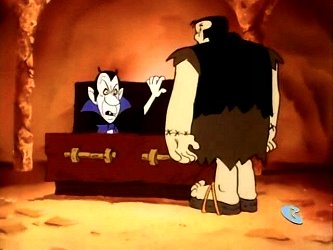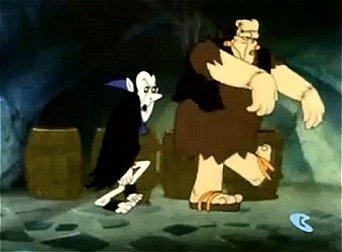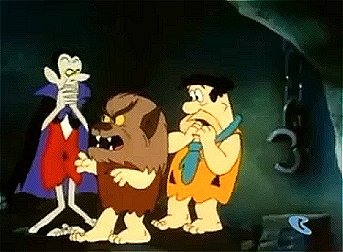 Trama e commenti: cartonionline.com - antoniogenna.wordpress.com - divertimento.it - film.tv.it: «Le due coppie dei tempi della pietra se la vedono con il conte Rockula. Partecipando ad un quiz televisivo, Fred, Barney, Wilma e Betty vincono un viaggio premio a Rocksylvania presso il castello del conte Rockula, recentemente trasformato in un albergo di gran lusso. I quattro hanno anche la possibilitą di intervenire al ballo in maschera per l'inaugurazione dell'hotel. Ma proprio in questa occasione, si risveglia, dopo cinquecento anni, il conte Rockula che rivendica la proprietą del castello facendo fuggire a gambe levate tutti gli ospiti dell'hotel. Tutti, tranne Fred, Barney, Wilma e Betty che, affaticati dal lungo viaggio, si sono subito addormentati nelle loro stanze senza accorgersi di quanto accadeva loro intorno. Quando Rockula si imbatte in Wilma, la scambia per la sua adorata sposa e cerca di rapirla, ma Wilma protesta sostenendo di essere gią sposata. A questo punto Rockula decide di eliminare Fred... Scatenato cartone animato che vede protagonisti la scatenata banda dei Flintstones».

Plot Summary, Synopsis, Review: IMDb - allmovie.com - listentome.net - bcdb.com - taliesinttlg.blogspot.com - tv.com - movies.nytimes.com - ftvdb.bfi.org.uk - en.wikipedia.org: «The Flintstones Meet Rockula and Frankenstone is a 45-minute Halloween television special featuring the Flintstones. It was produced in 1979 by Hanna-Barbera Productions and first aired on October 30, 1980 on NBC. When Fred wins the big prize on "Make A Deal or Don't" game show, he and Wilma plan a vacation with Barney and Betty to Count Rockula's spooky castle in Rocksylvania which has now been turned into a tourist resort. Unfortunately, during the trip, Fred and Barney accidentally stumble across Rockula's old laboratory, where his unfinished Frankenstone monster sleeps, and forget to close the window while leaving the lab. Lightning subsequently strikes the machines in the lab, and provide Frankenstone with life. Frankenstone awakens Rockula from his secret crypt, and the two scare everyone out of the hotel, except for the Flintstones and the Rubbles, who had gone to bed early due to jet lag. Rockula and Frankenstone eventually discover the Flintstones and Rubbles, and Rockula mistakes Wilma as his long-lost bride and vows to make her his, even if it means killing Fred. On a comedic note, Wilma mistakes Rockula for the hotel manager, Mr. Silika, who had dressed up as Rockula, for quite some time until Rockula turns into a bat in front of her. A long cat-and-mouse chase ensues all over the castle, and eventually the Flintstones and Rubbles escape the castle and return to Bedrock. However, Rockula follows them all the way and begs Wilma to return with him to Rocksylvania. Wilma agrees to marry him in Bedrock if Rockula builds another castle, on the condition that he stick to a mountain of daily chores to prove that he cares for her. Rockula changes his mind and decides to return alone to Rocksylvania. Fred, Barney and Betty congratulate Wilma for ridding them of Rockula, and they all say "Yabba-Dabba-Doo!" to close the film. Images of the once again-vacant Rocksylvania hotel are shown during the credits...».
---
---